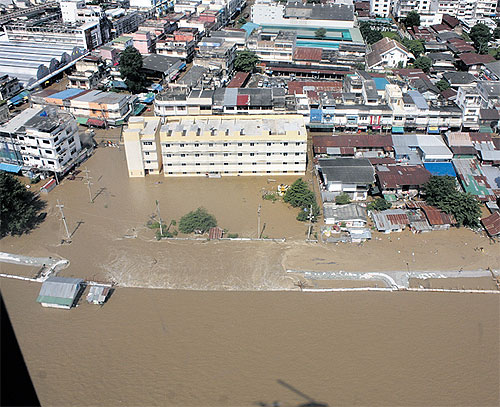 As the flooding in Thailand gets worse and floods are likely to hit Bangkok in the next few days, if you're a tourist in Thailand, or planning on arriving soon, what do you need to know about the possible danger of floods?
Of course, the situation can change quickly and, if Thailand receives more rain than expected, or more flood waters have to be released, the flooding could get much worse, but this is what the government and local authorities are saying at the moment:
Avoid Ayutthaya – Most of Thailand's ancient capital is already under water, with most tourist sites closed, businesses, hotels and restaurants under water and more flooding expected. Train service to Ayutthaya has been suspended and bus service is intermittent. Avoid Ayutthaya completely, until flood waters drain and the massive clean-up starts.
Thai Provinces Affected by Floods – Much of Thailand has been affected by floods, but these provinces are the worst hit:
Ang Thong, Chai Nat, Chaiyaphum, Kalasin, Kampheang Phet, Khon Kaen, Lamphun, Lop Buri, Mae Hong Son, Mahasarakham, Nakhon Nayok, Nakhon Pathom, Nakhon Ratchasima, Nakhon Sawan, Phichit, Phitsanulok, Prachin Buri, Saraburi, Sing Buri, Sukhothai, Suphan Buri, Ubon Ratchathani, and Uthai Thani.
Be careful if you have travel plans around these areas, and avoid them if you can.
Train Service From Bangkok to North of Thailand – Train service from Bangkok to the north has been suspended so, if you had plans to take the train to Chiang Mai, Chiang Rai, Loei etc, you cannot. Some buses are still running, but you're better off flying.
Chiang Mai, Chiang Rai, Loei  – All three cities still not too badly affected by floods, so if you have plans to go there, use some common sense, listen to the news and, if evacuation is announced, follow the instructions. Do be aware, in Chiang Mai, one of the first areas to always flood is the Night Bazaar area. Other than that, so far you're likely to be pretty safe. But…..things can change.
Airports in Thailand – All airports in Thailand are still open.  Just double check with the airport on the day you have a flight, as the situation can change quickly.
Bus Service – Bus service to the south of Thailand from Bangkok is largely unaffected. Bus service to he north is still running to most areas and, if you're traveling to Isaan, you shouldn't have any problems.
Phuket, Krabi, Hua Hin, Koh Samui, Koh Samet and Pattaya – There are no flooding problems in any of these southern Thailand destinations yet, so if you have a trip booked here go ahead. You'll love it.
Floods in Bangkok – Floods are expected to hit Bangkok in the next few days, and it's expected to be bad, with flooding the worst in many decades. Defences are being built around the city but if the Chao Praya River overflows, which experts say it likely will, things in the capital could be very bad. 15 areas of the city are expected to flood, but the downtown areas of Sukhumit, Silom and Siam may not be affected.
If planning travel to Bangkok keep updated at the Tourism Authority of Thailand's (TAT) website and, if already in Bangkok,  check with your hotel reception desk every day as to which areas may be flooded or already are, and stay away.
For constant updates, check the TAT's website – they are also keeping a listing of tourist sites throughout Thailand that are affected by the floods.