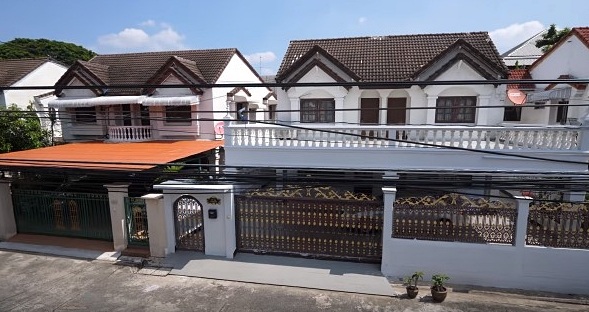 What does a 20,000 baht a month house in Bangkok look like?
During my usual browsing of my YouTube channel subscriptions yesterday, I came across an excellent video by Mark Wiens. A very successful YouTuber based in Thailand whose main channel has 1.3 million subscribers, and almost 299 million views.
Not surprising really, as Wiens puts out superb content about Thai food and traveling around Thailand, as well as videos about other places he and his Thai wife travel to.
Yesterday, though, Mark uploaded a video on his second YouTube channel about his house in Bangkok. A house he lives in with his wife, baby son, mother and father-in-law and sister-in-law. A house that is absolutely huge compared to some of the houses I have seen in Bangkok, and one Wiens and his family only pay 20,00 baht (around $600) a month to live in.
So what does a 20,000 baht a month house in Bangkok look like, and is where Mark Wiens lives typical for a house of that price?
First of all, no, it's not.
As Mark explains in his video, his mother-in-law knows the man who owns the house, so they did get a good deal on rent. As, yes, 20,000 baht for a house in Bangkok is a low monthly rent when that house has six bedrooms, three bathrooms, a room Mark uses for his office and a large living area, kitchen and laundry room.
In other words, if you were to rent a house of this size in Bangkok, you would more likely be paying 30,000 to 40,000 baht a month, depending on the condition of the house, if it was furnished (which they often are) and where in the city it was located.
Still, it was interesting to me to see what kind of house you can rent in Bangkok for 20,000 baht a month if you know a Thai that owns one, and is willing to give you a deal. (And Wiens and his family are not alone in this — I know a number of Thais and westerners that have 'deals' on the Bangkok houses they live in simply because they know the person that owns it).
Watch Mark Wiens' video below of the house he and his family rent in Bangkok — and it is a beautiful house with a lovely front yard — and then get started looking for your own.
Oh and do subscribe to Mark's main YouTube channel where he has loads of fabulous videos about Thai food, as well as food he eats on his travels around the world with his wife.
You will also find his vlogging channel here, and his new channel Mark Abroad, where he showcases his travel videos about accommodation, flights, trains and more.
Related: How to easily and cheaply rent a house in Bangkok, Thailand