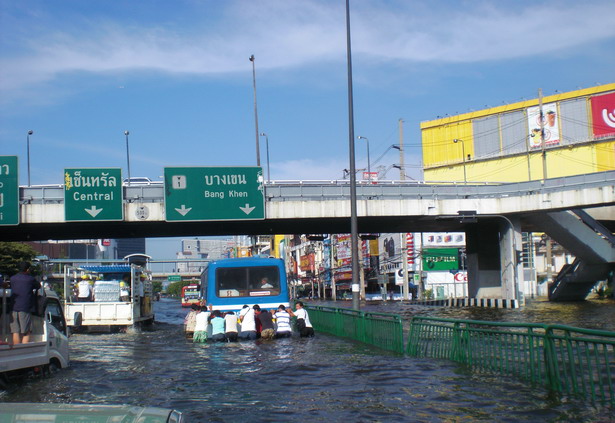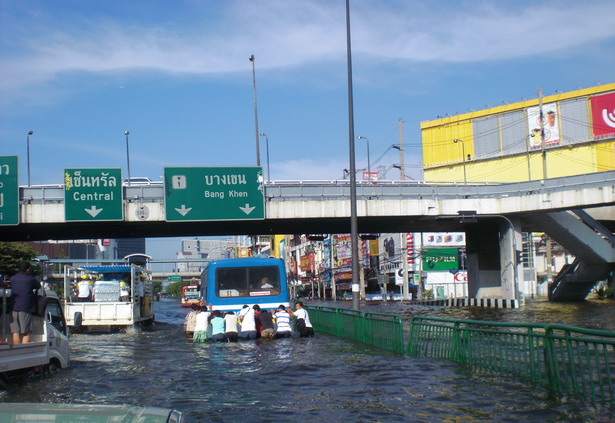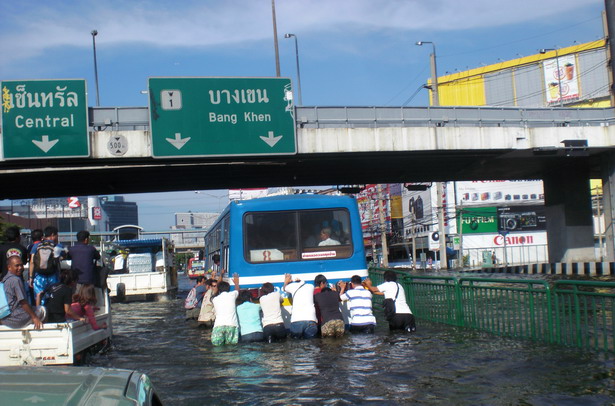 Yes, buses do break down in Bangkok's massive floods
In most western countries, if people had to deal with a massive flood like Bangkok, Thailand is currently coping with (a third of the country under water, our area of Bangkok flooded 5-200 miles in every direction), everything would come to a standstill.
But not in Bangkok.
People still wade through flood water to get to work every day, shops open even though the water is almost to the top of their steps and customers have to climb over sandbags to get inside.
Even the buses are still running. In fact, you have no idea how resilient people can really be until you have seen Thais wading through two feet of water to get on a bus, and the bus driver gamely setting off down the unbelievably flooded road, in an attempt to get people to their destination.
But, what happens when the bus breaks down, because it can no longer handle the huge amount of filthy flood water being sucked into its engine?  The passengers get off and push.
Of course.
We took these photographs today around 2:45 pm, from the back of the truck that belongs to our building's maintenance man.  He had driven us and a couple of people who work at our apartment building to the Big C supermarket at Saphan Kwai for provisions as, over a week into the flooding, we were running out of food.
The water was dangerously high, far higher than only two days ago but, as we chugged our way back through the Vibhavadi-Ladprao-Pahonyothin intersection we came across this bus.
With only five or six vehicles on the whole road, he had obviously broken down in the one meter high waters that are now in the middle of the intersection. So, many of the young men on the bus got off and……pushed.
As we passed them by, I shouted "Bprà-tâyt tai, suu suu" ("Fight, Thailand, fight") and held my two fingers up in the victory sign.
People on the bus waved, cheered and smiled. Probably at the crazy farang (westerner) who was telling those people what they already know — never give up, Thais can do this.
You've really got to love Thais. They have heart like no other nationality I have ever met.