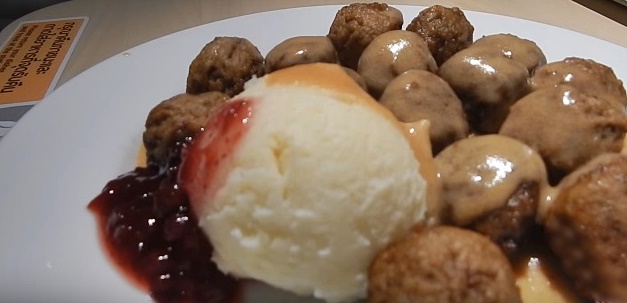 If you have already been to IKEA in Bangkok, you may have shopped but just not eaten food there. Or you may never have been to the Bangkok branch of the Swedish firm yet, but may be planning on it and are wondering what is the food like at IKEA in Bangkok.
After all, after a few hours of shopping, it is nice to have a rest, grab a coffee and something to eat and IKEA is a good place for it.
So what you can expect if you do decide to eat at Bangkok's IKEA?
As you will see from the video at the bottom of this article, IKEA Bangkok has quite a few options when it comes to eating starting with a large cafe on the ground floor of the store, which serves a range of the usual cheap Swedish snacks IKEA is well-known for around the world.
Snacks like the Swedish hot dog (15 baht, or around 45 cents), or their famous Swedish meatballs (55 baht for five, 95 baht for 10).
Upstairs there is a very large food court that serves some of the same food as the downstairs bistro but also many other things too. Dishes like meat balls with mashed potatoes and gravy, salmon with cream sauce and mashed potatoes, salmon salad, and other cold dishes, plus a variety of desserts.
Remember IKEA also serves packaged Swedish food inside the store that you can take home if you don't feel like eating there. Things like bags of cookies, Swedish jam, candy, chocolate and alcohol.
You can also buy bags of take-home frozen meatballs and packs of frozen hot dog sausages that are just the same as those IKEA serves in the bistro downstairs.
Overall, IKEA in Bangkok has decent food, prices are cheap and there is a good selection. Watch the video below to see just how good.
IKEA is located at the massive Mega Bangna shopping mall.