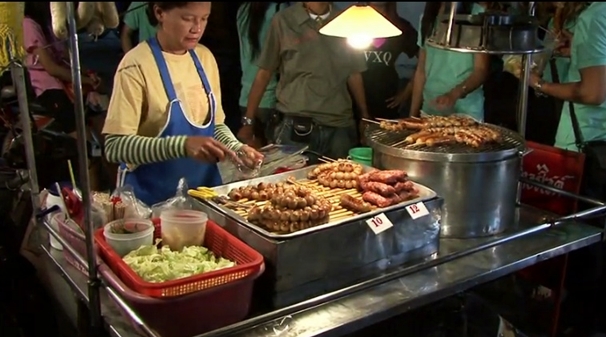 Chiang Mai's Walking Street Market is one of my favorite markets in all of Thailand. Absolutely massive, entire streets are blocked off as the Walking Street Market is held in the Tha Pae Gate area of Chiang Mai every Sunday. What's wonderful about this weekly market though, is not just all the handicrafts, clothing, jewelry, artwork and such that you can buy.
It is the street food that also makes Chiang Mai's Walking Street Market one of the 'must visit places' for any visitor to the city.
Of course, you can find street food in Thailand just about anywhere. But, the food they serve at the Walking Street Market is really superb. No matter whether you are looking for snacks, dessert or an entire meal, you can pick up anything you want here.
From noodles to meat and rice dishes, pork, sausages and beef on a stick, sticky rice with pork, green curry, steak and mashed potatoes, spaghetti, lobster, shrimp, fried fish, sushi — you name it, there's every kind of food at this famous Chiang Mai evening market and for prices  you won't believe.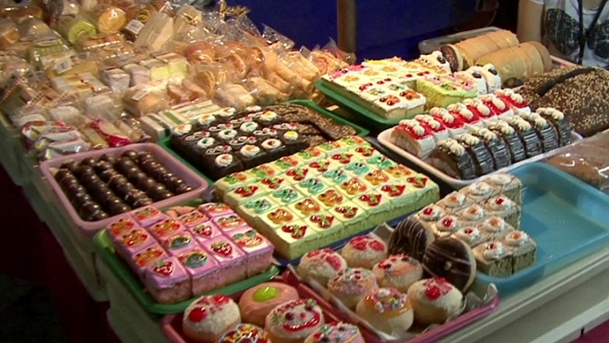 Five baht (20 cents) for spicy pork on a stick. 10 baht (40 cents) for ice cream in a half-coconut shell or a Thai dessert, or 20 baht (60 cents) for mango and sticky rice. If you want rice with some kind of meat or chicken or a nice curry, 30 baht ($1) will get you a lovely plateful – and on and on.
If you're interested in what type of street food you can get at Chiang Mai's Walking Street Market, look no further than this excellent video put together by Lost and Found Travel.
It was taken at various night markets around Chiang Mai, but will give you a wonderful idea of just what you can eat the next time you're in Chiang Mai and want a cheap and delicious meal — whether it's at the Walking Street Market or another wonderful one.
As for the Walking Street Market, it's held every Sunday night starting around 5pm and going on until midnight.