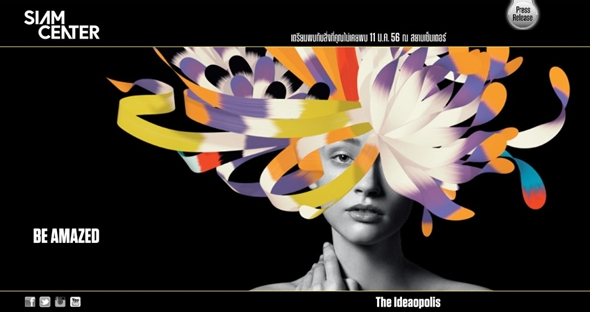 Siam Center is a large four story shopping mall in Bangkok that, in recent years, has become a mecca for Thai and western teenagers. With its trendy shops, cute eateries, imported western items and its own radio station, Siam Center is mobbed with teens from morning till night. If you're a teen in Bangkok or coming to the city and bringing one with you, you can't beat shopping (and hanging out!) at Siam Center.
Location of Siam Center, Bangkok – Siam Center is right next to the main sky train station, Siam, so it's easily accessible from just about anywhere in the city. It's also directly across the street from Siam Square, the top hangout for Thai high school and university students.Siam Center was built more than 30 years ago, so is one of Bangkok's oldest malls. But, with recent renovations, it looks just as trendy and new as any of the other malls in the area.
Shops at Siam Center – With four floors loaded with stores, teens will have a blast here. There are more than 300 shops, 30 restaurants and cafes and a large brightly colored food court on the top floor that serves cheap food.At Siam Center you'll find a whole floor of stores devoted to independent fashions by young Thai designers. Western stores like Von Dutch and Monkey See sit alongside an Emily the Strange clothing store, a Quicksilver shop and Rip Curl. You'll also find a cool Swatch watch shop, Billabong, Esprit, Pena House, The Body Shop and a Levis jeans store.
Food and Drink at Siam Center – For food, drinks and snacks you shouldn't miss the trendy Thai fusion restaurant, Greyhound Cafe, UCC Cafe with its free computers and internet access, Fuji Japanese restaurant, Swensen's ice cream, the Oldies Cafe for diner style food with 60s rock and roll music playing, and the latest Dairy Queen (DQ) Grill for cheap American style food. Also check out the American restaurant, Sizzler, which is one of the most popular restaurants in all of Thailand.
Cool Teenage Stuff – If you or your teen love photos, you've got to drop by Just Snap. You can hand over your favorite photos and they'll create a professional printed book with every picture beautifully displayed. Great place to get Mother's Day gifts or graduation gifts.Hang out on the top floor at A-Time Studio, the live radio station, where you can watch the DJs from some of Thailand's top radio stations spinning discs. You can even request your own favorite songs be played.
On the weekends, don't be surprised if you see huge crowds of Thai teens and young adults hanging outside here too. Many of Thailand's top bands and singers will stop by for an on-air interview or to meet their fans.
Siam Center is one of the coolest places in Bangkok for teens to hang out. On weekends, it's absolutely crowded with folks from the age of 13-25, so if your teen wants to make some local friends, here's a good place to do it too. You can even feel safe leaving them here for a few hours while you nip next door to Siam Paragon or Siam Discovery, both connected to Siam Center by pipe bridges, and both the more 'adult' malls.