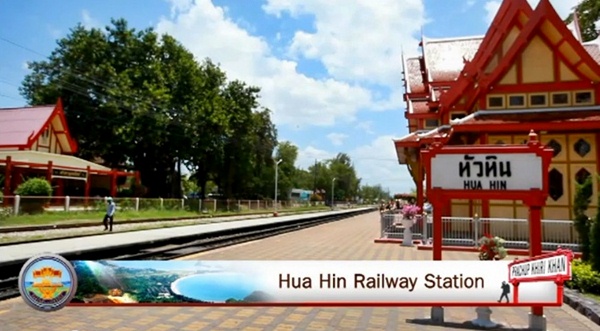 Prachuab Khiri Khan Province is a province in Thailand located in the north of the Malay Peninsula. While you might not have heard of Prachuab Khiri Khan Province itself, you will definitely have heard of some of its famous places – Hua Hin, Pran Buri and Khao Sam Roi Yot National Park just to name a few.
While some foreign tourists do make it to Prachuab Khiri Khan Province, its mainly Thais who venture out of the big cities and head into this less populated area of the country. Not only because it is incredibly beautiful and, in many areas, still unspoiled, but there is also so much to see.
A pity as non-Thai tourists would love this stunning area of Thailand too.
What to See and Do in Prachuab Khiri Khan Province
Hua Hin's Railway Station
The railway station in Hua Hin is one of the most famous places in Prachuab Khiri Khan as, when you descend from the train, you feel like you've arrived back in time — some time in the 1920s at least. Get to Hua Hin by train from Bangkok, and the railway station is the first thing you will see when you arrive. Don't forget to take photos.
Hua Hin Golf Courses
Some of the many world-class golf courses in Thailand, Hua Hin's courses attract golfers from all over the world, not just for the courses but also for the beautiful scenery and the low price. You'll find at least eight golf courses in the area, including the Royal Hua Hin Golf Course, which is just a couple of minutes away from Hua Hin's town center.
Namtok Pa La-U
If you love unspoiled nature, you must visit Namtok Pa La-U, an 11-tier waterfall that is beautiful to see, especially on a hot day as you can paddle in the cool water or swim to cool off. About 45 minutes outside Hua Hin, Namtok Pa La-U is located in the Kaengkrachan National Park. Any tuk-tuk or taxi can take you there.
Wat Huai Mongkhon and Luang Pu Thuat
An incredible temple built to honor Luang Pu Thuat, a 16th century Thai Buddhist monk, here you'll see one of the largest statues in Thailand (on the roof of the temple no less), as well as an incredibly beautiful and unusual temple full of trees.
Pran Buri Forest Park
Located a 40 minute drive from Hua Hin, Pran Buri Forest Park is actually a very small national forest park that's famous for its mangrove trees. If you enjoy being out of the city and away from crowds in a truly relaxing spot, Pran Buri Forest Park may just be perfect for you.
These are just a few of the things you can see and do in Prachuab Khiri Khan province. Watch the video from the Tourism Authority of Thailand below for many many more, and then book your trip. You certainly won't regret it.

)