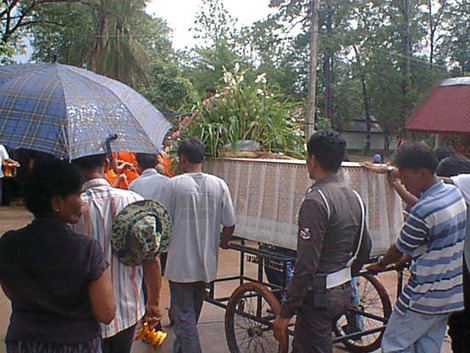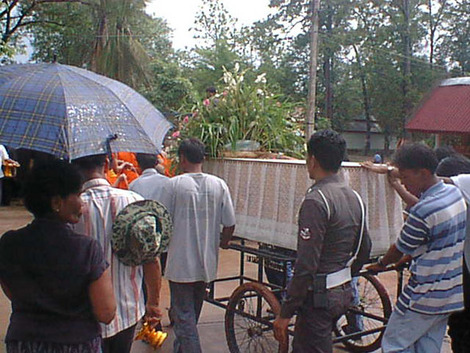 Every year, several thousand foreigners die in Thailand. Whether killed in an accident, dying from old age, falling from the balcony of a high-rise, being murdered by a Thai girlfriend (yes, it does happen) or any number of other reasons, when a friend or family member dies in Thailand, here's what you need to know and what you should do.
Report the Death to Thai Police – The most important thing you should do first is report the death of your friend or family member to the Thai police. By law, this must be done within the first 24 hours of death.
Report the Death to Your Embassy – While many foreigners will attempt to inform their embassy of the death, this actually isn't necessary. The Thai police will do it for you, and two reports may cause confusion, so let them do it. You can always contact your embassy later if you have any questions or need help.
Medical Examination – Once you have reported your friend or family member's death, the police will arrive and take the deceased's body to the Medical Examiner's office. Here, an autopsy will be performed to determine the cause of death. If the cause of death is determined to be suspicious (ie: foul play), the body will be held for a longer amount of time while a criminal investigation is begun and the body is examined for any other evidence.
Release of the Body – If the Medical Examiner decides your friend or family member died of natural causes or as the result of an accident, their body will be released to you within a couple of days. The Medical Examiner's office will also give you a death certificate, which you will need to use for any official business both in Thailand and back in your own country so make sure you don't lose it.
Choice of Thai Funeral or Return Deceased to Their Country – The first major decision you will need to make is whether you will have the deceased cremated in Thailand (burials are rare, as Thai Buddhists believe cremation is the best way to give the deceased their final rest), or have the body returned to the deceased's country. Don't forget, repatriation of the body can be incredibly expensive so, unless your friend or family member had insurance that covered death while in Thailand plus repatriation of the body, this isn't usually the best option.
Having a Thai Funeral – If your friend or family member had lived in Thailand for a long time, they're likely to have had Thai friends who can help arrange a funeral at a local temple. If not, you can choose a temple in the area in which your loved one lived, and speak to a local funeral director about arranging it. All arrangements will then be taken care of by them. You'll just need to inform family and friends where and when the funeral and cremation ceremony will be.
If you choose to have a full Thai funeral, there will be funeral ceremonies every day at the temple for seven days. The cremation of the body will take place on the seventh day. If, however, you choose basic funeral services (particularly if your loved one wasn't Buddhist), the funeral and cremation ceremony can take place within a few days. Once your loved one has been cremated, their ashes will be given to you and you can choose what to do with them.
Return of the Body to Deceased's Home Country – Obviously, this is a more complicated, and much more expensive, choice than a basic Thai cremation ceremony.
Should you decide to repatriate the deceased's body, you will need the original medical examiner's death certificate, a civil death certificate (which you can also get at the ME's office), a letter stating you have permission to take the body out of the country, and a document certifying that the body has been embalmed (bodies are not allowed to be returned to the deceased's home country unless they have first been embalmed for health reasons).
You will then need to find an international funeral director, who will be well-versed in taking care of all of the arrangements. You will simply need to provide the paperwork, and sign any documents, and everything will be taken care of, including pick up of the deceased in their home country and transfer to a funeral home near where they are going to be buried.
Inform Authorities Back Home – Finally, once back home, you must also inform all local authorities of your loved one's death. Particularly if they were receiving any government services or government pensions, you will need to inform authorities of their death so all services and pensions can be stopped. This may also be done by the US embassy in Thailand, but it's best to make sure it's been done yourself. No point (and against the law) having a pension paid into a bank account for a person who has died.
Having a loved on die while on holiday in Thailand or living in Thailand is a shock. Making sure you know what to do if someone you love dies in Thailand, though, can help make the situation easier to deal with and easier to bear.
Photo – Coffin at funeral procession at Wat Grung See Jayrin in Ban Grong Greng, Phitsanulok, Thailand, copyright Kborland, Wikimedia Commons