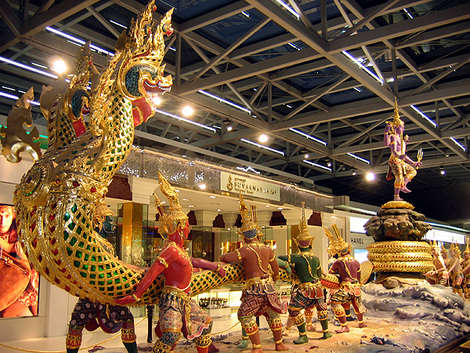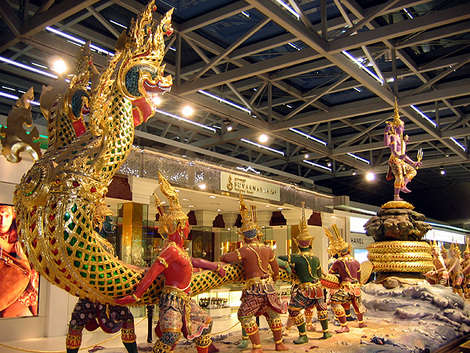 I travel a lot throughout South East Asia, and I've spent more than my fair share of time stuck in airports. Flights are delayed for mechanical problems, bad weather, the plane is late coming in from somewhere else – so what do you do if you're stuck in an Asian airport with hours to kill? Here are some tips to keep you occupied and to make sure you don't lose it with the airline desk staff.
1. Check out all the shops in the airport terminal. The great thing about traveling in Asia is you'll find things at airport terminals you won't see anywhere else. At the airport in Taipei, Taiwan, they have a fabulous museum gift shop with Taiwanese folk art you can't get easily in the West. Their prices are cheap too. At Narita in Japan, the shops sell loads of types of seaweed, noodles and rice snacks. In Bangkok, Suvarnabhumi Airport is huge. You could easily shop there for 5 hours and still not see all of it – check out the charity shops that sell Thai hilltribe handmade products, or Jim Thompson's, which sells the best silk in Thailand.
2. Eat something. Especially if you're flying back to the US or Europe, this could be the last time you get to try funky Asian food. Bangkok's airport has some awesome restaurants, serving wonderful spicy Thai food as well as Western food, and their prices are quite cheap. Kuala Lumpur's airport has a delicious Malaysian mutton stew, and sweet coffee – very reasonably priced, only a couple of dollars. Japanese airports have lots of sushi, healthy udon noodles and green tea drinks. Taipei has a couple of excellent sandwich shops, and Hong Kong's airport has two terminals both with great food (Café Deco serves awesome pizzas). Don't forget, airline food is usually pretty terrible, so you're better eating at an airport restaurant or buying snacks for the plane.
3. Get showered. A lot of the Asian airports have showers you can use for free. When I fly through Taoyuan airport in Taiwan, one of the first things I do on arrival is to take a shower. The shower rooms are almost
always empty, they have large paper towels you can use, soap, and hairdryers. After a 14 hour flight from the US, a shower wakes me up for my ongoing 5 hour flight to Bangkok.
4. Sleep at an airport hotel. If you're really tired and have a few hours to waste, check into an airport hotel to have a few hours sleep. Many Asian airports have hotels right in the terminals, and you can book in for as little as two or three hours. A nap in a comfortable, quiet room will invigorate you for your ongoing flight.
5. Take advantage of the airline club. Make sure you join any airline clubs you're eligible for when you fly. The airline will have a lounge at most major airports you might get stuck at, and sitting in a comfortable lounge, usually with free food and coffee, and newspapers and magazines to read is preferable to being stuck out in the terminal. Once, coming back from Singapore, I had a 3 hour delay at Changi Airport. I was booked on Swiss Air business class, so used their airport lounge. I was able to have a free dinner, coffee, read the latest international newspapers, and take a shower before I left for Bangkok.
6. Get on the internet. Now is a great time to catch up on e-mails to friends and family. If you have a laptop with you, many airports now have free DSL. If you don't, there will be computers in one of the restaurants or bars you can use. Most of the time in Asia, (except Japan), access to the internet is quite cheap and will while away a couple of hours if needs be.
These are just some of the things you can do if you're stuck in an airport in Asia. Unlike many US airports, they usually have cleaner bathrooms, are more modern and are staffed with helpful people. I enjoy being stuck in airports in Asia as it gives me time to relax and check out some of the local food and culture.