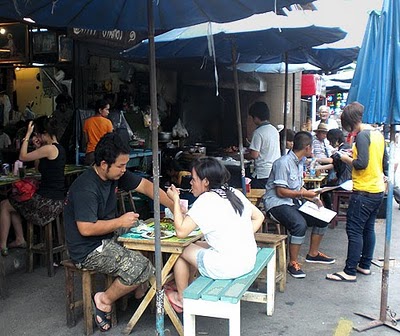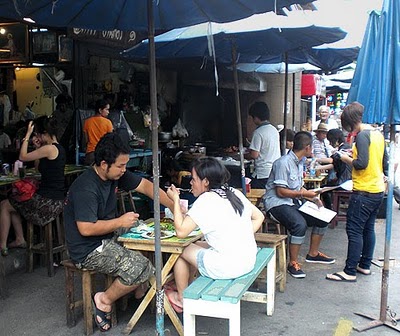 Coming to Thailand on a budget? Want a quick meal on the cheap? Want to try something different? Then skip the indoor restaurants because, even though they are still cheap for Western standards, the traditional street stalls will beat them every time – in both price and taste.
Street stalls are all over Thailand. In every city, large town and small town, you won't be able to go a block without seeing at least one portable stall set up selling food. Most times, a city block will have 5 or 6 stalls, sometimes more. Most will be set up as a portable restaurant i.e.: the owner will wheel up his shop, complete with portable gas canister and hotplate. Then he'll set up his little plastic stools or chairs, unfold his foldable tables and set out disposable wooden chopsticks and small spoons and forks. (Thais eat everything with a spoon and fork, not a knife and fork – surprisingly it's easier to eat both rice and noodles this way!) Finally, they will get to cooking!
Everything is cooked in front of the patron so it's always fresh and piping hot. And oh what delicious food, what unbelievable smells and tastes. A pure delight for the food gourmand!
Down the street from where I live in Bangkok, we have many excellent street food stalls. Some set up in the mornings and sell only breakfast. Some wait till lunchtime. The majority wait until evening and set up for the dinner rush.
Near me, three street stalls set up on what, during the day, is a garage that does oil changes. A location where, in a Western country, setting up a food place would not be allowed because of the health ramifications of mixing oil changes and food.
Here in Thailand, there's no such concern and you rarely see a Thai get sick from street stall food. For that matter, you rarely see a Westerner get sick from them either.
I've lived in Thailand for almost 14 years and had food poisoning only once. That was from an American restaurant that imports US ingredients to make some of its food. Guess all that traveling wasn't good for its freshness!
Almost anything you try at a Thai street stall will be delicious too. There are thousands of different dishes throughout the country, some available everywhere, some only available in certain areas of Thailand. Here are some of the dishes I think are the best and that are readily available all over Thailand.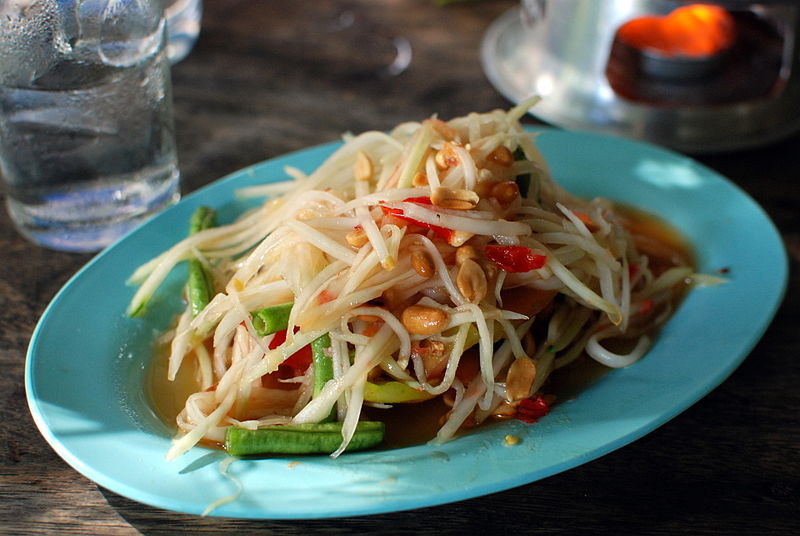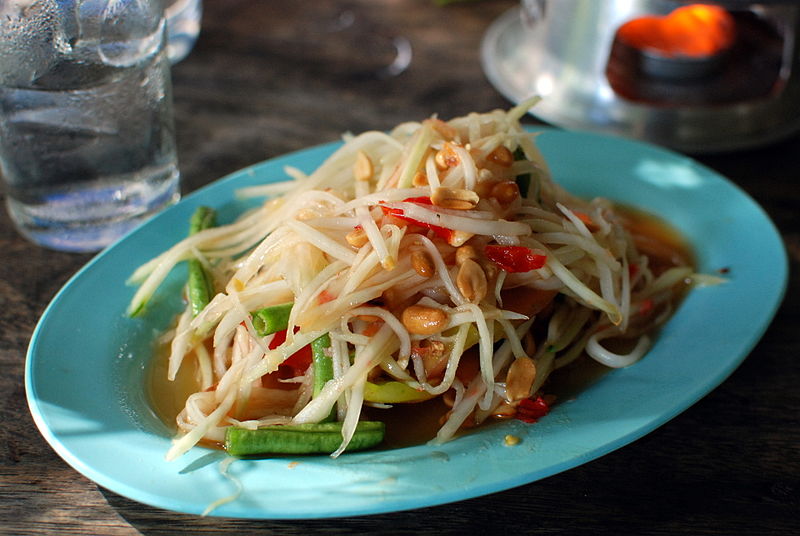 1.Som Tam. This is the most famous Thai street stall dish. It's also eaten in restaurants all over Thailand, but I still think the street stall version is the best. It's also called Papaya Pok Pok by the Thais, slang for the 'pok pok' sound the mortar makes as it mashes the food against the pestle when it's being prepared. It's made from unripe papaya, which is then mixed with shrimp paste, green beans, peanuts, and tomatoes. Then they add a few hot chillis to spice it up, but you can request it 'mai pet' (not spicy) if you don't have a palate like a Thai.
2. Jok. Thai rice porridge that is boiled and boiled until it's gluey and sticky. It's served with different types of meat, green onions, ginger, and usually a raw egg that semi cooks itself with the heat from the porridge. You can also buy dried versions of this in packets at the supermarket for a cheap, quick breakfast. Just add hot water.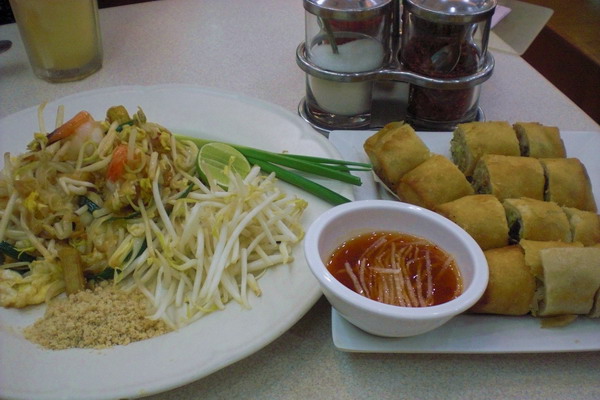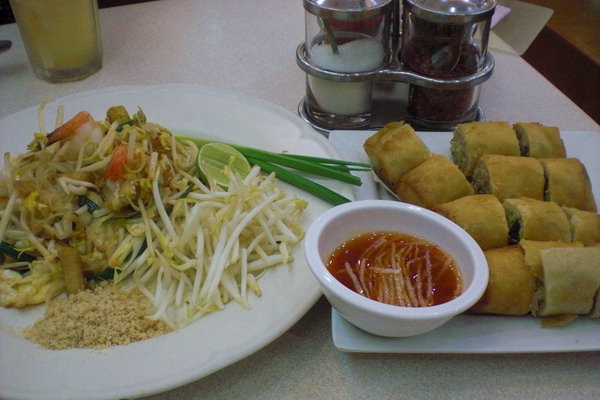 3. Pad Thai. Probably the most well-known dish all over the world. Pad Thai is made from noodles, bean sprouts, eggs and dried shrimp that are all fried together and served really hot. Then add spring onion, lime juice and peanuts and a touch of sugar and dried chili pepper. One of the best things on the street in my opinion and very filling.
4. Pla Tong Go. Deep fried Thai donuts. These are served in every market or street stall area in Thailand in the mornings. You eat them with a coffee, tea, warm soy milk or congee (thick rice soup, similar to Jok). Very fattening but also incredibly delicious.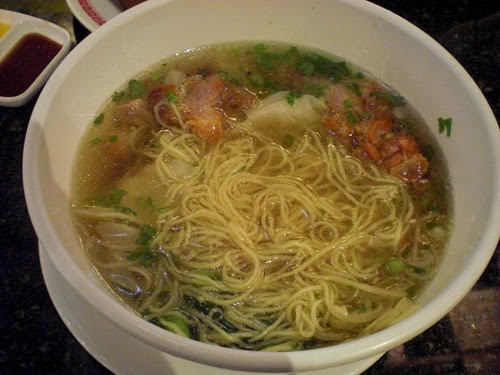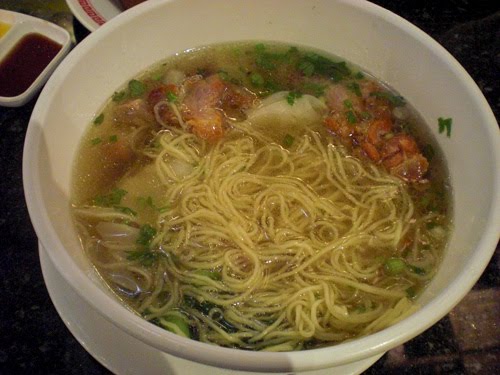 5. Noodles. The most popular food for Thai locals. It's cheap, filling, spicy and tastes great. It's available 'dry' or 'wet' i.e. with soup or without. You can order different sizes and types of noodles, as well as different sizes of bowls! It comes with meat or without, with fish balls and liver or without, and to spice it up you take it to your table and add your own dried chili, sugar, soy sauce, fish sauce and vinegar. I usually end up with two bowls as the first is so delicious I can't resist another one.
6. Salapao. These are based on the Chinese steamed dumplings and are filled with pork, red bean, custards, and many other things. They are very cheap, around 5-8 baht each (about 15-20 US cents) and are eaten for breakfast, lunch and dinner.
7. Khao Pat. Typical fried rice, you can order it with just vegetables, or with shrimp, chicken or pork. It's a heavy dish, but very cheap so you can be full from just one plate. It's also sometimes served with a fried egg on top. Yummy.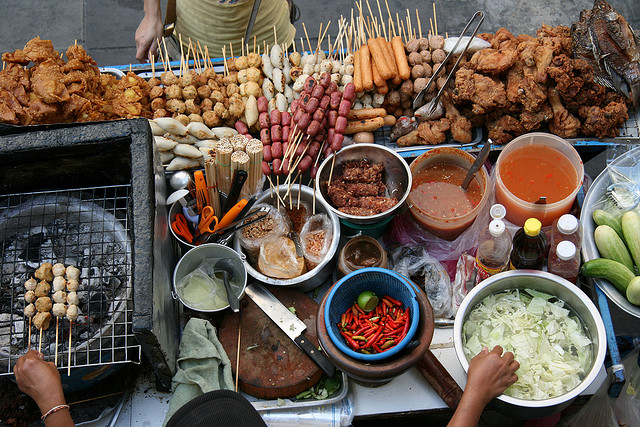 8. Pork or Chicken Sate. Pork or chicken grilled on a stick over a flame, it's served with peanut sauce, and chopped up cucumbers, onion and sugar in vinegar. Delicious and great for a quick snack. About 10 baht (30 US cents) for 4 or 5 sticks. Food on a stick! And, if you like sausages, the same street food stalls will usually sell sausages on a stick as well. Yum.
9. Tom Yam Geung. Thai soup made with a spicy broth, and chicken, fish, shrimp or mixed seafood. It usually has a cilantro leaf topping and is eaten with rice. This can be very spicy so make sure you can handle your head exploding before you order. Or ask if you can have it 'mai pet', not spicy. There was also a Thai movie of the same name, about a Thai man who travels to Australia to try to save his pet elephant.
10. Kanom. This is the cover-all word for 'dessert' and it's all over the place. From tiny little desserts made from rice and bananas or pumpkin and served in banana leaves, to coconut pancakes, mango with sticky rice, fried bananas, pumpkin custard, or simply crushed ice served with a sweet syrup and condensed milk, they are all delicious and not usually as sweet as their Western counterparts. Make sure, no matter what you eat, you save room for dessert.
11. Drinks. Coffee, lattes, green tea drinks, tea and coffee shakes, Thai iced tea, fresh fruit juices, orange juice (flavored the Thai way with salt), bottled water, cola drinks, blended ice drinks, iced chocolate and more – all of these are available at street stalls.
Some people are nervous about eating street stall food, citing the dangers of uncleanliness or disease. Remember though, Thais eat at these stalls every day and rarely get sick. Almost all the food is fresh that day, a lot of the meat will have been mooing or clucking that morning, and it's all cooked while you watch at a very high heat. The added spices tend to take care of any germs you might encounter. I've lived in Thailand for 4 years and never gotten sick from Thai food. When I lived in the US, I had food poisoning at least twice a year from so-called 'safe sources' – restaurants, supermarkets, and frozen food.
The main thing is be a little adventurous, try new things, make sure you ask for 'mai pet' if you can't handle the spices and remember, most dishes are going to be less than US $1, so even if you hate it, it's not very much money wasted. Most importantly, try everything and enjoy. You might be surprised at what you love.