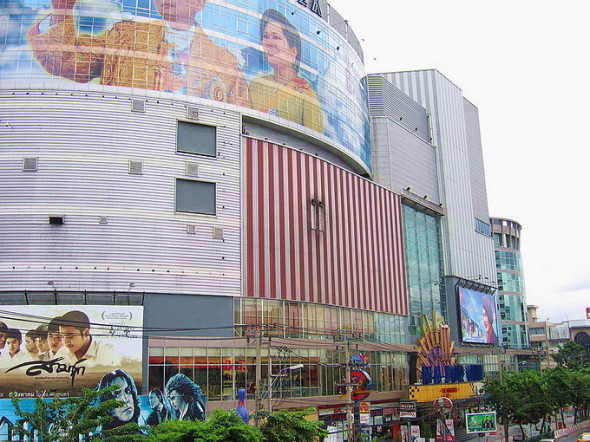 When I moved to Los Angeles, the main thing I was disappointed in was how terrible the movie theaters were. LA is the movie capital of the world, yet going to the movies was like watching a film in a creaky, disused warehouse. So, when I came to Bangkok, I expected movie theaters to be even worse. Imagine my surprise when I discovered movie theaters in Thailand are world-class, with enormous screens, perfect surround sound, stadium seating, and so much room for you to stretch out your legs and relax.
Going to the movies in Bangkok is like watching a film in the world's biggest living room – with all the comforts of home.
The incredible movie experience starts when you buy your ticket. First of all, most movie tickets are less than $4. Secondly, you get to choose and reserve the seat you want to sit in before you even buy the ticket and, thirdly, in many cinemas you also get a free refrigerator magnet with every movie purchase – each magnet is of a poster of the movie you're seeing.
Snacks at Thai movie theaters are cheap too. They offer popcorn, either salted or caramel, which doesn't taste like Western popcorn but it's still good. At around $1 a bag and a large soft drink for $1.30, it's a great deal. You can also get Thai snacks, hot dogs, candy, chocolate and potato chips.
Once you have your snacks in hand, you hand in your ticket and are shown to the movie theater showing the film you're seeing. Almost all the theaters in Bangkok are multiplexes and some have as many as 30 screens. Each theater is enormous with stadium seating, huge chairs with armrests and drinks holders, and more than double the amount of space between your seat and the one in front than what we're used to in America. So no kicking your neighbors chair or having your chair continually booted.
Before the movie starts, every theater plays the King's song, and everyone is expected to stand up and pay their respects to the King of Thailand. The national anthem is in respect for the country and the King's song in respect for the King and, as Thais love their King, this song is what is played in movie theaters.
After the song ends the movie begins, and this is when you will be blown away. The screens are enormous and the surround sound is pristine. No crackles or blips in sound like in many American movie theaters and no fuzzy things or hairs drifting across the screen like I've experienced in movie theaters from Dallas to LA. I've also never been in a movie theater in Thailand where they've had any problem with the film. It starts, it runs perfectly and it ends.
Most movie theaters in Bangkok also have what they call a First Class Movie Experience. For this, you pay around $13 a ticket, but this entitles you to a bed, a blanket, socks and slippers, cocktails and snacks and waitress service and all of this takes place in a movie theater that seats no more than 50 people. It's the most comfortable and personal movie experience you'll ever have. The only problem is, it's so comfortable, many friends have fallen asleep instead of watching the movie.
All the Hollywood blockbuster movies are shown here as well as some independent films. There are also Thai, Korean, Chinese and Japanese movies to choose from and most of them do have English subtitles. Just check with at the desk before you buy your tickets.
So if you want one of the best movie experiences ever, check out the local movie theater the next time you come to Bangkok. Every mall has one and, as there are malls everywhere, you won't be more than a few minutes away. Thais are also polite so you won't get a lot of talking while the movies on, cell phones are normally turned off too, and if there is any disturbance the management is likely to appear quite quickly and chastise the offenders.
Seeing a movie in Thailand is the perfect movie experience and guaranteed to make you order from Netflix instead the next time you think about seeing a movie in America.
Photo – Major Ratchayothin mall and movie theater in Bangkok, Thailand