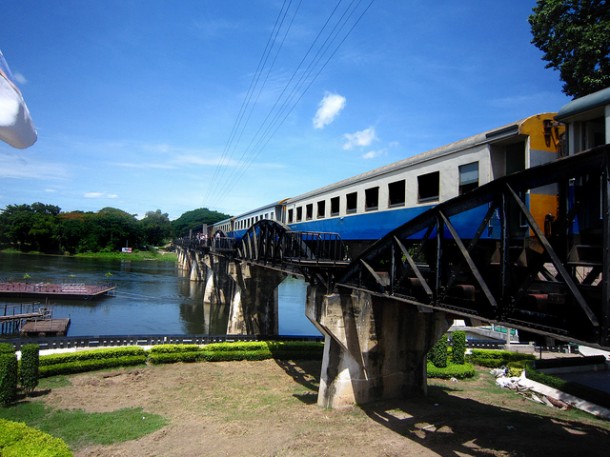 If you really want to see Thailand, you should consider taking the train. Trains in Thailand still run almost everywhere in the country, take longer so you can see more, and are a cheap form of transportation. Of course, because the train service is run by the Thai government, it's not the most efficient mode of public transportation. But, if you want to see buffalo, elephants, jungle, mountains and real Thai culture, you can't beat taking the train in Thailand and here's why.
Thai Trains are Cheap – You can get from one end of the country to the other on a train in Thailand and it's cheap. A ticket to Pattaya is only around $2.50, up to Chiang Mai as cheap as $8 for third class seats, and to Ubon Ratchathani for only $7. Prices, of course, go up in you travel second or first class or take a sleeper bunk but, overall, traveling by train in Thailand is one of the cheapest modes of public transportation.
Food on Thai Trains – One of the best reasons to travel on trains in Thailand is the food. At many stations, the train will stop for at least 10 to 15 minutes. During this time, a stream of Thai food sellers will climb on the train and hawk their wares. From som tam to sticky rice, pork balls to soup, kanom (dessert) to Thai snacks, it's all available and at prices far below what you would pay in Bangkok.
Meeting People on Thai Trains – One of the best things about traveling on trains in Thailand is that you get to meet a whole variety of people. If you're on a long train journey, you're likely to come across farangs (westerners) who are backpacking their way across Asia, Thais who are going 'upcountry' (anywhere outside Bangkok) to visit family, and migrant workers who are going to Bangkok for work.
Most Thais are shy but, if you speak some Thai, they will usually try to communicate and will love doing so. Some Thais will also speak some English and will be happy to get an opportunity to practice with a friendly farang. You can learn a lot about Thai culture by talking to people on trains and they'll often offer you food, as Thai culture is all about food and giving food to someone is the height of good hospitality.
Seeing Real Thai Culture from the Train – Trains in Thailand go through parts of the country that you won't see if you travel by car or by bus. From the train in Thailand, you'll see workers working in the rice paddies, elephants pulling logs, little kids running along the side of the train waving and, at every station, ordinary Thais just going about their lives.
You can also buy a train ticket to a small town in Thailand, get off for an overnight trip, and then get back on the train the following morning to continue your journey. You'll see places in Thailand most foreigners never see, and experience Thai culture others won't.
Booking a Train Ticket is Easy – Since February, 2009, it's now possible to book all train tickets online in advance. So, no need to even go down to the Hua Lamphong trains station to buy one. If you plan on taking a long-distance express train (i.e.: Bangkok to Singapore or Malaysia), it is best to book in advance as the trains get booked up pretty quickly.
You can book online up to 60 days in advance, though, so no problem there. For most local trains though, (trips within a few hours of Bangkok), it's not really necessary to book in advance. Just show up an hour or so before your journey and buy a ticket at Hua Lamphong train station.
For more information or to book a train ticket, go to Thai Railway Ticket wbsite.