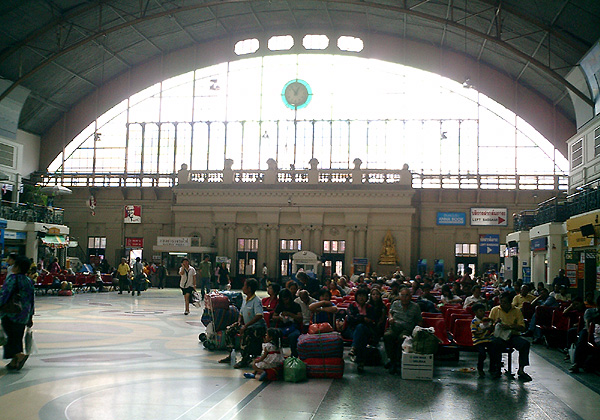 Hua Lamphong station in Bangkok is Thailand's main railway station. With trains from Hua Lamphong going all over Thailand as well as down into Malaysia and Singapore, more than 2.2 million passengers arrive at the train station every year. Luckily, Hua Lamphong is not just a train station, it's also a fun place to hang out with lots of things to see and do.
Take Photographs – Hua Lamphong railway station opened in 1916. It was designed in the Neo-Renaissance style by an Italian architect, and is now one of the most photographed buildings in Bangkok. It's huge ceilings, wooden roof and stained glass windows make it a perfect place for a photography buff. Add onto that, all the people waiting for trains, the shops and cafes and the trains and you can imagine why so many photographers love coming to Hua Lamphong. Take photographs while you're waiting for your train. It's amazing how wonderful they look.
Have a Snack or a Meal – Hua Lamphong has many cafes and restaurants, as well as small food stalls, all around the station selling everything from full meals to snacks, coffee, fruit juices and sodas.
There's a Black Canyon Coffee, and S&P and many small independent restaurants selling noodles, rice dishes, fried chicken, hot dogs, sandwiches, ice cream, cake, desserts and more. While waiting for a train, there's no need to be hungry. In fact, you probably should be careful, as the food is so delicious you'll likely find yourself eating too much.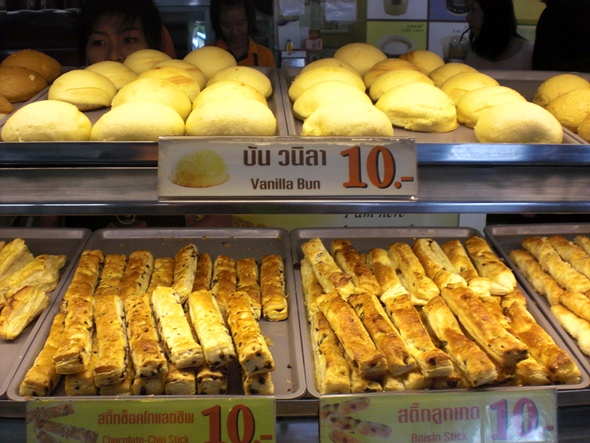 Take a Shower – If you have to wait an hour or two for a train and feel a little grubby, you can take a shower at Hua Lamphong railway station. For just a couple of dollars, you'll get hot water and a rental towel and can get on the train feeling refreshed and clean. Particularly good if you have a couple of days traveling to Malaysia or Singapore ahead of you.
Buy Groceries – There's a reasonable sized mini mart in Hua Lamphong railway station, so if you're going to be spending a couple of days on the train, or even just going home from here, stock up on milk, bread, snacks, chips, soap, toothpaste and lots more. Prices are reasonable too.
Do Some Train Spotting – If you like watching trains, Hua Lamphong Railway Station is the place to be in Bangkok. It's the main railway station for Thailand, so trains come in here from Malaysia, Singapore and the Cambodian border, as well as from all over Thailand. The upscale Eastern & Oriental Express train from Singapore arrives at Hua Lamphong too, so try to time your visit there to be able to see it.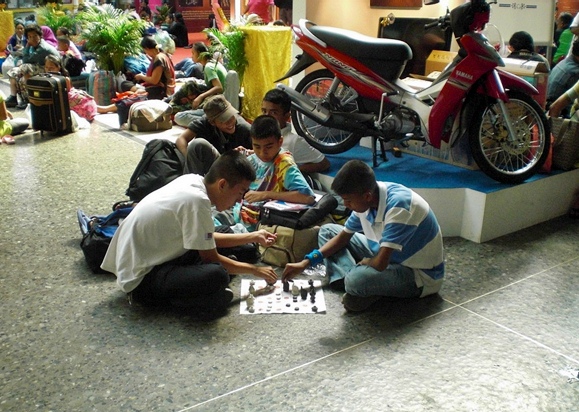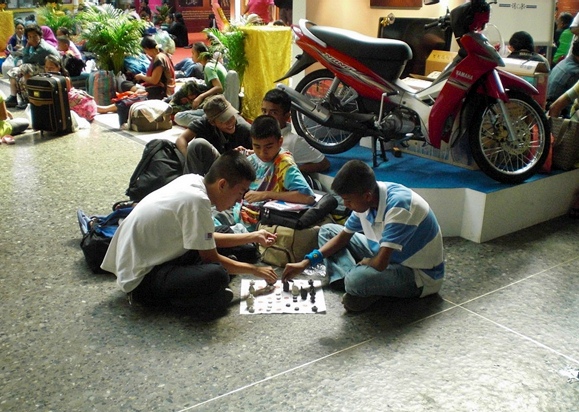 Stock Up on Books and Magazines – Hua Lamphong has a couple of stores selling books, magazines and newspapers. For what's technically a station catering mostly to Thais, and poor Thais at that, one of the shops has a fair selection of English books and magazines and at prices no more expensive than anywhere else in Bangkok. Buy enough to get you through your train trip.
Take the Underground Train – Hua Lamphong railway station connects with the Hua Lamphong underground station. If you have a few hours to spare, you can catch the underground train into town (takes about 10 minutes) and go sightseeing. The underground train is fun too.
I often go down to Hua Lamphong railway station just to hang out, watch the crowds, take photographs and have a snack as it's one of Bangkok's most unusual places. Even if you have a few hours to kill, you'll still enjoy hanging out at Hua Lamphong as there's so many fun things to see and do.