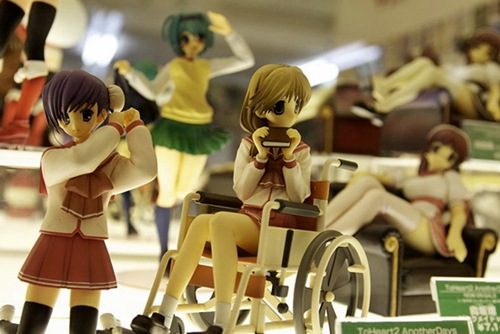 Is wheelchair access in Bangkok good enough that your holiday won't be ruined?
Millions of people around the world consider taking a vacation in Bangkok, Thailand every year. For those who need to use a wheelchair to get around, however, a holiday in a large Asian city like Bangkok may sound like an impossibility.
After all, in a country that is still 'developing' in some respects, is wheelchair access in Bangkok good enough, or will your entire vacation be a case of spending more time stuck at your hotel than being able to get out and see the sights?
In actual fact, wheelchair access in Bangkok in many areas is better than you might think. Particularly if you plan ahead and find information about the availability of accessible places for the disabled before you head off there.
As a long-time resident of Bangkok, I can get you started in that direction and give you some basic information about the wheelchair accessible places I've seen in my travels around the city.
Wheelchair accessible hotels in Bangkok – The first thing you will want to find is a good hotel in Bangkok that is wheelchair accessible and close to major tourist sites, the main shopping areas and, of course, public transportation that you'll be able to use.
Luckily, just about all major hotels in the city were built with wheelchair accessibility in mind, and particularly if they're part of a chain like the Intercontinental, Marriott or Hilton.
One thing you will discover is the difference between four and five-star hotels in Bangkok and smaller hotels that have 'become wheelchair accessible', is that while the major hotels were designed with guest rooms that were specifically built for the disabled, the smaller Thai hotels were often converted afterwards.
That means, while they may have perfectly decent facilities for anyone who is in a wheelchair, the rooms may not be as large as in a major hotel, which can make it a little more difficult to move a wheelchair around. That's why, before you book a room at any hotel in Bangkok, contact them directly and find out exactly what their wheelchair accessible rooms entail and get photographs if possible.
Here is one recommendation for a wheelchair accessible hotel in Bangkok — the IBIS Riverside Hotel. It's recommended by a man in a wheelchair who stayed there and was very happy with the room he was given, particularly when it was at a very affordable price.
Wheelchair accessible transportation in Bangkok – You may want to avoid using the BTS sky train while in Bangkok as it hasn't been designed for true wheelchair accessibility. While some of the stations do have elevators for people who cannot handle stairs, at some point during your journey from the street level up to the platform it will often require using a set of stairs or an escalator.
The MRT underground, however, is excellent as all stations have elevators and the trains themselves have wheelchair locks making the actual train travel in a wheelchair very safe.
That's why you will be better in almost every instance just to use taxis wherever you want to go if you have a smaller chair. They're inexpensive in Bangkok and, if you find a taxi driver you like and who speaks English, you may even consider using him for much of the trip.
For just a few hundred baht a day, many taxi drivers will take you where you need to go, park and then wait for you to finish your sightseeing before driving you onto your next destination or back to your hotel. Most of them are lovely and friendly as well.
There are also several companies that will hire a wheelchair accessible mini van with driver if you use one of the larger, heavier wheelchairs. They can then take you to many of the tourist sites around Bangkok and, as they know which are handicapped accessible and which are not, they are often the perfect solution for someone unable to walk even a few steps.
This company even has quotes of the prices they charge for one-way or round-trips or shopping or sightseeing trips and standby services – as cheap as 2,500 baht ($77) for a 4-hour rental fee for a mini van that holds seven people and the driver and, yes, the driver will wait for you while you're off enjoying yourself.
Wheelchair accessible public toilets in Bangkok – In many areas of the city, particularly in local areas, you won't find many public toilets with wheelchair access as most are simple squat toilets. However, if you stick to the new shopping malls like Terminal 21, all the Central shopping malls, Siam Paragon and Siam Discovery, they all have wheelchair accessible bathrooms and toilet stalls and they're beautifully clean as well.
While I'm not going to lie to you and say getting around in a wheelchair in Bangkok will be easy (it won't), what you will find is, even if you have problems, Thais everywhere will be so incredibly helpful your vacation will still be a lot of fun.
To the point even that complete strangers will go out of their way to make sure you are taken care of, even if it means making special accommodation in stores, restaurants and tourist sites as much as they possibly can.
I've spoken to several tourists in wheelchairs on my jaunts around Bangkok and not one of them has told me they regretted their decision to travel here.
In fact, they all said even if the facilities in Bangkok may not have been what they were used to back home, the Thais had made them feel so incredibly welcome and helped them so many times, every one of them was planning on a return trip.