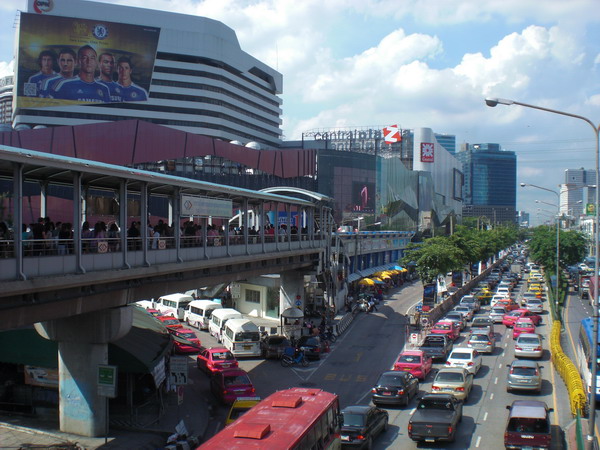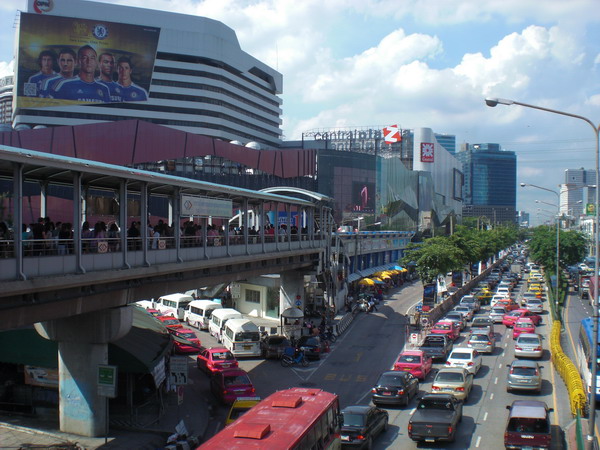 In more than a decade of living in Bangkok, I've always noticed disabled access is nowhere near as good as in the US or Europe. You also don't see that many disabled people in Bangkok or anywhere else in Thailand.
Not because Thailand has less people with disabilities than other countries but because most seem to either stay in their homes with their families or, in rare cases, live in hospitals or institutions. Much of this could be due to disabled access in Bangkok being poor.
That being said, if you are disabled or will be traveling with someone who is, will Bangkok be a difficult place to get around or should you be able to manage?
It honestly depends on what type of disability you have and if you walk with a cane, a walker or other walking device, or if you are completely wheelchair bound.
Here are some tips that may help you decide if Bangkok is the city you should travel to, or if another place more accessible to the disabled would be better.
Disabled access in Bangkok if you are ambulatory – Being ambulatory and traveling to Bangkok will make it slightly easier for you to get around, than for those in a wheelchair. That's because the vast majority of hotels, all shopping malls and some tourist attractions will have elevators and, in the less accessible heavily-visited places, you will find some areas that have hand rails.
If you can use an escalator, a huge number of places in Bangkok also have escalators and, even if you are slow getting on and off, it won't phase the Thais as they are just about the world's calmest and most patient people.
If you are ambulatory enough to be able to take public transportation, while I would suggest avoiding buses and boats as they don't always come to a complete stop and move off far too quickly, you should be able to use the sky train and underground train systems.
Do be aware, however, elevators are not always working at BTS stations especially so be sure you can use an escalator before trying to use a BTS train.
A few BTS stations have elevators (Chong Nonsi, Krung Thon Buri, Wongwan Yai, On Nut, Asoke, Siam and Mo Chit stations all do) and, if they don't, every station has escalators. As for the MRT underground, all stations have elevators as well as escalators.
For more information on disabled access on the BTS and MRT as well as at Suvarnabhumi Airport, Tour Bangkok Legacies has some excellent information about elevators and specific train exits with ramps.
If you get into difficulties at either train system and cannot walk any further, I do know both the BTS and MRT have wheelchairs available.
I know this as I was once taken ill on the MRT underground in Bangkok and an MRT employee and a wheelchair appeared as if by magic. I was told then they have them at most stations for just that eventuality.
Do be careful walking on sidewalks in Bangkok as few are even, there are potholes and long drops off pavements into the street everywhere and, at crossings, audio for the blind does not exist.
Taxis, of course, are everywhere and are cheap (averaging $1.50 a short trip), so if walking is difficult getting to and from places via taxi in Bangkok is not too expensive.
As for famous tourist attractions, you will definitely find it more difficult to access them than someone without a disability. Some have ramps, some do not, and only a few have hand rails at access points.
However, Thais are the kindest people and, if you need anyone to help you, you will usually find you have more helpers than you'd ever have access to anywhere else, and it will all be done with a lovely smile.
All in all, being disabled but ambulatory in Bangkok, of course, won't be easy but being around people who genuinely want to help and to make your stay as comfortable as possible can sometimes make coming here still worthwhile.
Disabled access in Bangkok if you are in a wheelchair – Being in a wheelchair and visiting Bangkok will be difficult, as the city simply isn't set up for wheelchair access in most places.
That being said, there are plenty of hotels that have guest rooms that were built specifically for the disabled and for wheelchair access, so you should be able to find somewhere lovely and comfortable to stay, and at prices often much lower than in the west.
As for getting around, see the paragraphs on transportation earlier in this article, as they are specifically important for someone who is wheelchair bound.
For public transportation, however, the MRT underground is your best bet as every station has elevators and wide ticket gates easily accessible by wheelchair and, once on the train, every train has wheelchair locks.
Moving around on sidewalks, however, will be difficult as most are uneven and bumpy and, because of Bangkok often flooding, there are drops more than one foot high to the street below at the end of most sidewalks. A few have mini-ramps built into the sidewalk for motorbikes to use, but most don't.
As for wheelchair accessibility to shopping malls, you will find the vast majority have elevators, so shopping indoors definitely shouldn't be a problem. Most also have specific bathrooms that have disabled access stalls. Just ask at the information desk at each mall for where they're located when you first arrive.
Restaurants in shopping malls will almost all be accessible by wheelchair and some in the streets will be also. Thais too are predominantly lovely, helpful people, so there will be no problem moving tables or chairs so it's easier for you to eat at a table accessible for your wheelchair.
As for major tourist sites, a huge percentage of them will not have wheelchair access but some do (Madame Tussaud's does for instance, and it's an interesting place to visit).
To find out which do, once in Bangkok, have someone at the reception desk at your hotel call each place before you leave so they can find out what wheelchair accessibility is like. Just make sure you have a list of places you'd like to visit, so you can hopefully be left with at least one every day that will be accessible for you.
Finally, one wonderful thing about Thailand that makes it easier to travel here with a disability is Thais have endless patience and move at quite a slow pace themselves.
That means, no matter how long it takes you to walk somewhere or do something, you are not likely to see the overt signs of annoyance or impatience disabled friends tell me they often experience in the west. That alone can make for a nicer vacation than in some other cities.