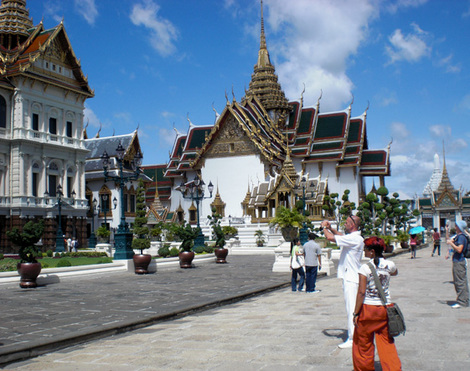 As far as the weather in Bangkok in March is concerned, it's the last month to take a visit to Thailand if you prefer cooler weather.  Of course though, 'cooler' is relative as it's rarely ever cool in Bangkok. So, what I think of as 'cool' in March, by western standards it will probably be the hottest weather you've seen all year. You'll definitely have lots of sun though — great for sunbathing by your hotel pool.
Through to the middle of March in Bangkok, you can expect temperatures in the mid 80s to low 90s (29.4 to 34 Celsius) most of the time, with the odd day in the high 90s. But, by the end of March, the true Bangkok heat will arrive.
Humidity in March will be much higher than in February too, which makes it feel a lot hotter than it really is.
As for rain, you won't see much, as rainy season doesn't start until April. You may get an odd shower or two, but they'll dry up within a matter of minutes and it's back to heat and humidity.
If you're wondering what to pack, bring light cotton clothing, with lots of short-sleeved shirts for men (not sleeveless, they're rarely ever worn in Bangkok) and lightweight pants or shorts.
For women, cotton dresses, or skirts with a short-sleeved top are perfect for both day and evening.