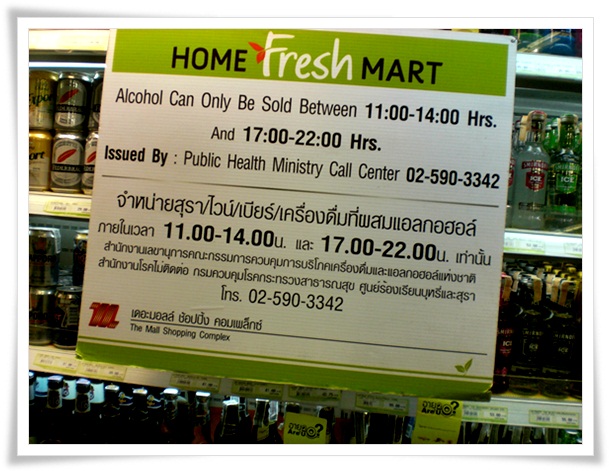 If you're relatively new in Thailand, or just visiting for a short-time, one thing you may be confused about is when can you buy alcohol in Thailand? Is it like it is in your home country, or are there specific rules about alcohol purchasing times?
The latter, I'm afraid.
In Thailand, you can buy alcohol at a bar, hotel or restaurant at just about any time they are open. At a supermarket, a 7-11, a mom-and-pop store or wine shop , however, there are certain times when you cannot buy alcohol.
Regular Times You Cannot Buy Alcohol in Thailand
You cannot buy alcohol in Thailand between the hours of 2pm and 5pm on any day of the week. While this might seem a little odd to westerners, and particularly to Europeans who are used to being able to buy alcohol whenever they want to, in Thailand it is simply not allowed.
This is because the Thai government does not want children (read "high school students") to be able to buy it, so the purchase of alcohol is banned between 2 and 5pm. The rationale for this is that 2pm is the earliest time the schools let out and, by 5pm, kids should be home with their parents.
In reality, of course, we all know that's not true.
However…….there is one caveat here.
Most Thai mom-and-pop stores will sell alcohol between 2 and 5pm and, if you buy in bulk (usually several cases at a time), most other stores can sell to you as well. Just don't expect your local 7-11 or Tesco to allow you to grab a couple of beers, as they tend to stick closely to the rules.
Alcohol-free Buddhist Holidays
Alcohol is not allowed to be served at all on five Buddhist holidays and that law even applies to bars, restaurants and hotels (although some of the hotels do still serve alcohol and that has something to do with 'making the tourists happy'. Bars, however, are always closed that day).
That means if you want to go and grab a beer with some friends, and it's during Visakha Bucha, Makha Bucha, Asarnha Bucha Day, Khao Pansa or Wan Org Pansa Day, you will find it virtually impossible to find a bar that's open and selling booze.
Why? Because the government made these five Buddhist holidays as 'Alcohol-free days' back in 2015, and that has not changed since then.
You Cannot Buy Alcohol in Thailand During Elections
When there is a national or a local election being held, you also cannot buy alcohol in Thailand. All bars have to be closed by law, and supermarkets and 7-11s are not allowed to sell alcohol either. Hotels, however, still often do.
Meanwhile, during times where you can buy alcohol, there are some excellent places to buy wine and a slew of others for beer and spirits sales, and you'll usually find alcohol in Thailand is cheaper than back in your home country when you do.