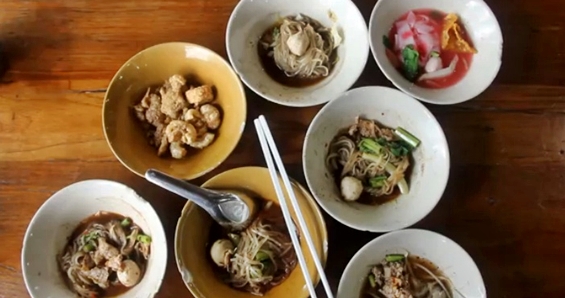 Best places to eat at Victory Monument, Bangkok?
The Victory Monument area of Bangkok is one of the best places to eat in the city. Full of restaurants, cafes and street stalls, prices are inexpensive, the selection is huge and the food is, of course, delicious. If you're planning on being in the Victory Monument area of Bangkok and are not sure where to eat, here are a few suggestions about where and what to eat at Victory Monument that will help.
Boat Noodle Alley – Just about the best place to eat at Victory Monument is Boat Noodle Alley, as not only can you buy the cheapest food in Victory Monument, but the noodles served there are some of the best in the city.
Boat Noodle Alley is nothing more than a small area full of tiny stalls that cook and sell 'boat noodles' or guayteow rua, thus called as they used to be served from small boats that plied their delicious food up and down the river. Nowadays, few areas of Thailand have these types of boats, but boat noodles themselves are still as popular, even if they have moved to small static stalls and restaurants.
You can buy a bowl of boat noodles for as cheap as 10 baht, or 30 cents. The bowls hold small portions, however, which is why most people buy at least two or three of them, to make a delicious and very substantial meal.
To get more of an idea of how wonderful these boat noodles really are, don't miss watching the video below.
You'll find Boat Noodle Alley at Victory Monument right next to the canal.
Jakkee – If you enjoy Thai food but aren't so good with very hot and spicy dishes, you might went to check out Jakkee. A popular Chinese-Thai restaurant in the Victory Monument are of Bangkok, Jakkee specializes in 'home cooking, Thai style'.
Dishes include the amazing, and my favorite, Rad Na Nua – thick noodles in a gravy sauce, Chinese noodles or chicken, pork or crab fried rice. Dishes are extremely tasty, and prices are cheap.
Jakkee is located at Ratchawithi Soi 7, and is only a few minutes walk away from the Victory Monument BTS sky train station.
Taksura – A popular restaurant with Thais, and especially the university crowd, Taksura is located in a cute converted Thai house just a few minutes away from the Victory Monument sky train station.
At Taksura, don't miss ordering laab, the spicy pork dish that's always eaten with raw cabbage and sticky rice. Eaten with an ice cold beer as the sun is going down, and you're sitting at one of Taksura's lovely garden tables, is the perfect end to a lovely Bangkok day.
Also try their crab fried rice, which is particularly well done here, or some of their spicy Thai sausages.
Taksura is located at Soi Ratchawitee 12. They only serve dinner, so open at 5pm, but they also stay open until 1am, which means you can even eat a delicious meal if you're out late and still finding yourself hungry on your way home or back to your hotel.