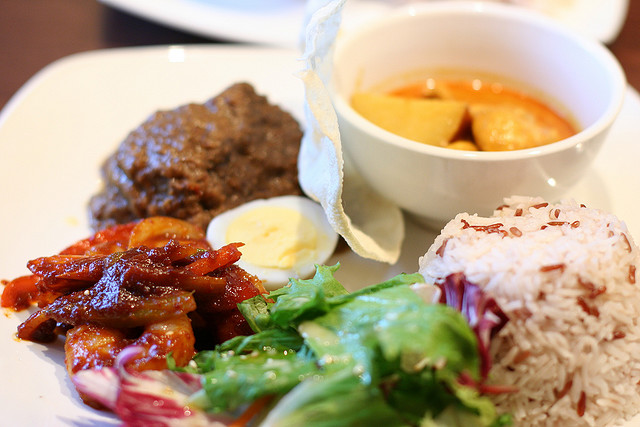 Strangely, to say Malaysia is the country next to Thailand, Bangkok doesn't have a huge number of Malaysian restaurants but, what it does have are wonderful. These are three of the best.
Kopitiam – A small chain of Malaysian coffee shops, Kopitiam now has three locations in Bangkok. They're famous for their bread and toast dishes served with kaya, a Malaysian custard, and strong yet milky and sweet Malay coffee.
But Kopitiam also has a massive menu of authentic Malay-Chinese chicken dishes, rice dishes, seafood, noodles, savory porridge (congee), curries, and traditional Thai desserts. Prices are inexpensive, and the food is good old down home Asian cooking, the kind that makes you feel all warm and safe inside. Their restaurants too are funky — as they're designed with an old-fashioned19th century colonial-Malaysian design, which nowadays is actually quite trendy.
You'll find Kopitiam's in Bangkok at Central Ladprao, Central Plaza Rama 3, and Navamin City Avenue in Bangkok.
Cili Padi – Known as the best authentic Malaysian restaurant in Bangkok and on several restaurant critics' lists, Cili Padi has been around since 2007 and becomes more and more popular every year.
At Cili Padi, you must order one of their many curries and at least one order of roti – a pancake you roll up and dip into one of several sauces, as these are the things they're famous for the most. You'll also find the famous Malay dish, nasi lemak, (coconut milk rice served with peanuts, a boiled egg, anchovies and a beef curry), and some darn good chicken satay.
Cili Padi is located at 160/9 (27) ITF Building GroundFloor , Silom Narathiwat Soi 1 in Bangkok.
Archa Cafe and Wine Bar – The owners of Archa Cafe are lovely and the restaurant itself reminds me of similar places I've eaten in Kuala Lumpur, which definitely gives it that authentic flair.
The cafe doesn't have a particularly large menu but what it does serve is wonderful. It's known for its superb Malaysian beef rendang and, the most famous Malaysian dish, nasi lemak and, of course, it's wine selection.Try the roti, the fish stew and, of course, the beef rendang, which is one of the tastiest beef coconut curries I've eaten in a long time.
Archa Cafe is easy to find too. It's just a couple of minutes' walk from the Phrom Phong BTS sky train station at 4/1 Soi 26, Sukhumvit Road in downtown Bangkok.