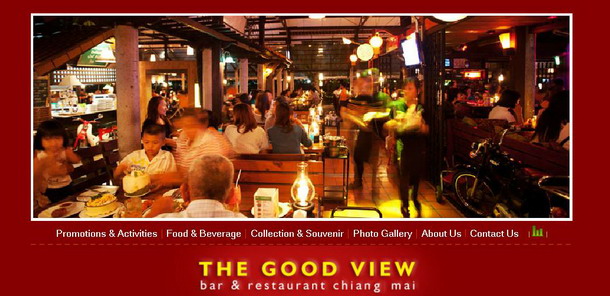 The nightlife in Chiang Mai is cool and listening to live music is one of the most popular things to do.  With everything from modern jazz to Thai country, classic American rock to blues, there's something for every taste, and these three places offer some of the best music in Chiang Mai (and some pretty great food, too).
The North Gate Jazz Bar – Anyone who loves jazz and visits ChIang Mai soon finds out about The North Gate Jazz Bar. Featuring live music every night of the week, it's a place where jazz fans can listen to well known and new local bands and artists. You'll also get to hear jazz musicians from overseas, who just happen to be in town, and pick up an instrument during the Tuesday night Jazz Jam Session, when anyone can play.
Only a bar, ie: there's a variety of tasty Thai snack food but no meals, The North Gate Jazz Bar is a fun place to hang out with friends, especially after eating dinner elsewhere. The music is wonderful, the atmosphere cool, and the drinks are cheap. If you're looking for a true Thai place though, this isn't it, as there are often more tourists and expats than there are Thais in the audience.
You'll find The North Gate Jazz Bar at the famous North Gate of Chiang Mai's ancient moat.
Roots Rock Reggae – If you're looking for something upbeat, cool and definitely Thai when it comes to the music, Roots Rock Reggae is the place for live reggae, rock and ska music in Chiang Mai.
A mostly foreign crowd (although some Thai diehards do show up), with mainly Thai musicians, Roots Rock Reggae is famous in the backpacker community for its great music, cheap beer, and buckets of Thai whisky.
At Roots Rock Reggae, you'll hear a variety of music — some in English, some in Thai — but the main theme of have fun and be loud runs through all of it. It is a late night place, so you are better going somewhere else first and hitting Roots Rock Reggae after 10pm. The wildest time is after midnight.
Roots Rock Reggae is in the old city area of Chiang Mai at Moon Maung Soi 6.
Good View Bar and Restaurant – One of the most popular areas of Chiang Mai for live music is on the banks of the Mae Ping River.
There are a number of excellent bars and restaurants featuring live music, but one of the best (because of the music and the tasty food) is Good View Bar and Restaurant. Named Good View for the amazing view over Chiang Mai, the Mae Pin River and Doi Suthep mountain, it's a large, traditional Thai-designed restaurant, with a huge wooden deck, and an enormous menu.
It is also a must-go-to place for both Thais and foreigners, so you get a great mix of people here too.
At Good View, you can spend an evening listening to live music in just about every genre. Jazz, blues, classic American rock, British pop, Thai country music — it's all played here, and more. Bands and artists rotate often so, at every visit, you'll likely hear someone new.
Good View is famous for its food and for the massive 150-plus item menu. Dishes are mainly Thai, with a few western-style options thrown in, and most of what they serve is delicious. Be warned though, prices are not cheap, with dishes averaging 120-200 baht each, more than three times what you'd pay at most Thai restaurants in Chiang Mai. But….you are also paying for the live music, so it is understandable.
Good View also has a large drinks and cocktails menu, as well as a good variety of Thai and Scottish whiskies. And don't miss watching the excellent video about The Good View Bar and Restaurant below.
Good View Bar and Restaurant is at 13 Charoen, Raj Road in Chiang Mai.