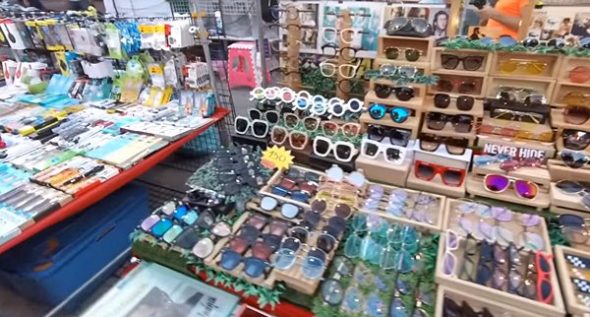 Location of Ramkhamhaeng Night Market – Situated on Ramkhamhaeng Road, the Night Market begins at The Mall Ramkhamhaeng and runs the whole length of the road to the next major junction.
To walk the whole length of the market, if you look at all the stalls, easily takes more than an hour, and that is if you don't stop to buy anything.
What to Buy at Ramkhamhaeng Night Market – Although like most night markets there is a wide array of items for sale, the majority of things you will find on street stalls at the Ramkhamhaeng Night Market are clothing, shoes, purses and accessories.
The market is in the vicinity of Ramkamhaeng University so, of course, it targets university students, and young commuters. But, if you are older than the age of 30, don't let that put you off – there are still thousands of items you will love too.
Shop for t-shirts, shorts, spaghetti tops, fashion skirts, dresses, casual shirts and dress shirts, skirts and dresses suitable for the office and, of course, thousands of purses, wallets, belts, costume jewelry, scarves, and shawls.
You will also find mobile phone accessories, school supplies, children's clothing and toys, men's t shirts, shorts, shirts and hundreds of pairs of jeans.
Prices begin at 99 baht ($3.30) per piece but, if you buy several pieces at the same stall, you should be able to bargain the price down an additional 10-15%.
Don't miss stepping out of the night market and into the many stand-alone shops that line the street as well. They are open during the night market, and most have prices as cheap as the market stalls.
The purse and wallet shops in particular are worth visiting. Every one has a huge inventory and, with prices for a fashion bag as low as 150 baht ($5), you shouldn't pass up these bargains.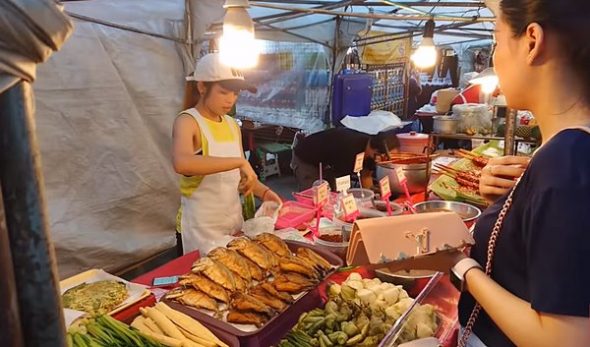 Eating at Ramkhamhaeng Night Market – Another reason I love to go to Ramkamhaeng Night Market is for the food. Street vendors all over Thailand make superb street food, but the stalls at Ramkamhaeng seem to have it down to an art.
The best place to eat is at one of the restaurants just inside the small sois that branch off from the market. Pull up a plastic chair and place your order, and your food will be prepared while you wait.
Be aware though, few people in this area speak English so, if you are there without a Thai speaker, you will have to do a lot of pointing at food on other tables to get what you want. That, though, is all part of the fun.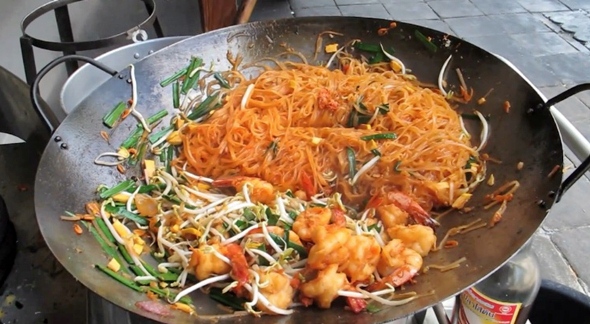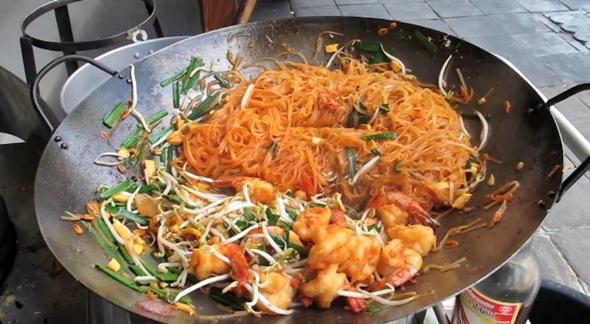 Prices for food are dirt cheap, with some dishes as low as 25 baht (80 cents). I ate the best shrimp fried rice I've ever eaten at one of these food stalls for just 40 baht, and the Pad Thai was darn good too.
How to Get to Ramkhamhaeng Night Market – The market kicks off around 5pm, with stalls beginning to pack up between 10:30 and 11 pm.
The easiest way to get to Ramkamhaeng Night Market is take a taxi to The Mall Ramkamhaeng, and you will see the market stretching down the road from there.
Or if you do not mind a long ride, hop on the number 40 bus at Hua Lamphon train station. The final stop is The Mall Ramkamhaeng, so you can't miss it, but the entire ride will take up to an hour and 15 minutes.
It does, however, give you chance to see parts of Bangkok you would never get to otherwise and, at less than 20 baht, is a very cheap ride.