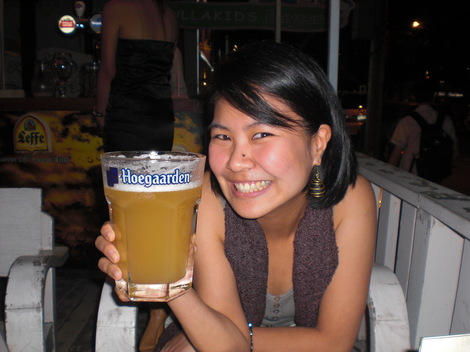 There are hundreds of winter beer gardens in Bangkok
When the weather starts to get cooler in Bangkok, Thailand, the outdoor winter beer gardens begin to appear. Popping up all over the city, there are more than 300 winter beer gardens in Bangkok, from beer gardens selling Thai beer brands like Chang and Singha to those serving imported beers like Heineken and Asahi.
The Bangkok winter beer gardens usually open in November and close at the end of January or beginning of February, as that's the coolest part of the year in Thailand. With so many beer garden choices, where should you go for the best and what should you expect when you get there?
What is a Bangkok beer garden?
Beer gardens are set up in winter all over Bangkok, with locations usually outside Bangkok malls and shopping areas. Each beer company will set up a beer garden, with a stage for live music, chairs and tables and food stalls.They open every night around 5pm and close at 11pm-midnight.
Beer gardens in Bangkok are exceptionally fun places as they provide free live entertainment (there are some excellent Thai bands and singers that play the beer garden circuit), the food is good and cheap and, of course, the beer is flowing.
How Much Is Beer At Bangkok Beer Gardens?
This depends on the brand of beer. Thai brands such as Singha and Chang usually charge the same prices they would charge at any Bangkok bar or restaurant, so prices are cheap. Anything from 50 baht for a beer (around $1.55) up to 400 baht for a beer tower, with several litres of beer. The beer towers are a better deal if you're in a bigger party, as you get much more beer for your baht.
Imported brands like Asahi and Heineken are more expensive. The Heineken beer garden at Zense on the roof of Central World is actually quite expensive, with a small pitcher of beer (enough for two people) costing 300 baht ($9.10). As it only provided two small glasses of beer per person, it's not a very good deal.
How To Order Beer at Bangkok Beer Gardens
At most beer gardens, it's as simple as sitting down and ordering from a waitress, who will bring you the beer and present you with the bill to be paid immediately. At the more popular beer gardens like Heineken, it's often difficult to get a table so you may have to wait a long time to be seated or may be turned away and asked to come back another night. If you do manage to get a table (I always do as my Thai friend knows the head waiter), the same purchase system is in effect.
Live Entertainment at Bangkok Beer Gardens
The entertainment at beer gardens in Bangkok is usually good. Many Thai bands and solo artists will do the beer garden circuit as it's a great way to be seen and to create a following. They'll usually play for 45 minutes to an hour, with another band or solo artist coming afterwards. Entertainment will often start around 7pm and run till midnight or longer, with various artists performing.
Food at Bangkok Beer Gardens
The food is always excellent at Bangkok beer gardens. Predominantly Thai food, except at the upscale beer gardens, it's usually normal Thai prices 30-60 baht ($1 cents to $2) per dish with typical Thai favorites like som tam, curries, rice dishes, meat on sticks etc.
At the upscale beer gardens like Asahi and Heineken, food is often more expensive and Thai and western. At the Heineken beer garden on the roof of Central World Plaza, Greyhound Cafe, a Bangkok upscale restaurant is providing the food. Both times I've eaten there though, the food has arrived cold, been completely tasteless and overpriced. I'd recommend avoiding it if possible.
Where Are The Best Bangkok Beer Gardens?
With more than 300 winter beer gardens in Bangkok, there is plenty of choice.
Central World Plaza shopping mall is the most popular venue, with several beer gardens set up right outside the front of the mall. These are mostly Thai brands, so prices are inexpensive, the food is good and the beer plentiful.
Central World Plaza mall itself is usually also the venue for Heineken's upscale beer garden. On the roof of Central World Plaza at Zense (the 18th, 19th and 20th floors), the location is superb, with four or five distinct areas, (chairs, sofas, smoking decks etc) seating well over 500 people.
Be warned too, it's incredibly popular with often hundreds of people in line by 7pm so get there early. They do have a wonderful live concert every night though, so it's well worth going. Beer here is more expensive than normal Heineken beer gardens, but the atmosphere is wonderful.
Siam Paragon usually hosts a new Asahi beer garden right in front of the shopping mall, opening early December and running through early January. Siam is right next to the Siam sky train station, so easy to get to.
Siam Commercial Bank Plaza (SCB) near the intersection of Pahonyothin and Ratchayothin roads has a small beer garden every year, but the live music is good and the food stall food is cheap and delicious.
Chang beer has a new beer garden at La Villa at Ari sky train station. Inexpensive and a bit more low-key than other beer gardens, prices are cheap and it's actually quite fun. Good live music too.
There are more than 300 winter beer gardens in Bangkok, so you'll probably have one close to your hotel or apartment. If you haven't been to a beer garden in Bangkok before, try one. They're fun, inexpensive, and a great place to socialize with friends or meet new people.