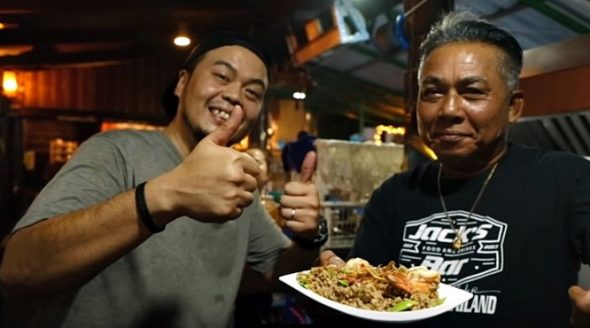 One of the best online publications when it comes to learning about what's going on in Bangkok is BK Magazine, an English language lifestyle magazine that is always up-to-date on the best restaurants, the coolest places to shop, and the most fun places to go if you enjoy Thai nightlife.
BK Magazine also has excellent features on the best food in Bangkok and, in the past few years, has started to produce some superb videos on must not miss places to eat in Thailand's capital city.
Videos like this one. The first in a new series called Where Bangkok Chefs Eat.
Because, let's face it, with tens of thousands of very good Bangkok restaurants to choose from, chefs must have their favorites right?
It turns out, they do.
The first episode of the Where Bangkok Chefs Eat series features Napol Jantraget, the head chef of 80/20 Bangkok — a restaurant in Silom where the food they make features 80 percent of its ingredients grown locally. How cool is that?
And Khun Napol, while he makes amazing food at 80/20, still has his own favorite Bangkok restaurants where he likes to eat, of course.
Restaurants like Si Phraya Noodle, where he enjoys a bowl of Jakraphat Noodles. A dry noodle that comes with dumplings, a fried egg on top, and a side of soup.
He also enjoys a visit to Jack's Bar after hours, a bar near the Mandarin Oriental hotel, where he eats dishes like Kung Pad Krapi and Khua Khling — dried spicy curries that are very very spicy. All eaten in a friendly atmosphere that, to him, feels more like sitting down with a family to eat than being in a restaurant.
Then there is Boon Pochana, a Chinese-Thai restaurant that is also one of my favorites in Bangkok, where he eats dishes like Braised Duck Intestine . I'll have to look out for Khun Napol the next time I'm there.
Watch the first in BK Magazine's series Where Bangkok Chefs Eat below, to check out some of the Bangkok restaurants Khun Napol believes serve the best food.
And, yes, like the two Bangkok chefs I know, it looks like he enjoys the food in more family-style restaurants than he does in an upscale place.  I have to say I agree with him.
You'll find more of BK Magazine's excellent food videos here.