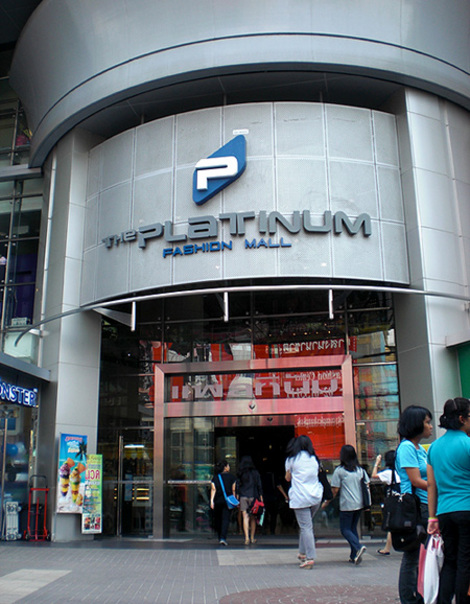 Most tourists in Bangkok, Thailand shop at tourist-oriented spots. While they think they've got an "incredibly cheap price", and sure, they might be cheaper than back home, prices are nowhere near the authentic "Thai price" at any of the tourist venues. If you're looking for true cheap shopping in Bangkok, avoid the tourist areas and shop where the Thais shop.
Places to Avoid – Let's start off with the places to avoid if you're looking for true "Thai price".
Siam Paragon, Siam Discovery, Central World Plaza, all the Central Department stores (unless they have one of their phenomenal sales), Gaysorn Plaza, Emporium, Terminal 21, Playground, and Esplanade. Whlle these are wonderful malls and I encourage people to shop at them, and, yes, stores here do have sales, overall, things are not cheap so, on days you want real Thai prices, you don't want to shop here.
Places to Shop in Bangkok if You Want Authentic Thai Prices
Pratunam Wholesale Market – Not just a wholesale market, meaning the general public can shop here, at Pratunam Market the more items you buy, the cheaper each item is. Want t shirts for 75 baht ($2.50) each, and by that I mean Japanese brand, high-quality, shirts? Then Pratunam is the place. Designer jeans, football jerseys, dresses, skirts, shorts — Pratunam has every type of clothing and accessory, including watches and belts, and it's mainly a Thai shopping crowd.
You'll find Pratunam Market at the intersection of Ratchadamri and Phetchaburi Roads in downtown Bangkok. Take the BTS sky train to Chidlom station, and it's a ten minute walk.
Bobae Market – Similar to Pratunam, Bobae is another wholesale market where you'll find the real Thai prices. There's everything from clothing, shoes and accessories, to independent Thai designers, and even textiles. It's also the place for Muslim clothing, ie: modest-style dress, and often packed with Muslims getting very cheap prices.
There's a canal just around the corner from Siam Discovery Mall in downtown Bangkok. Take the ferry boat on the canal. It's stops right behind Bobae Market.
Platinum Fashion Mall – Another wholesale-style mall, Platinum is great because it not only offers real Thai price (and even lower), but its air-conditioned too. Platinum has more than 2,000 stalls selling clothing, shoes, bags, costume jewelry, watches, perfume and more. Platinum Mall is right around the corner from Pratunam Market, so you can hit two birds with one stone.
Chatuchak Weekend Market – While it may seem Asia's largest outdoor market is for tourists, it's really not, as you'll see from the more than 100,000 Thais shopping here each weekend. Not just clothing, you'll find everything, including furniture, household items, art work, Thai silk, Thai snacks, and even animals (exotic and for pets). Get to Chatuchak by taking the BTS sky train to Mo Chit or the underground to Khampaeng Phet.
Bangkok's Hidden Market – While I've been given many different names in Thai for this market (Fish Alley Market, Water Market), nobody seems to know what its real name is, so I've always called it Hidden Market. An authentic Thai market where the only westerners you'll see here live in the area, it's one of the cheapest markets in Bangkok for clothes, shoes, accessories, household items, Thai snacks and lots of other knick-knacks. it's also wonderful as, although it runs every Monday through Friday, stalls change every day, so you can buy different things, depending on the day. Look for skirts as cheap as 150 baht ($5), t shirts for 99 baht ($3) and flashlights for 30 baht ($1). The vendors are lovely here too.
To get to Bangkok's Hidden Market, take the sky train to Asoke station or the underground to Sukhumvit, and walk up the left hand side of Ratchadaphisek Road passed Exchange Tower and Sukhumvit Soi 16. Keep walking straight until you come to a small food market on the left. Right before you reach this food market, there's a small alley, which you'll see many people walking down. This leads to Bangkok's Hidden Market.
Saphan Phut Night Market – One of Bangkok's oldest night markets, and you'll rarely see a foreigner, it's also about the cheapest. Well known for clothing, accessories, shoes, mobile phone accessories, DVDs, CDs and, of course, lots of counterfeit brand name clothing, Saphan Phut is so cheap you won't believe it. Remember to haggle, particularly if you buy more than one item at a stall, but don't be suprised if you walk away with a 75 baht ($2.50) t shirt and a 100 baht ($3.50) leather belt.
Get to Saphan Phut Night Market on the Chao Praya River Boat. Take the sky train to Saphan Thaksin and walk to the river. Take a boat going north to Saphan Phut (Memorial Bridge) Pier. The market is enormous and you can't miss it.