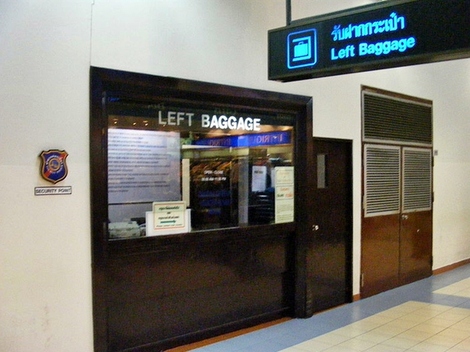 A few months ago, I flew from London Heathrow into Don Mueang Airport in Bangkok, Thailand, the city where I currently live. The timing of the trip wasn't perfect as, when I arrived back into Don Mueang Airport in Bangkok, it meant taking an almost immediate flight out again, but this time to Chiang Mai, Thailand's most popular northern city for a close friend's wedding.
Not wanting to lug two huge suitcases with me and not having time to drop them off at my Bangkok apartment, and then immediately return to Don Mueang for my flight, I was happy to see the left luggage service at Don Mueang Airport has recently reopened.
I was even happier when I realized how easy it was to use.
If you too will be flying into Don Mueang Airport and either want to spend a day in Bangkok before you catch a flight out, or need to fly somewhere else in Thailand but don't want to carry your heavy bags, you'll be happy to know leaving your luggage at Don Mueang is a simple thing to do and, even better, quite cheap as well.
Where to leave luggage at Don Mueang Airport?
The 'Left Baggage' counter is nothing more than a small glass-fronted counter on the second floor of the Domestic Terminal at Don Mueang near the check-in desks in the departure area. I had no trouble finding it as it's clearly signed with a couple of large overhead signs also pointing to it but, if you do, there are plenty of people who work at the airport to ask.
The Left Baggage service is also very easy to use, as there was nobody else there when I arrived so it took no more than a minute to drop off my bags, have my passport checked and then be given a claim slip to be used when I picked them up.
Just be aware, without that piece of paper you will not be able to reclaim your bags without an incredible amount of hassle, so do not use it.
Cost of leaving your luggage at Don Mueang Airport
The price is also inexpensive, as they currently charge 75 baht ($2.40) per day, with every additional day then split into 12 hour blocks costing just 35 baht ($1.12) per block, or 70 baht ($2.24) for the full 24 hour period.
While I headed to Chiang Mai, I left my luggage at Don Mueang's Left Baggage desk for 2 days and 11 hours, so the total cost was just 180 baht ($5.76) per bag. For me that was cheaper and more convenient than taking taxis to and from my home just to drop my baggage off.
You can also leave just about any size of bag, from a small carry-on or large suitcase, up to a surf board and it doesn't have to be storage for a couple of days either, as several months is also possible. That is perfect for people who are traveling to various countries, and don't want to carry heavy bags on a several week trip around Thailand.
For more information about Don Mueang's Left Baggage service as well as everything else the airport offers, check out the official Airports of Thailand Don Mueang webpage.
And, if you're flying in or out of Suvarnabhumi Airport in Bangkok, there's a left luggage counter at Suvarnabhumi as well.