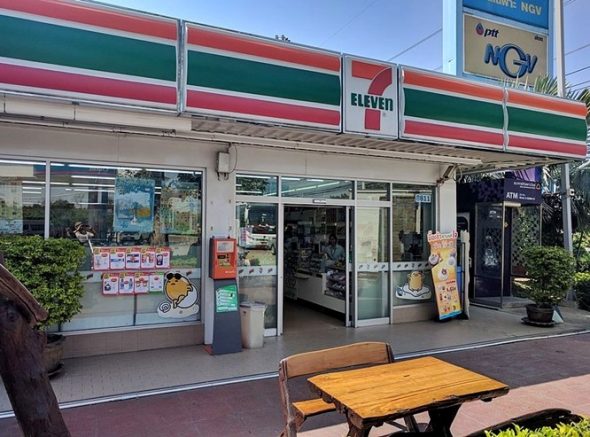 When I first moved to Bangkok, Thailand paying monthly household bills was a bit confusing. Not sure where the payment offices were and how to pay, I relied on Thai friends the first couple of months until I figured it out myself.
If you too are in or moving to Thailand and are confused about paying monthly household bills, don't be. It is actually quite easy if you just know where to go.
Paying Your Electricity Bill in Thailand – Of course, you can go down to the local EGAT (Electricity Generating Authority of Thailand) office every month and pay your bill but that is just about the most difficult way to do it.
At EGAT, finding an employee who speaks English is not always easy and, if you have any questions that can be a frustration. That is why I save all my questions for their English-language telephone line and I pay my bill at my local 7-11 instead.
In fact, for your monthly electricity bill, you can pay it at most 7-11s, any bank, most department stores and the post office, or at most ATM machines (just transfer money from your bank account to the electricity companies account and hold on to your printed receipt as proof of payment).
If you pay at a 7-11, bank or department store, there is usually a 10 baht (30 cent) fee per bill, but as it is much more convenient than finding an EGAT office, to me it is worth the minimal charge.
Also, for payment at a 7-11, look for the ones with a blue sign outside that has a small yellow half moon on it – that means you can pay your bills there.
When you do, just hand over your bill with enough money to pay it. They will type your payment into their computer system, print out a receipt, attach it with a stapler to your original bill and give the whole lot back to you.
If I do this at my local 7-11, it is a one-minute operation and, if there is no line at the bank, it takes about three minutes. Far more convenient for me than taking a taxi to EGAT, and most of Thailand seems to agree as this is how most people pay.
Related: Electricity in Thailand — how much is it, how do you get it connected and where?
Paying Your Telephone Bill – Depending on what type of telephone you have (mobile or land-line) depends on how and where you pay it.
For a landline, you will receive a bill in the mail and can pay it at the 7-11, bank, post office or one of many department stores. Just be aware, they can only allow you to make payment up to the due date. If you are past due, you must pay your bill at your telephone companies office.
For a mobile phone, if you have a contract with a phone company your options are 7-11, bank, or post office or you can pay at one of the offices belonging to your telephone company. Unlike EGAT offices, telephone company offices are everywhere.
The three main phone companies are DTAC, AIS and True and each has an office, showroom or payment desk at just about every mall in Thailand, as well as in small shopping centers, and local larger supermarkets.
I pay my cell phone bill at my local DTAC office if I am at the mall or at a small DTAC counter at the Big C supermarket close to my house. The advantage of paying at the mobile phone office itself is you do not have to pay a 10 baht fee, although it is not worth traveling halfway across Bangkok to save it.
Paying Your Gas Bill – Weirdly in Thailand, gas is not piped in through an indoor pipe system like it is in the west. Instead, you have to buy bottles of gas, which you then hook up yourself and use until they're empty. Once empty, you change the bottle and start all over with a new one.
Most Thais have bottles of gas delivered to their house or apartment by a local company. When you move into your new house or apartment, ask the landlord which gas delivery company they have used in the past and then sign up for deliveries with them.
Once a month delivery is usually enough, and you will either pay the delivery man when he drops off your gas bottles or get a bill in the mail. You can then pay that via bank debit.
Paying Your Internet Bill – There are two main internet companies in Thailand – True and TOT. To get internet with either of them, you must first get a telephone line connected by one of them. Then, sign up for internet service and, for this, you will be billed monthly.
I used to pay my internet bill at my local Bangkok Bank but, after being disconnected by True Internet once, because I made the payment three days before the due date and my bank didn't process it fast enough, I now pay directly at a True Internet office and I advise you do the same.
You will find True and TOT at many major malls, and payment takes less than five minutes.
Paying Your Cable/Satellite TV Bill – Your options for cable TV bill payment are the same as electricity – a 7-11, department store or at your cable TV office. There is only one main cable/satellite company in Thailand though, and that is TrueVision so, if you sign up for True internet with them at the same time, you can kill two birds with one stone and pay both bills at a True office.
Paying Bills Through Online Banking – You can also sign up for your local Thai bank's online banking service and most of your bills will be payable through that, right from the comfort of your own home. Just check with your bank before you set it up, to find out which monthly bills you can pay online and which you'll still have to use a 7-11 for.
Paying monthly household bills in Thailand is actually easier than in the west, once you get the hang of it. In Thailand too, they seem to have much more leeway when it comes to disconnecting you from a service you haven't paid for, going two weeks or longer before you' are suddenly cut off.
But, it still pays to pay on time as most services have an extremely high re-connection charge (sometimes over $100) if you do get disconnected.