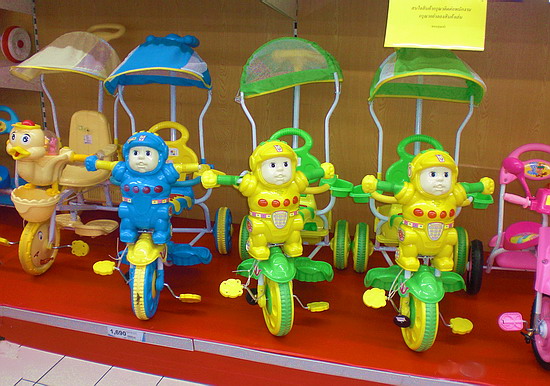 When I first moved to Bangkok, almost a decade ago, you didn't see many people riding bicycles on Bangkok's streets. Nowadays though, as Bangkok's air has become cleaner and streets are safer, more and more people – foreign and Thai – are buying bicycles and biking on Bangkok's streets. Whether you want to buy a bike in Bangkok to ride to work, to ride on the weekend with friends, or just for your children to play around on, Bangkok has some wonderful places to buy bicycles – and to fit all prize ranges.

Big C (Carrefour) – Thailand's largest hypermarket chain, Big C (which recently took over the Carrefour chain) has one of the largest selections of inexpensive bikes in Bangkok and at prices you won't find cheaper anywhere.
Big C's sporting goods department, in just about every Big C location, has at least one aisle devoted to bicycles and the bikes themselves are usually stacked on enormous upper and lower shelves – just to show you how many they have.
At Big C, you'll find everything from colorful novelty bikes for teeny tiny kids, right up to your child's first 'big boy' bike, bicycles great for teens and inexpensive knock-around bikes for adults.
While I wouldn't suggest buying a bicycle at Big C if you're an avid cyclist (for that you need to go to a bicycle shop), if you're looking for a bike just to travel short distances or play on with the kids, then Big C is the place to get one. Prices start as low as 600 baht ($20) for children's bikes and even a good quality adult bike can be bought here for only 1,900 baht ($63). They sell all styles and all colors, and even have a selection of bicycle accessories if your bike doesn't come with a handlebar basket or a nice sounding bell.
You'll find many Big C's all over Bangkok. Try the location on Ladprao, just south of Central Ladprao Mall, the branch at Saphan Kwai next to the sky train station, or the massive Big C on Ratchadapisek near Thailand Cultural Center underground train station.

Pro-Bike – For those who want a professional bike or just one that's world-class quality and will last you a few years, Pro-Bike is the most popular place to buy one in Bangkok.
Pro-Bike sells mostly Trek, Shimano and Gary Fisher bikes, and has great prices on all of them. They're also known for their deep discounts, often offering you a cut in price and discounts on store accessories without you even asking them.
Staff at Pro-Bike too is knowledgeable about their stock and speak decent English so you can get all your questions answered before you decide on a bike.
They also have a large selection of accessories and bike apparel, everything from water bottles to bike racks, pumps, bike locks and bicycle shorts.
Unfortunately, their website is only in Thai, but you can at least get an idea of what they sell before you trek down there by glancing at it.
Pro-Bikes main showroom is near Lumphini Park in downtown Bangkok at on Sarasin Road, just around the corner from the Ratchadamree sky train station.
Super Sports– Don't forget the sporting goods stores in Bangkok too, as they often have a good selection of adult and children's bikes. Super Sports is one of the biggest sporting goods store in Thailand, with branches all over Bangkok and a nice selection of bicycles in various brands to choose from.
Look for Mongoose, Trek and GT here, as well as a large selection of riding apparel from Adidas, Nike etc. and accessories at reasonable prices. Super Sports also often has sales, so if you can wait to make a purchase you could end up getting a few thousand baht of the price of the style you really want.
Super Sports often have branches within department stores, like Central Department Store in Bangkok. But one of the best Super Sports branches is at the enormous Central World Plaza, close to Chidlom sky train station.