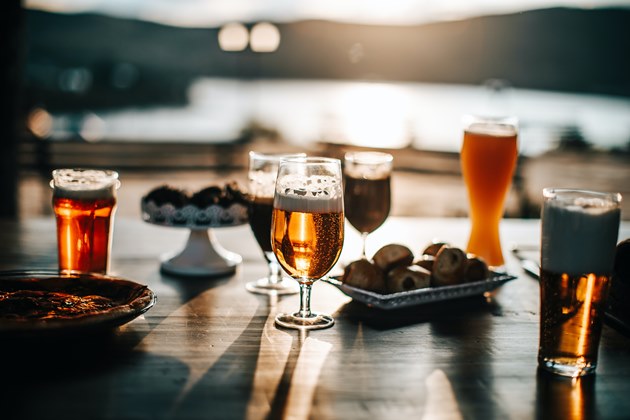 Many western tourists visiting Bangkok, Thailand as well as resident expats love drinking beer. While drinking beer at a Bangkok bar or restaurant is fun, it can get pricey if you drink a of it. That's why most tourists and expat residents eventually buy over-the-counter beer to take back home and enjoy. With many places to buy beer in Bangkok though, where is the best and the cheapest?
Buying Beer at Thailand's 7-11s – While many western visitors and expats in Thailand talk about 'stopping off at the 7-11 to grab a beer', it's not the best place to buy one. With more than 1,000 7-11s in Bangkok, it's definitely convenient but if you're hoping to save money while having a good beer selection, 7-11 isn't the place. Save it for when you just want a quick can of Singha and don't feel like trekking to a supermarket.
Buying Beer at Thai Supermarkets – One of the best places to buy over-the-counter beer in Bangkok, Thailand is at a local supermarket. Often, they'll have huge beer selections (Thais are big beer drinkers) with sometimes entire aisles and more selling nothing but domestic and imported beers.
Big C – A Thai supermarket, Big C usually has a good selection of domestic beers but not always a great selection of imported brands. Expect to find Singha, Chang and Leo beers (the Thai brands) and Asian brands like Beer Lao and Sapporo. For a better import beer selection though, unless the Big C you're at is in a big expat neighborhood, try other supermarkets in Bangkok instead.
Villa Supermarket – One of the best supermarkets for a good over-the-counter beer selection in Bangkok is Villa Supermarket. It has several branches around the city usually selling all the Thai and Asian brands, as well as a fair selection of European and North American beers.At Villa, I've bought Budweiser, Fosters, Heineken, San Miguel, Kingfisher, Dos Equis, Guinness, Coors, Samuel Adams, Newcastle Brown ale and a fair number of other brands.
Some Villa Supermarkets are better than others though. The branch at Major Avenue Ratchayothin (just renamed 'Suzuki Avenue) has an excellent selection of domestic and imported beers, as does the main Villa branch on Sukhumvit Soi 33 just down the street from Emporium Mall.Villa also sells mainly imported food, so if you're looking for British, American or Australian bar snacks to go with your beer, Villa's the place for that too.
Food Land – One of my favorite supermarkets for imported food, Food Land branches also have a nice selection of imported beers (and wine). Of course, Chang, Singha and Leo is fully stocked along with Asian beers like Sapporo, Tsingtao and Kingfisher. I've noticed beers like Coors and Budweiser aren't always available at Food Land but their European beers are quite varied. My favorite Food Land is on Sukhumvit Soi 16, but you'll find branches all around the city.
Siam Paragon – The Gourmet Market – While I'm not a big shopper at The Gourmet Market as their prices are high, they have a massive selection of beers. You'll find everything from all the Thai brands, every Japanese brand (as they have a huge Japanese clientele), Malaysian, Vietnamese, Australian, New Zealand, Dutch, German, British and American beers, with other countries also nicely represented.
Sometimes they do also have good sales where you can pick up a case or two for a reasonable price.The main thing with The Gourmet Market though is it's convenient. It's in the basement of Siam Paragon mall, right next to Siam sky train station.
Buying Beer at Bangkok Wine And Beer Cellars – With Thais becoming increasingly affluent in Bangkok, there's a number of beer and wine cellars popping up all over the city. These shops have huge selections of domestic and imported beer and wine and often at exceptionally cheap prices.
You'll find a good wine and beer shop at Major Avenue (the name has just been changed to 'Suzuki Avenue'), an excellent one in the basement of the Mall Ngam Wong Wan, and at Emporium Mall the Emporium Wine Cellar on the fifth floor has a decent selection.
Days and Times You Cannot Buy Beer in Thailand – Don't forget, you cannot buy any alcohol in Thailand from 6pm the day before an election to 6pm the day of the election. You also cannot buy any alcohol on Buddhist holidays or between certain hours of the day, every day. Supermarkets and beer and wine cellars have times of day posted where you're allowed to buy alcohol.