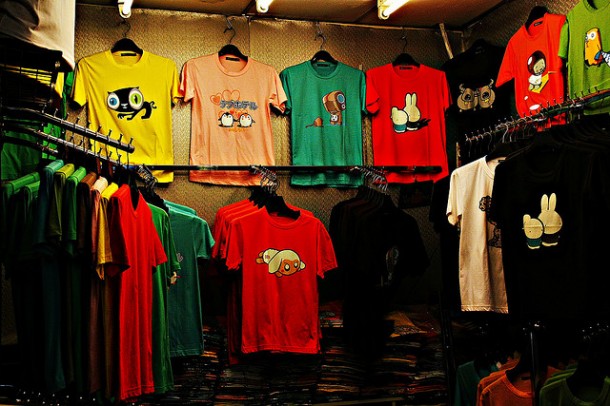 Every year, millions of foreigners come to Bangkok, Thailand to buy cheap clothes. Thailand is famous worldwide as a place where you can buy cheap pants, shirts, jeans, t-shirts, skirts, silk suits, shorts, men's suits and many other items of clothing.
But, if you're not familiar with Bangkok, you'll still need to know the best places to shop for cheap clothes. Shop at these wonderful places in Bangkok if you're interested in buying cheap clothing, and you'll soon be buying another suitcase.
Chatuchak Market – Also known as J.J. Market, Chatuchak is Bangkok's local weekend market. With more than 15,000 stalls (it's enormous!) the market sells everything, but it's a particularly wonderful place to look for cheap clothes. Here you'll find about 3,000 stalls that sell every type of clothing imaginable. From t-shirts to shorts, skirts to sweaters, jackets to pants, there's everything here.
How to survive Chatuchak Market when you go — it's huge, crowded and there are more than 13,000 stalls
You can find professional clothing as well as traditional Thai clothing. There are also hundreds of cool shops that sell one-of-a-kind clothing by young, local Thai designers and prices are not usually more than $5-$12 per item.
To get to Chatuchak Market, take the sky train to MoChit station and follow the crowds. It's open on Friday evenings and all day Saturday and Sunday (until about 6 p.m.).

Mahboonkrong Mall (MBK) – MBK Mall is one of the best places to buy cheap clothes in Bangkok. It's an enormous mall with 8 floors and all types of clothing are available here.
From brand names to local designers, you will find any type of cheap clothing you want. On the next to top floor, you'll see traditional Thai clothing as well as t shirts, short, jeans, skirts, jackets etc. On the ground, first, second and third floors, there are tons of little boutique shops and larger shops that sell any kind of clothing imaginable.
Also, on these floors, there are several inexpensive tailors that can make you a skirt, a women's suit, a man's work suit, shirts, ties, – anything you want and all very cheaply.
MBK is right next to National Stadium sky train station (one the right hand side as you get off the train, you can't miss it!)
Siam Square – Siam Square is the local university area and is flooded with university students at any time of the day and night. It's also a great shopping area for clothes as they cater to the price-range of college students, and also have the latest, hip, fashionable clothing at inexpensive prices. T shirts, skirts, shorts, spaghetti strap tops, jeans, shoes, everything is available here. Also, if you go into some of the little alley ways, you'll find lots of other stores that are designer stores (local young Thai designers) at very inexpensive prices.
The only drawback to Siam Square is, because Thais are small and these stores cater to young people, the sizes are small. If you are above a US size 10, you're not likely to find anything to fit you here unfortunately.
Siam Square as at the Siam sky train station. It's the area opposite all the malls (Siam Discovery Mall, Siam Paragon, Siam Centre etc.) but, as all you can see are tons of shops and lots of young Thais, it's difficult to miss.
;
Bobae Market – Bobae Market is a clothesaholics' paradise. Clothes are dirt cheap here, but you are expected to buy in bulk or wholesale (i.e.: three or four pieces at each stall). Prices are so cheap though ($1.50 per t shirt) that it's easy to want to buy more than one item. Bobae has any clothing you would want but is specifically a great place for jeans, t shirts, shirts, blouses, skirts etc.
To get to Bobae, you can either take the boat from Siam Square (a bit difficult to find though, although one of the shopkeepers in any of the malls near Siam can tell you how to get there, and it is really fun on the boat on the klong) or, take a taxi.
Baiyoke Markets – There's a huge market area near Baiyoke Tower and also hundreds of shops within the Baiyoke Tower complex. Again, here, you're expected to buy at least two pieces (they don't have to be the same designs though, just two t shirts, two pairs of shorts, etc.) but prices are about half of what you would pay at Chatuchak (around $1.50 per t shirt, sometimes even $1 per shirt and the quality is beautiful).
You can also get larger sizes here, so Baiyoke Markets are great for those who are above a US size 8, as well as those who are tiny (they have sizes for everyone because this is where much of the exporters to Europe and the US buys their clothing).
Go to Chidlom sky train station, and then take a taxi to Baiyoke. You can walk there, but the alleys are a little confusing. A taxi driver however will take you straight there for only about $1.25 fee.
Shopping Mall Sales – Bangkok also has many Western-style shopping malls with thousands of clothing stores. Siam Paragon, Siam Discovery, Siam Center, Central World Plaza, Central Chidlom, Gaysorn Plaza, Emporium, Central Ladprao, Seacon Square and more – all of these places usually have great sales on clothing at least once a month. So, make sure you check out the local malls too.
Don't forget, if you go to any of the market areas, you can and are expected to bargain, so prices will be even cheaper than first stated. The only places you cannot bargain are in the large department stores and the supermarkets.
Even in the smaller shops, they will sometimes offer you a discount although, here, it's best not to try to bargain but only to be 'indecisive' about buying more than one item. Miraculously, a lot of the time, the price will come down if you look like you might buy two or more.
Bangkok, Thailand, is a shopper's paradise for cheap clothes, so don't forget to bring lots of money. You'll regret it if you don't.