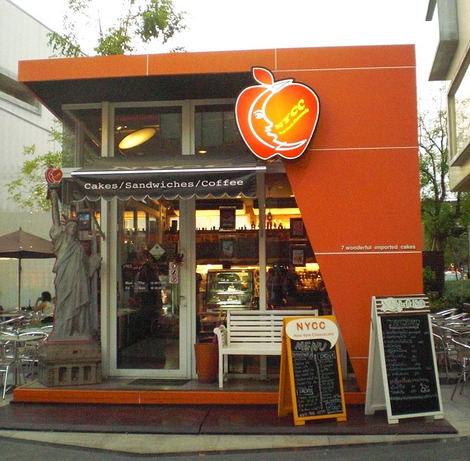 Cheesecake in Bangkok, Thailand used to be something you really had to search for when I first moved here a decade ago. When you found it, it really wasn't that great. Nowadays, though, if you love this tasty savoury-sweet dessert you'll find some excellent cheesecakes all over Bangkok, from sit-down restaurants to cafes and bakeries where you can buy it to go.
If you're looking for cheesecake in Bangkok, here are three of my favorite places to buy it.
NYCC Cheesecake – Crystal Design Center – If you want the 'real deal', and by that I mean real creamy, heavy New York cheesecake, you won't find it at any better of a place than NYCC Cheesecake at the Crystal Design Center. Not only are their cheesecakes some of the tastiest in Bangkok, according to their staff they're also flown in from New York every day, so you really will get the real deal here.
NYCC Cheesecake isn't just a cheesecake bakery, though. They also serve amazing western-style sandwiches and salads, to go along with their cheesecake and cakes and their portions are absolutely enormous. It's just a small cafe, but one of my favorite places in Bangkok when I'm looking for a good cheesecake.
Coffee Beans by Dao – This incredible restaurant started out as an independent place serving Thai and western meals and delicious cakes. They are now so well-known for their amazing cakes and cheesecakes, people flock from all over Bangkok to enjoy a slice at Coffee Beans by Dao, or take several slices home to share with family and friends. They have a lot of branches too.
Coffee Beans by Dao makes amazing cheesecake, in plain, blueberry or strawberry. Slices are large and, although they don't have exactly a true western-style taste, they're still pretty darned awesome. Stop by for a latte or a tea drink and a slice of their cheesecake (or another type of cake if cheesecake isn't your thing), or enjoy it as dessert after one of their excellent meals.
There are several Coffee Beans by Dao now all over Bangkok, and every one is a great place to eat.
Mandarin Oriental Shop – If you like something a bit more ritzy or upscale, you'll enjoy a coffee or tea and a cheesecake or cake at one of the branches of the Mandarin Oriental Shop. Owned by the same people who own the world-famous five-star Mandarin Oriental Hotel, you can expect your cheesecake to taste pretty fabulous here.
Cheesecake here is circular and more like a British tart than a traditional cheesecake, but that doesn't stop it tasting delicious. Piled with blueberries on top of a rich, creamy cheesecake filling and a delicious crust, it's no wonder many Thais think the Mandarin Oriental Shop serves the best cheesecake in Bangkok.