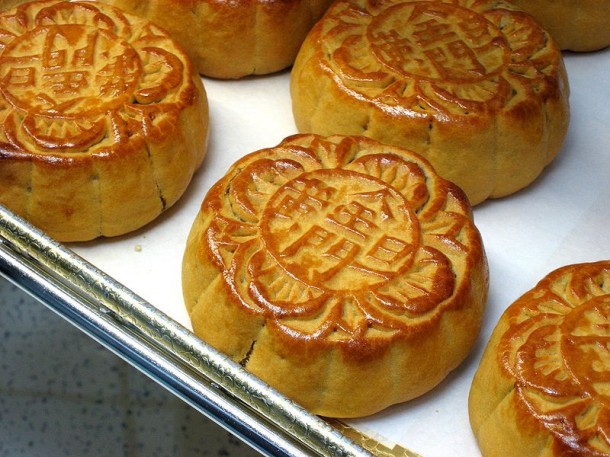 Where to buy Chinese mooncakes in Bangkok, Thailans
Chinese mooncakes are a traditional pastry from China that are usually eaten in the fall, around the time of the Chinese Zhongqiu Festival. Currently, they are all over Bangkok, as it's now the traditional time of year for them but, with so many Chinese and Chinese-Thai living in Thailand, as well as hundreds of thousands of other mooncake lovers, you can now get them all year round. If you like Chinese mooncakes, Bangkok is the place to buy them and here are the best places to get them.
What is a Chinese Mooncake? – Mooncakes are extremely dense round pastries. They have a thin pastry case, and are stuffed with fillings like sweet bean paste, taro paste, nut paste, fruit pastes and lotus seed paste. In Thailand, you'll also see durian mooncakes, as Thais are big fans of the smelly fruit. Often, mooncakes will also have a salted duck egg yoke in them, and are stamped on top of the pastry with a Chinese symbol meaning "long life".
How Much are Chinese Mooncakes? – In the west, Chinese mooncakes tend to be quite expensive. At up to $60 for a box of four, you have to be certain you like them before you buy. In Thailand, mooncakes are very inexpensive. With individual cakes starting at less than $1 at many shops and boxes of four between $3 and $10, it's easier to try them here simply because of the cost.
Of course, you can buy expensive Chinese mooncakes in Thailand too, but why bother if you can buy the authentic cakes at one of thousands of Chinese bakeries, supermarkets and market stalls.
Where to Buy Chinese Mooncakes in Bangkok – There are thousands of places to buy Chinese mooncakes in Bangkok. These are just a few but, often, it's as easy as just heading to the local market or shopping mall.
Big C – To buy inexpensive Chinese mooncakes is as easy as picking some up at a Big C supermarket. During the Autumn Festival (running usually from September through the beginning of November), Big C always has a big display of mooncakes, as well as other Chinese sweets, but they also sell them throughout the year as well.
Bangkok's Markets – You can  buy Chinese mooncakes at most food markets in Bangkok. You'll see these markets just about on every street, and many of them will have these sweet delicacies at inexpensive
prices.
Siam Paragon – The Gourmet Market at Bangkok's enormous Siam Paragon mall has delicious mooncakes, if a little high-priced. Around the Gourmet Market, in the mall's basement, you'll also see many food stalls and there's always a Chinese sweets stall set up during the Zhongqiu Festival.
The Peninsula Hotel – The Peninsula Hotel in Bangkok is famous for their Chinese mooncakes and, my Thai friends tell me, they make around 100,000 of these every year. Of course, because it's The Peninsula, they're a lot more expensive than most other shops, but supremely delicious.
If you can't get to The Peninsula Hotel in Bangkok, they have a small cafe, The Peninsula Cafe at Siam Paragon, that also sells their special type of mooncake.
If you haven't eaten Chinese mooncakes, I highly recommend them. They're sweet (or sometimes a bit salty), filled with delicious pastes and satisfy any sweet tooth. When you buy a mooncake, most people only eat a small slice at a time, as they're sweet and very dense.