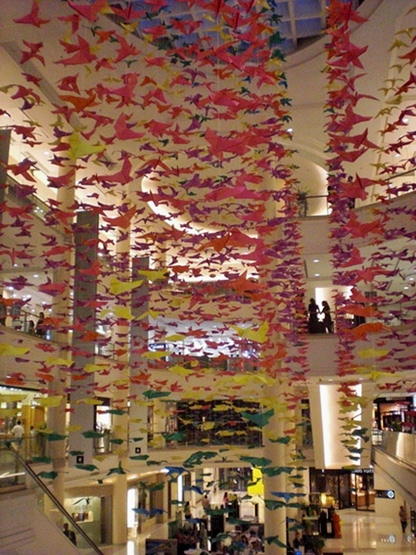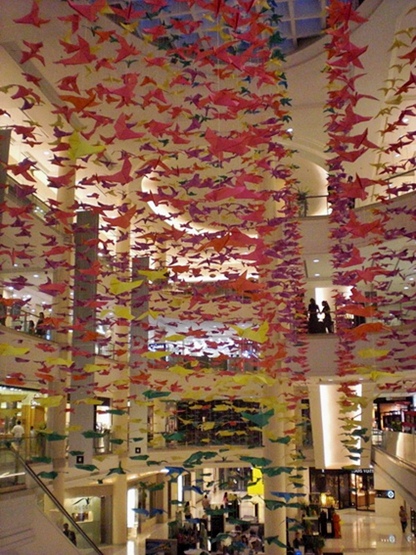 Visitors to Bangkok, Thailand are often surprised at the huge number of upscale shopping centers selling designer bags, luggage and shoes. Many people imagine Thailand as a third-world country (It's not!), so when they see the enormous, glitzy shopping malls, Mercedes everywhere and hordes of people buying Jimmy Choo shoes, Prada luggage and Louis Vuitton bags, they can hardly believe it.
Designer label bags, luggage and shoes are available in hundreds of places in Bangkok (so no need to buy the fakes), but these are the top destinations for true designer label aficionados.
Gaysorn Plaza – One of the most exclusive shopping malls in Bangkok is Gaysorn Plaza, which is located in the Rajaprasong area of the city. Known for its appeal to high-society and wealthy shoppers, its more than 100 designer shops offer a lot of choice for designer bags, high-end luggage and shoes, even if the price is high.
Look for Fendi, Gucci and Dior bags and luggage and Etienne Aigner, Alfred Dunhill and Bally shoes.
Sure, they are several hundred dollars, or even thousands of dollars, for a bag or a pair of shoes, and a few thousand for luggage as well. But you will feel like a million dollars owning them.
Gaysorn Plaza is located close to the Chidlom sky train station, across the street from Central World Plaza.
Siam Paragon – The next most exclusive shopping mall in Bangkok, and hugely popular with Bangkok's hi-so (high-society) set, is Siam Paragon.
One of the biggest shopping malls in south east Asia, and mainly designed around luxury goods, Siam Paragon has many beautiful designer label bag, luggage and shoe stores.
Shop at Jimmy Choo for incredible Sex and the City shoes, Prada for beautiful luggage and shoes, Fendi has gorgeous Italian leather handbags and Louis Vuitton those famous shoes and bags.
Siam Paragon is just about the easiest luxury mall to get to in Bangkok if you love designer label shoes, luggage and bags. It is located right next to the Siam sky train station, which is connected to the mall with a walkway.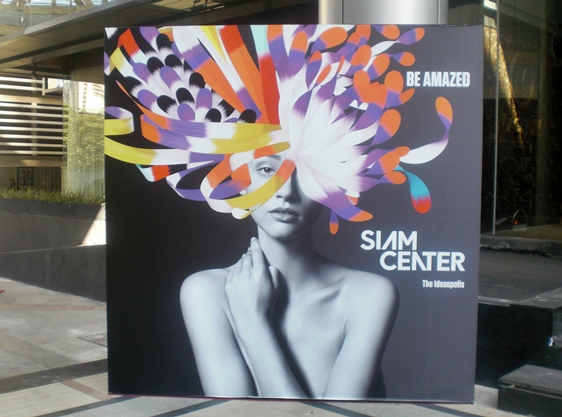 Siam Center — If  you would prefer to buy Thai designer products, rather than imported brands, don't miss checking out Siam Center.
Here you will find many boutiques and stores that are owned by and stock the designs of Thai designers. This goes for not only designer bags, luggage and shoes, but clothing as well.
Siam Center is next to Siam Paragon, so head here and you can kill two birds with one stone.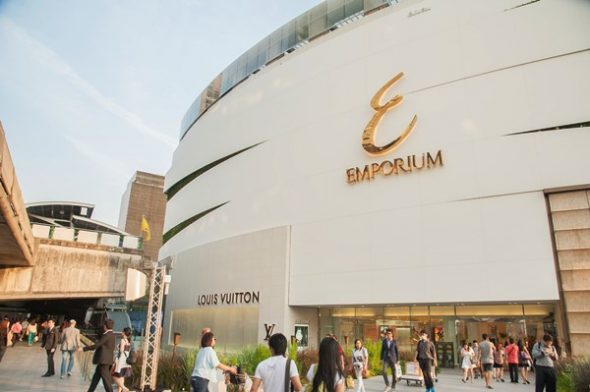 Emporium – Emporium is less popular than it used to be for the average Bangkokian, but for those looking for designer bags, exclusive luggage and shoes, it is more popular than ever.
Away from the crowds at Siam Paragon, at Emporium you can browse in a quiet, relaxed atmosphere and, with many designer label shops to walk through, you could be here for hours.
Don't miss Louis Vuitton, Paul Smith and Salvatore Ferragamo for luxury brand shoes. Dior and Fendi are just two of the shops selling upscale, high-end bags and don't miss Emporium department store. It is a treasure trove of designer handbags, luxury luggage and shoes from such names as Chanel, Gucci and Prada.
Emporium, by the way, is right next to Phrom Phong BTS skytrain station, which makes it one of the easiest places in the city to get to.
If you only wear designer label shoes and carry luxury brand handbags and purses, you will be in shopper's heaven in Bangkok. T
These three high-end luxury goods malls carry many upscale brands of handbags, purses, luggage and shoes and sometimes, they even have sales – so check the promotions before you actually buy. After all, even those with money like a sale.