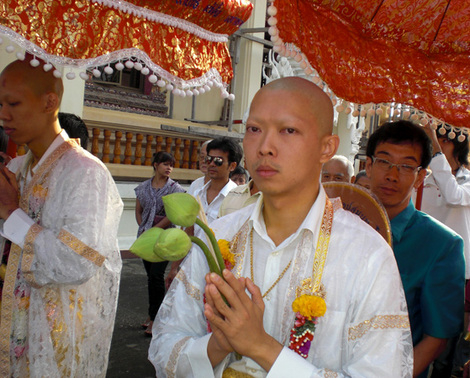 As a resident of Bangkok and one who's fascinated by Buddhism, I'm often asked by visitors to Thailand where to buy English language books on the subject, as they want to learn more about it. Thailand's population is 97% Buddhist and, with its rich Buddhist culture, incredible Buddhist temples and calm, serene people who try to walk 'the middle path' as Buddha taught, many visitors to Thailand become fascinated by the religion. So much so, they spend part of their trip scouring the city for books on it. Luckily, Bangkok has a number of excellent bookstores that sell English-language books about Buddha and Buddhist teachings so, if you'd like to learn more, pick up some books at these great places.
Kinokuniya – The best bookstore in Bangkok for just about every type of English-language book, the Japanese chain Kinokuniya also has an excellent selection of books on Buddha, Buddhist teachings, temples, beliefs, society and culture.
You'll find books on Buddhism in Thai life, books about Buddhist texts and understanding the religion and its teachings, Buddhism in India, yoga and its place in Buddhism and on and on. Kinokuniya will also special order any book you want if you can't find what you need and don't mind waiting a few days.
Prices at Kinokuniya are slightly higher than most other bookstores for these type of books, but the selection is so good, in my mind it's worth paying a bit more for the convenience.
The best and largest Kinokuniya branch is in the Siam Paragon mall next to Siam sky train station. This one has the largest selection of books on Buddhism. There are also two other excellent branches, although smaller, at Central World Mall and at Emporium Mall – both next to sky train stations, so a breeze to find.
Mahamakut Buddhist University Bookstore – Probably the most famous Buddhist bookstore in Bangkok, Mahamakut Buddhist University Bookstore has the best selection of books on Buddhism in the country. Attached to the university, although much of what they sell is of course in Thai or Pali, they have a great selection of English language books too.
Here, you'll also find some wonderful books written by Thai monks that explain the 'right action' ways of Buddhism, talk about the history of Buddhism and even biographies of famous monks. Books from many
Buddhist presses are represented, as well as from Mahamakut University's own publishing company.
You'll find it on Phra Sumen, across from the Thai temple called Wat Bowoniwet, near Khao San Road. Easiest way to get there is to take the river boat, either north or south depending on which way you're coming from, and get off at Banglamphu Pier and walk.
Dasa Books – Although a used and new bookstore selling mainly mainstream fiction and non-fiction, Dasa Books also has a decent selection of books about Buddhism. Maybe not surprising actually, as the word 'Dasa' is from the Pali language (the language Buddhist monks chant in) and means 'slave'. Apparently, the book store owners chose the name as they know all voracious readers are "slaves to books".
Look for books on Buddha and his teachings, beginners books on Buddhism, Thai culture and society and Buddhism and meditation. On my last visit here, I picked up a wonderful book by Phra Peter Pannapadipo, a British Buddhist monk who was a monk in a Thai temple for many years. He writes about novice monks (the small boys who begin their lives as monks at a very young age) and the education they receive in Thai temples.
Dasa Books has a wonderful cafe too so why not grab a couple of books then enjoy a latte and a slice of cake while you sit back and read it?
Dasa Books is located on Sukhumvit Road in downtown Bangkok, between Sois 26 and 28. Take the sky train to Phrom Phong station and walk a couple of blocks.
Khao San Road Used Bookshops – Finally, don't miss looking at the many used bookstores on Khao San Road and its surrounding area, the backpacker section of Bangkok. As it's frequented by young travelers, who often carry books with them and many of whom are fascinated by Buddhism, you'll find a number of books on the subject here and at inexpensive prices.
There's also a small market inside the temple grounds opposite Khao San Road with a couple of stalls selling books, which is worth checking out too.
Take the boat to the Banglamphu Pier and it's a quick walk from there. If you head to Khao San Road, you can also check out Mahamakut University's book store at the same time as they're not far from each other.