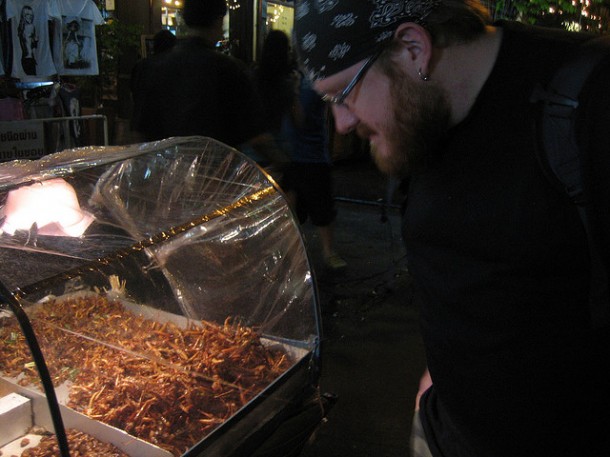 Since I moved to Bangkok, Thailand, I've become a huge fried insect fan. So much so if I don't get them a couple of times a month, I feel deprived. Although most westerners think fried bugs are nasty, they're actually not. They're low in calories, high in protein and extremely nutritious. Once a snack or a food for only low-income Thai field workers, fried insects are now found all over Bangkok with high-society types in Mercedes just as likely to eat them as local peasant workers.
Where Do Fried Insects Come From? – Like in most other Asian countries where fried insects are eaten, some are caught wild by picking them from trees, looking for them in the undergrowth or cutting down bamboo to harvest them from inside. Others however are raised by insect farmers, and this is becoming the more commonplace way to make sure there's always a plentiful supply.
Where Can You Find Fried Insects In Bangkok? – Fried insects are available all over Bangkok. One of the places you'll always find them is on Khao San Road. Known as the place for 'hippies', Thai insect sellers sell bagfuls of fried insects every night. They're bought by either westerners who are dared by their friends to eat them, or by those of us who know they're an amazing snack eaten with a cold beer.
Other places you'll find fried insects are at Ratchadapisek Night Market on Saturday nights, Chatuchak Weekend Market on Saturdays and Sundays, in the Patpong area of Bangkok, on Soi Cowboy near Asok sky train station, outside Major Ratchayothin Mall every night,and on many Bangkok streets, as the insect seller pushes his cart on his way to find customers.
Which Insects Should You Eat? – The most popular fried insects in Bangkok are bamboo worms, crickets and grasshoppers. Others include scorpions and water beetles, weevils and ants. Which insects you eat depend on what taste you're looking for.
Crickets and grasshoppers are crispy, whereas bamboo worms are slightly crunchy on the outside, but soft on the inside. Grasshopper legs and cricket wings stick in your teeth and scorpions are harder to eat with all that shell.
My favorite fried insects are both the bamboo worms and grasshoppers. The bamboo worms have a bit of a nutty taste and the grasshoppers are very crispy; like I said, perfect with a cold beer.
Often, you'll find the taste differs from vendor to vendor as well, as they use different spices and flavorings and sometimes add a sauce to taste. My favorite vendor at Chatuchak Market puts a spice on his
grasshoppers that's spicy and herby tasting; a wonderful combination with all that crunch.
How To Buy Fried Insects? – When you see a fried insect cart, don't be afraid to stop and look. The sellers are always friendly and love selling to westerners as they know fried insects are a no-no in the west, so expect the laughs, shrieks and sounds of disgust.
If you're a bit adventurous, try either the bamboo worms or grasshoppers. If you're more adventurous, try a bag of mixed insects, so you get a varied sample. And, of course, if you're super adventurous (or crazy!), the scorpions or water beetles (they look like cockroaches, but they're not).
The only thing to know to ensure the best taste is, it's preferable to eat fried insects from the sellers who are selling them fast. Some of the carts that have fried them before setting out to sell them have some of the soggier kind (just like potato chips, insects go a bit soggy a few hours after cooking), so freshly fried is better too. You can also buy them at some markets, already packaged in plastic, and they're guaranteed to be crispy and fresh for up to a week.
Also buy at stalls where Thais are buying. The first time I ate bamboo worms they tasted a bit odd, but I thought that was the taste. Then my Thai boyfriend took a handful, popped them in his mouth and promptly spat them out saying "Not fresh". I'd never eaten them before. How was I to know?
How Much Are Fried Insects? – Of course it depends on the type of insects you buy and the season. For a bag of common bamboo worms or crickets, most vendors sell them for 20 baht (65 cents) a bag. Later in the season, when they're a bit more scarce, prices may go up 10-15 cents, but they're still cheap. For the larger insects like scorpions, you'll pay per insect and I've seen those in price as high as 40 baht ($1.20) depending on size.