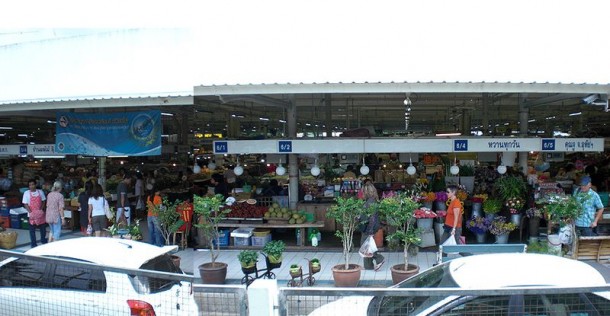 Buying organic and pesticide-free meat, seafood, poultry and eggs has become very fashionable in Bangkok, Thailand lately. A decade ago, when I first arrived in Bangkok, it wasn't easy to find organic meat, seafood and eggs but now there are a lot of places in Bangkok that stock them. From smaller shops to large supermarkets, these stores sell organic, pesticide-free, antibiotic-free, hormone-free and even free-range eggs.
Gourmet Market – At Emporium Mall and Siam Paragon mall, Gourmet Market's enormous supermarket has a good selection of organic meats, poultry, seafood and eggs. Some are from Thailand, some are imported from places like New Zealand and Australia (try some of the beef, it's delicious), but all have the organic label attached so you can see what you're buying.
Prices of course are higher than non-organic meats and poultry, but if you're health-conscious, it's worth the extra money. As far as fish and seafood is concerned, you'll find a huge selection of imported and Thai seafood, with some pesticide-free and organic choices. Check out the enormous delicatessen area and the freezer sections.
Gourmet Market is a wonderful place to find hard-to-get items with a truly excellent delicatessen that shouldn't be missed.
Lemon Farm – For what I think are the best organic meats, seafood, poultry and free-range eggs you can't miss Lemon Farm.
A chain of seven health food and organic stores, Lemon Farm has one of the best selections of organic food in Bangkok. They also do spot checks quite often on their suppliers and drop the ones that aren't as organic as they say they are.
I've bought some extremely fresh and delicious pesticide-free chicken here, as well as free-range eggs, and also organic pork.
My favorite Lemon Farms location is at Sukhumvit Soi 39, but you'll also find them at 1907 Pahonyothin, Ladyao and 37/5 Moo1 Thasai, Muang, Nontha Bur, along with four other Bangkok locations.
Foodland – One of my favorite supermarkets in Bangkok, Foodland is small but what it loses in size it makes up for in quality. Foodland has a small delicatessen and meat counter, but with some of the absolute best meat and poultry in Bangkok and, of course, several organic options.
Try some of their imported Australian beef – fresh, succulent and certified to be organic, as well as free-range eggs. Foodland also has a good selection of organic fruits and veggies to go with your organic meat or seafood meal.
There are 12 branches of Foodland in Bangkok, with my favorite being on Sukhumvit Soi 16.
Aw Taw Kaw – Located across from Chatuchak Marketin northern Bangkok, this massive farmers co-operative market has lots of oganic meat, seafood, poulty and eggs and it's some of the best quality stuff in the city.
Of course, prices are a good 25-40% higher than anywhere else but, if you want high quality, you have to pay for it.
Take the MRT underground to Khampaeng Phet station and follow the signs for Aw Taw Kaw.
While Bangkok has a much more limited selection of organic meats, poultry, seafood and eggs than you'll find in most western cities, there's still plenty of choice if you just know where to shop.