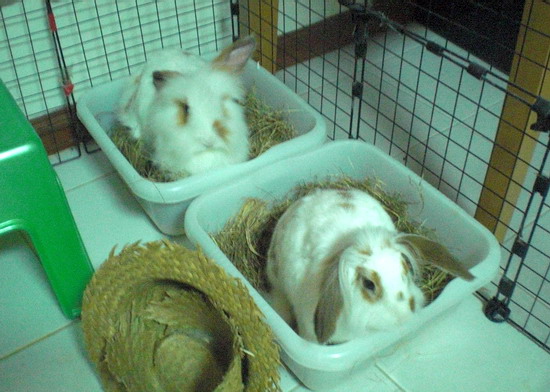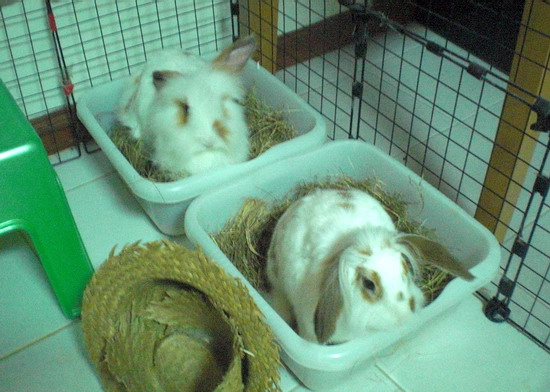 The in-thing right now in Bangkok, Thailand is buying a rabbit as pet. Every week, at my local market, I see tons of Thai girls and expats carrying little cages with one very tiny, new frightened rabbit in them. But, once they get them home, a lot of people (myself included, when I first got mine!) don't know where to buy rabbit food in Bangkok. Especially if they're looking for something inexpensive but good quality and fresh. After four years of owning rabbits in Bangkok,  I've figured out the best places to buy rabbit food.
Where to Buy Vegetables and Fruit for Rabbits in Bangkok – There are many places you can buy fresh fruit and vegetables for pet rabbits in Bangkok, but these are my favorites:
Local Street Fresh Markets – Every neighborhood in Bangkok has a street fresh market and some have many. If you're stuck for somewhere to buy fruit and vegetables for your rabbit, look no further than your local fresh market. I can usually find kale, lettuce, carrots, cilantro, basil, chinese celery, green beans, apples, guava, watermelon and green peas at them, and prices are usually cheaper than supermarkets (check around though, as some fresh markets are more expensive!)
Supermarkets – All of the large supermarket chains in Bangkok have a reasonable selection of fruit and veggies although the quality at some is poor.
My favorite supermarket for vegetables and fruit for my rabbits is Foodland . Produce is at a slightly higher cost than other supermarkets, but quality is always first-rate and my rabbits love the veggies from there.
I avoid supermarkets like Tesco Lotus (bad quality fruit and vegetables), Villa Supermarket (horrible quality and expensive), and Tops (expensive and dubious quality).
Aw Taw Kaw – If you want high quality vegetables and fruit with non of the chemical junk sprayed on many Thai vegetables, Aw Taw Kaw near Chatuchak market is the high-end farmers market that's worth visiting. Prices are a little higher than other places, but quality is superb. Plus, if you buy regularly from the same seller you'll see your prices start to go down as they give you increasing discounts for loyalty.
Where to Buy Hay for Rabbits in Bangkok – A lot of supermarkets and pet shops stock Timothy Hay and alfalfa, but I like two places the best.
Chatuchak Weekend Market has many stalls that sell rabbit hay. Just head to the enormous pet section and take your pick. Prices are  cheap too, about half of what I pay anywhere else. I can buy hay for my rabbits to poop on and eat for around 150 baht ($5)  for five enormous bags, and that will last me about two and a half weeks.
Siam Paragon Gourmet Market – In the basement of Siam Paragon mall, at the back of the Gourmet Market supermarket, there's a small pet department and they do have several varieties of hay for rabbits. What's interesting here is, overall, Gourmet Market is expensive, but their rabbit food and hay isn't.
Where to Buy Rabbit Food Pellets in Bangkok – Supermarkets, pet stores and markets sell rabbit food pellets in Bangkok.
Siam Paragon Gourmet Market – The same pet shop at Gourmet Market that sells hay also has several brands of rabbit food pellets, from Thai brands to some imported German brands. Prices are average.
Chatuchak Weekend Market – The absolute cheapest place to buy rabbit food pellets in Bangkok. With bags starting at 25 baht (around 80 cents) and even imported German, American and Dutch rabbit food pellets half price of anywhere else, it's worth going here once a month and stocking up.