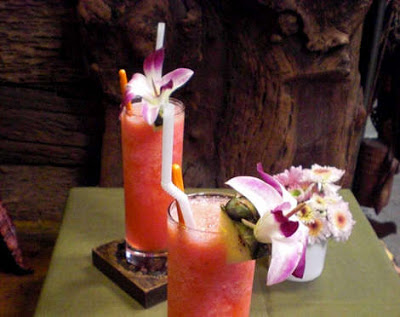 One of things many people look for when they first come to Bangkok, Thailand are its famous fruit smoothies. That is because Thailand grows just about any tropical fruit you have ever heard of, and a lot of fruits you never have, but what this means is you will also find the most delicious (and strangest!) fruit smoothies in Bangkok.
There are probably tens of thousands of places in Bangkok that sell fruit smoothies, but these fruit smoothie sellers are must-tries.

Fruit Smoothies at Street Stalls – Some people, who don't know Thailand very well, will tell you to avoid drinking anything with ice from street stalls in Bangkok. I drink something with ice from a street stall almost every day in Bangkok and, in the last seven years, haven't gotten sick once.
To get an authentic Thai fruit smoothie, you have to try the smoothies from the street stalls located on just about every street in Bangkok.
Here, you can choose the fruits you want in your smoothie, add yogurt if you like, and watch while the street seller makes your fresh fruit smoothie on a tiny little cart no bigger than your desk back home. With prices starting at 25 baht (around 70 cents), you really can't beat them.
Fruit Smoothies at Chatuchak Weekend Market – One of my favorite places for fruit smoothies in Bangkok is Chatuchak Weekend Market. Only open on Friday evenings, Saturdays and Sundays, Chatuchak has more than 15,000 stalls and well over 100 stalls that make fruit smoothies.
Slightly higher priced than most street stall fruit smoothie sellers, they're still cheap at between 30-50 baht (93 cents-$1.40). There are also tons of different flavors, some with yoghurt, some without, and some even have ice cream too!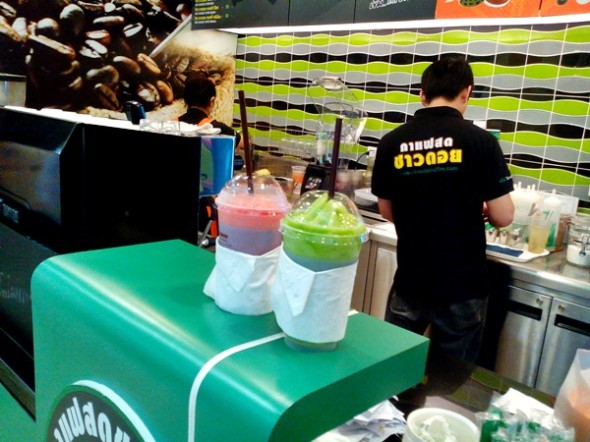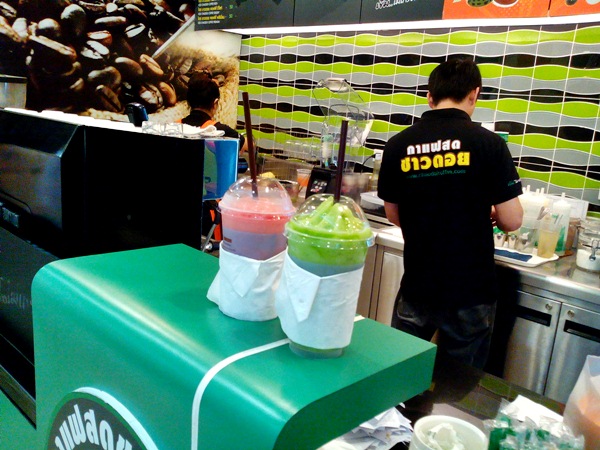 Mahboonkrong (MBK) Food Court – One of the best food courts in Bangkok also makes some of the best fruit smoothies. With several stalls making fruit smoothies while you wait, and with lots of fruit choices, you'll get a great fruit smoothie here.
What's even better about MBK Food Court smoothies, is the food stalls near them also make awesome Thai food. I often have a plate of Thai curry and rice and a fruit smoothie for lunch. Yum! Delicious.
The food court is on the second to top floor of MBK shopping mall, and fruit smoothie prices start at 35 baht (around $1).
Khao San Road Restaurants – Because Khao San Road is a backpacker haven, fruit smoothies here are cheap and everywhere. From street stalls to cafes, coffee shops like Coffee World and Starbucks, and even some of the small independent restaurants also sell them.
There are also several excellent vegetarian restaurants around Khao San Road, and they also sell fabulous fresh fruit smoothies. Just look at the menu of just about any restaurant or cafe in the Khao San Road area and you'll find lots of fruit smoothie choices.
Fruit smoothies in Bangkok are far superior to anything you will find in the west. With fruits like dragon fruit, rambutan, guava and pineapple grown just a few miles up the road, the fruit smoothies you can buy in Bangkok are just about the best in the world.