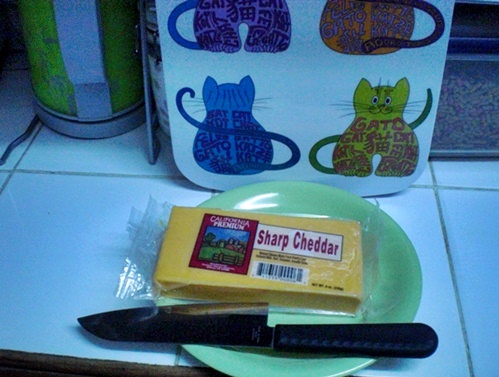 If you've been in Bangkok, Thailand for a while, you'll probably know how expensive Cheddar cheese can be. Buying good Cheddar cheese in Bangkok usually requires a trip to Gourmet Market at Siam Paragon, a Bangkok delicatessen or somewhere equally upscale at Central World Plaza or Emporium. You then spend 250 baht ($8.25) for the smallest piece of Cheddar you've ever tasted and it lasts you 10 minutes.
That's why I'm giving you a tip for where to buy the cheapest Cheddar cheese in Bangkok that's actually quite tasty. At least if you just want it for cheese on toast or to add to some broccoli in a nice cheese sauce. That place is Villa Supermarket.
The cheapest Cheddar cheese in Bangkok I'm talking about is a sharp Cheddar that Villa Supermarket orders straight from America. And yes, I'm aware, American cheese is pretty awful compared to an average European cheese but, like I said, inexpensive Cheddar cheese for cheese on toast? This stuff is great.
Made in California, it's called 'California Premium Sharp Cheddar' and, for an 8oz block at Villa, sells for only 105 baht — or $3.50. A block that size does me five meals, if I make a couple of slices of cheese on toast per meal with it, and three meals if I add it to a sauce, use it on pasta or make some cheese sandwiches.
No, this is not the best cheese you will ever taste. Nor is it the sharpest cheddar (British cheddar is far, far better) but, for one of the cheapest Cheddar cheeses in Bangkok that a) isn't Thai and b) tastes nice enough to nix a cheese craving it's worth the money.
By the way, Villa Supermarket also sells the same brand of cheese in a mild Cheddar (not recommended, as it's quite tasteless), a Monterey Jack, Colby, Swiss and Mozzarella and all at the same inexpensive price.