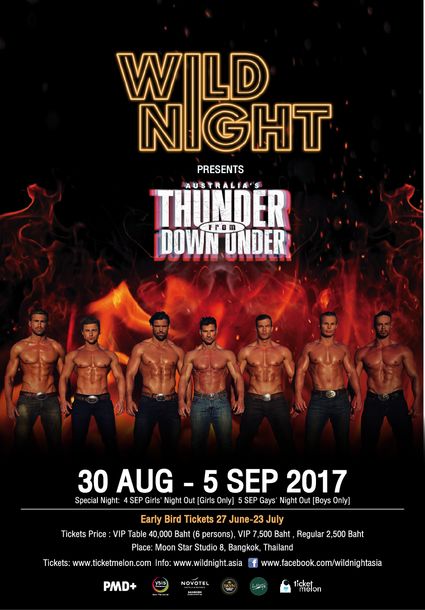 The sexy Australian male dance revue Thunder From Down Under performs live in Bangkok for six nights starting August 01st until September 5th, and tickets are not cheap.
The hunky and quite erotic act will appear at Moonstar Studio 8 with their 90-minute show, with September 4th being Ladies Only and September 5th being Gay Men Only. They offer something for everyone, it seems. Well, except for the under 18s, as you must be 18 to gain admittance.
Standing room only tickets for Thunder From Down Under are 2,500 baht, which will also get you one drink, seats plus two drinks are 7,000 baht and, if you and your friends want to go, you can grab a package for six for 40,000 to 45,000 baht depending on the seats you choose. That includes champagne, vodka, cocktails and beer.
So where do you buy tickets for Thunder Down Under Live in Bangkok? At Ticket Melon.
As for the dance revue group, it is currently in a residency at the Excalibur Hotel & Casino on the Las Vegas Strip. A residency that has been going on for the last 15 years. But the guys are taking a break for yet another international tour and Bangkok is one of the stops they will be making.
After all, they do have fans everywhere.
You will find Moonstar Studio 8 at Ladprao Soi 80. And, if you're interested to see what all the hype surrounding Thunder Down Under is all about, check out the video below.