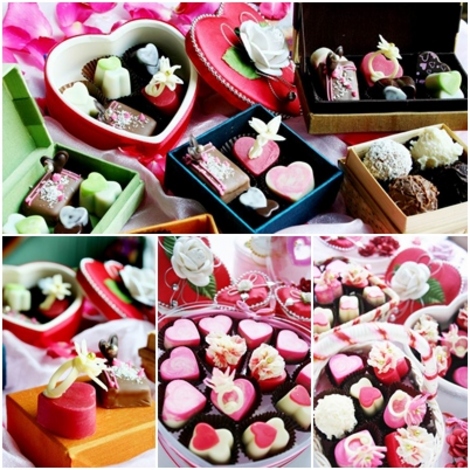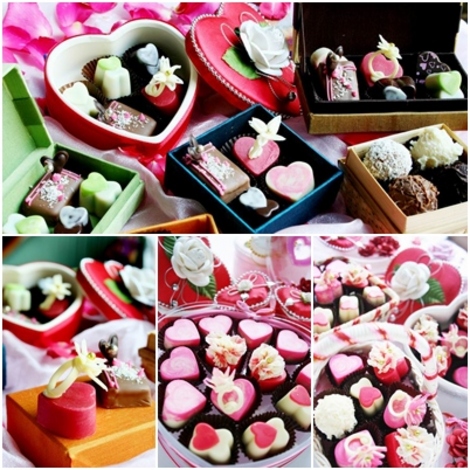 While westerners don't always expect it, Thais love Valentine's Day and celebrate it with gusto. A few weeks before the big day, shopping malls all over Bangkok have 'Love Sales' and restaurants start advertising romantic meals for two. One of the best things about Bangkok around Valentine's Day though are the beautiful Valentine's gifts you can buy your beloved, and at prices you won't believe. If you'll be celebrating a day of love in Bangkok this year and need a gift for that special someone, check out these wonderful places – they really are the best.

Buying Chocolates at Le Boulanger Bakery Shop– If your beloved adores gourmet chocolate or pretty little cakes, they'll love what Le Boulanger Bakery creates. This delightful gourmet patisserie at the Bangkok Hotel Lotus Sukhumvit goes all out for Valentine's Day. A couple of weeks before, huge displays of heart-shaped cakes and beautiful boxes of handmade chocolates appear but, boy, do they sell out fast. Le Boulanger is open every day from 8am to 9pm but, if you're looking for a gift for your honey, get there early. Call 02 610 0111, ext. 4129 for more information.
Buying Flowers at Pak Klong Talat – Don't buy a bouquet of flowers at one of Bangkok's high-end department stores or florists. They're ridiculously expensive and, in Thailand, with flowers so cheap there's no need to pay exorbitant rates. Instead, head to Pak Klong Talat, Bangkok's famous wholesale flower market and pick out your own.
At Pak Klong Talat, you'll find roses, orchids, lilies, irises, carnations – so many choices, and at prices a fraction of a florist shop. The market begins early (around midnight), which is when it's really hopping. Or, get up on Valentine's Day morning and hit the flower market at dawn, when all the merchants arrive to order for their shops. You'll find Pak Klong Talat in Chinatown near Saphan Phut Bridge.
Buying Gold in Chinatown (Yaowarat) – If you plan to surprise your significant other with a gift of gold for Valentine's Day then, of course, there's no better place to go than Chinatown. Known as Yaowarat by the Thais, Chinatown is home to a couple of hundred gold shops selling chains, necklaces, rings, ornate bracelets, simple gold bangles, gold charms, gold crosses, gold amulets – pretty much any piece of gold jewelry you're looking for – and the craftsmanship is superb. Prices change daily with the gold standard, so try to go when gold prices are coming down and not going up. Take the underground to Hua Lamphong station and a taxi to Chinatown (Yaowarat). Just about anywhere will do.
Buying Pretty Ceramics at Aree Ceramics – If you'd like to buy a beautiful porcelain vase to go with your roses, or your beloved likes pottery tea services, vases, porcelain boxes, candle holders, incense burners, then Aree Ceramics is the place to shop. A gorgeous little shop selling everything ceramics and porcelain, any gift you pick out here is sure to please. Everything is handmade in Thailand, and it's inexpensive too.
Buying Thai Designer Clothing at Chatuchak – One of the best places to shop in Bangkok for independent designer clothing is Chatuchak Weekend Market. Hundreds of Thai designers have set up small shops here and you'll find everything from hand-painted t-shirts to embroidered skirts, hand-tooled leather shoes, beautifully cut blouses and lovely floral summer dresses. Prices are extremely inexpensive, with average pieces beginning at 250 baht (around $8.30). Any girl would love a unique blouse or pretty scarf from here.
To find the area with most of the independent designer shops, go in the main gate of Chatuchak Weekend Market turn left, walk a couple of hundred yards and you'll see Sections 3 and 2 on your left-hand side. Bargain hard.
Wrap Up Your Gift at Goose – Finally, buying a Valentine's Day gift in Bangkok isn't complete without wrapping it in handmade paper or a gift box from Goose. Goose is a stationery and gift store that sells some of the prettiest hand-painted wrapping paper and hand-made gift boxes in Bangkok. There's a couple of locations but the loveliest one by far is Goose at 261/4 Sukhumwit 55 (Thong Lor 13), Klongton Neu, Wattana Bangkok 10110 – Tel: 083-242-7089
Photo copyright – Le Boulanger Bakery – press kit