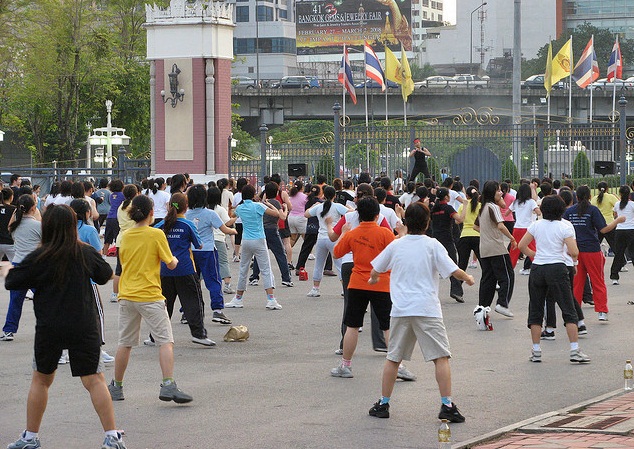 Free aerobics classes are available all over Bangkok
One thing I've always thought is cool about living in Thailand are the free aerobics classes in Bangkok that you can take. Classes are always outdoors, they're generally full of people and they are usually run at specific times of day. That means 6am for the early risers, and 6pm for those who prefer to get their exercise after a hard day of work. So, where can you find free aerobics classes in Bangkok, and can anyone join?
Free aerobics classes in Bangkok parks
One of the best places to find free aerobics classes in Bangkok is at area parks. Lumphini Park downtown is the most popular one, with several hundred people at a time participating in the outdoor classes there. But, you'll also find other parks across Bangkok also hold outdoor classes.
Just ask at your hotel reception desk or, if you live here, check your neighborhood park to see what they have going on. And yes, anyone can join. Just show up and get dancing.
Aerobics classes at Bangkok supermarkets
Another fabulous place for free aerobics classes in Bangkok is at supermarkets around the city. Weird, huh? But kind of cool that they care about the health of their customers enough to allow free aerobics classes.
Supermarkets don't usually have 6am classes but, if they do run them, they will often have a 6pm class several times a week. The aerobics instructor will play the Thai national anthem at 6pm, so people can pay respect to the king and the country, and then a couple of minutes later everyone starts jumping around.
Supermarkets will usually hold their aerobics classes on a parking lot or an empty piece of ground nearby, so check your local stores around 6pm to see what's going on.
And yes, anyone can join in. No, there's no fee and sure, even if the instructions are shouted out by the aerobics instructor in Thai, it's easy to follow along with what she (or he) and everyone else is doing.
Just remember, Thailand is hot and humid. So dress appropriately (loose clothing is better than tight), and drink copious amounts of water.