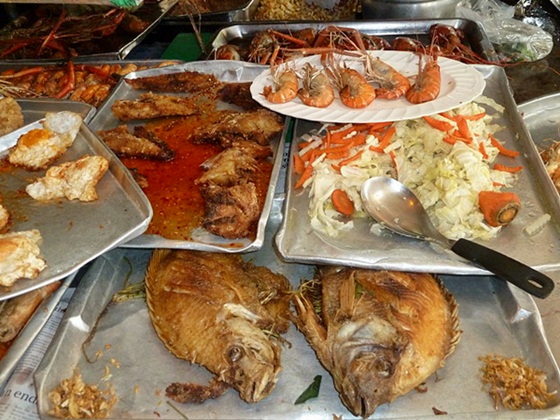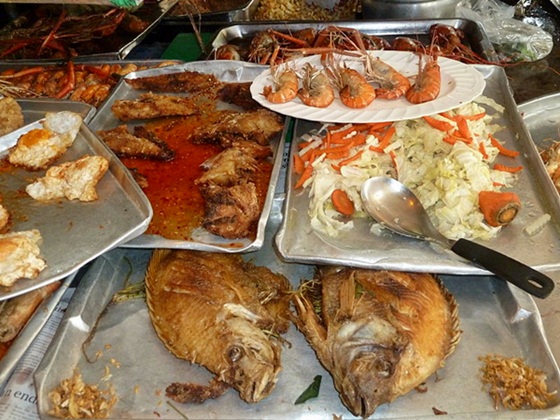 Seeing as how I live five minutes by bus from Chatuchak Market in Bangkok, Thailand, you could say I'm an expert on where to eat there. That's because I shop at Chatuchak just about every weekend and have been doing so for the last 10 years.
Being south east Asia's largest market, however, it can be a bit confusing finding what you want, even for someone like me who knows the market very well. Where to eat at Chatuchak Market, for instance, can be a trial as there are so many food stalls and restaurants it's hard to make a decision.
That's why I'm giving you a few suggestions of the best places to eat at Chatuchak Market. Try these first, particularly as they're popular with the Thais so you know they're going to be good, and then on your next visit you can try more.
Ramazan Doner Kebab – I love Turkish kebabs and Ramazan Doner Kebab at Chatuchak Market makes the best. Place your order and then watch your food being lovingly prepared before your eyes. Slices of beef or chicken are cut from the enormous piece of meat slowly turning over the fire. It's then placed in a piece of delicious pita bread and covered in a tangy yoghurt sauce. For 80 baht, or $2.65, it's an exceptionally tasty and inexpensive meal.
You'll find Ramazan Doner Kebab inside Chatuchak Market on the main circular road. Look for the big red sign.
Raan Yaam Jae-Euang – An independently owned small Thai restaurant, Raan Yaam Jae-Euang is famous with Thais who rush to eat at it as soon as the dinner hour hits. Run by a man lovingly called Khun Joe (Mr Joe), the restaurant is known for having some of the best Tom Yam Geung (hot shrimp soup) and for some other amazing seafood dishes as well. Don't miss Khun Joe's fish cakes, if you decide to eat there. They're awesome.
200 baht (around $6.55) will get you a very nice meal here, and that's for two people.
Raan Yaam Jae-Euang is located at Section 2, Room 65, Soi 38/1 in Chatuchak. Get there early, though, as the lunch crowd will and you'll have a huge wait.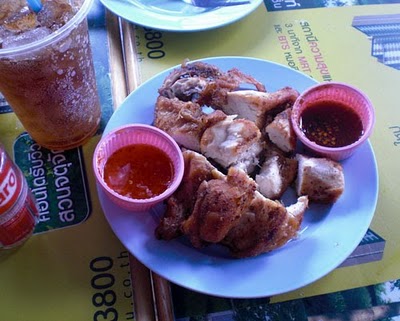 Dinpao – If you like Som Tam (spicy papaya salad) then Dinpao is the place to eat. Known for its more than 20 different kinds of Som Tam, you'll get any type you want here. Order a couple of types along with two orders of fried chicken and sticky rice and a nice cold drink, and I guarantee you this will be one of the best meals you eat in Bangkok. Again, though, get there early.
Look for Dinpao on Soi 1 in section 4 of Chatuchak Market. The line waiting for a table might clue you in.
Snack stalls – Finally, if you're just looking for a quick snack the next time you're at Chatuchak, you can graze to your heart's content at one of the more than 500 snack stalls spread around the market. Coconut ice cream served in the half coconut shell, fresh fruit, sausages and pork on a stick, squid, halal food, French fries, pizza, quail eggs, fried chicken, som tam, fried egg rolls – it's all available in small to-go bowls or on sticks for just 15-20 baht (45 cents to 66 cents), and can really hit the spot.
Just buy from a stall where the Thais are also eating, and you know it's going to be good as Thais don't waste good eating time on mediocre food.