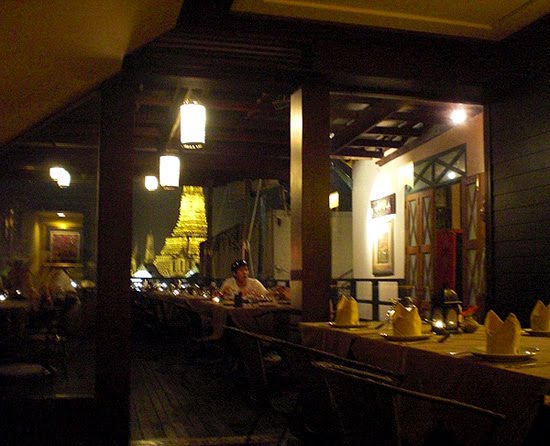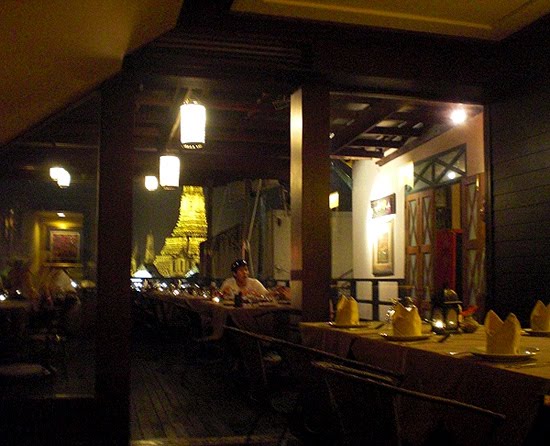 I eat Christmas Eve dinner every year with friends in Bangkok, Thailand.
Having lived in the Thai city for a decade now, I'm already familiar with many of the best places to eat Christmas Eve dinner in Bangkok. That's why my friends and I try a new place every year, so we can add another excellent restaurant to the list.
This year, I will be spending my Christmas Eve at The Deck by the River, my new favorite Thai restaurant. But, with so many options to choose from when it comes to choosing the best Christmas Eve dinner in Bangkok , your tastes may not be the same as mine.
That's why I'm giving you a few different types of choices, so there is bound to be something you discover you would like.
Bangkok Grand Pearl Cruise – If you have never been on a dinner cruise on the Chao Praya River in Bangkok, then Christmas Eve is a perfect time to do it.
On the Grand Pearl Cruise, you get a two and half hour cruise up and down the Chao Praya River, along with an international Christmas buffet, live music and traditional Thai Khon (mask) dancers. You will even see Santa Claus, who will give you a Christmas gift!
With tickets priced at 2,500 baht ($83) or 1,500 baht ($50) for kids, it is a good deal when you consider you get dinner, entertainment and a cruise.
Plaza Athénée Bangkok – One of the top hotels in Bangkok, Plaza Athénée has a couple of options for eating Christmas Dinner, both of them spectacular.
The Rain Tree Cafe has an unlimited Christmas buffet, along with live seasonal music and Santa Claus for 2,500 baht ($83) per person.
The Reflexions, the wonderful French restaurant at Plaza Athénée, has a five-course Christmas Eve dinner for 3,000 baht ($100). Plaza Athénée is such a lovely hotel, either of these Christmas Eve dinners will be simply wonderful.
The Londoner, British Pub – One of the most popular brew pubs in Bangkok for Christmas Day lunch and dinner, The Londoner also does an excellent meal for Christmas Eve.
Such a good meal, in fact, I have celebrated Christmas Eve there two years running.
With all the popular British fare like turkey and Christmas pudding, plus an excellent beer and wine selection, and all in a traditional British Christmas setting, this is one of my favorite Christmas Eve places in Bangkok.
Their price list isn't out yet for Christmas Eve, but you can be sure it won't be expensive and it will be delicious.
Supatra River House – This gorgeous traditional Thai house that has been converted into a two-storey restaurant is well-known in Bangkok because it used to be the home of Khunying Supatra Singholaga, who was famous for championing women's rights in Thailand.
Her daughter converted her house into an enormous Thai restaurant with two huge dining areas inside and a fabulous open-air terrace overlooking the Chao Praya River.
The most spectacular thing about this restaurant though is you can see the Grand Palace across the river, all lit up in the tropical night air.
The Christmas Eve menu is traditional Thai food, but with entrees like sea crab and river prawn, you will enjoy your Christmas Eve meal immensely.
There are thousands of amazing restaurants and hotels in Bangkok, Thailand that put on amazing Christmas Eve dinners. So, for Christmas Eve this year, why not be a little adventurous and try something different.
You won't be disappointed.