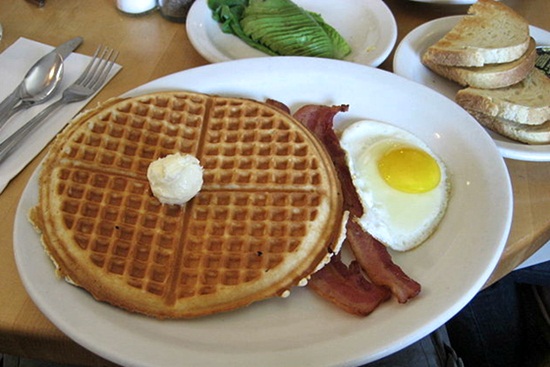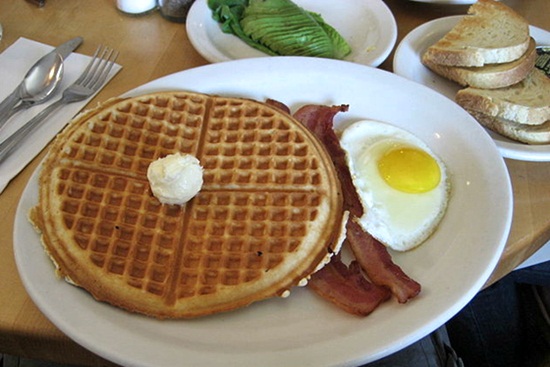 Although many tourists and expats in Chiang Mai, Thailand eat mainly Thai food even for breakfast, sometimes a good American-style breakfast is the only thing you're craving. No need to worry though, as there are some excellent restaurants that serve some of the best American-style breakfasts in Chiang Mai.
If you're looking for bacon, eggs, sausage, pancakes and syrup and anything else you'd classify as a traditional American breakfast, check out these Chiang Mai restaurants. If you close your eyes, you may even belief you're in America.
Bake and Bite – Not only known for its incredible baked goods and pastries, Bake and Bite is famous in Chiang Mai for its American-style breakfasts. In fact, so famous is the restaurant, local Chiang Mai expats will tell you they serve the best American-style breakfast outside America, and that's a claim you must investigate.
At Bake and Bite, expect a huge American-style breakfast with choices of bacon (crispy not that soggy Thai variety), sausage, all types of eggs, lots of types of pancakes, French toast, waffles, hash browns, huevos rancheros, buttermilk biscuits, toast, jam – and all enjoyed over cups of incredible coffee.
But what's the secret of Bake and Bite's success? The owner, Gai, who is Thai, lived in America for a long time, so she knows exactly how an American-style breakfast ought to taste.
Look for Bake and Bite on Chang Klan Road near the Night Bazaar in Chiang Mai.
Art Cafe – What started off as a small cafe near the famous Thapae Gate in the old part of Chiang Mai has now expanded into five other shop spaces, creating one of the biggest (and best) restaurants in the city. Hugely popular for its incredible food, large menu and friendly staff, Art Cafe is also famous for serving some of the most amazing American-style breakfasts in Chiang Mai.
At Art Cafe, you'll find pancakes, waffles, eggs, bacon, sausages, yoghurt with granola, muesli and so much more. Don't miss the Potato Pancake and Egg breakfast, or the Mango Pancakes with whipping cream. Their Croissant Breakfast Sandwich is excellent and, if you're craving Mexican, you cannot miss a Breakfast Burrito or Breakfast Quesadillas – they're delicious and huge.
Omelettes too are here with ham and cheese, bacon mushroom and cheese, bacon spinach and garlic and lots of other stuffed omelette options. They even serve a few vegetarian options for the non-meat eaters amongst us.
You'll find Art Cafe at 285-291 Thapae Road in Chiang Mai. Just look for the huge crowd of breakfast goers.
Butter is Better – Another restaurant known for its baked goods, surprising to some in Chiang Mai it's also one of the best places in the city for an authentic American-style breakfast.
Owned by Dao, Butter is Better prides itself on serving down-home-cooked meals that use top quality ingredients and organic ingredients whenever possible.
For breakfast at Butter is Better, choose one of the Breakfast Sets with choices of hash browns, sausage, bacon, eggs, pies, cakes and more. Or, how about Eggs Benedict or Eggs Florentine? They're incredible.
Pancakes are an excellent choice – buttermilk or whole wheat – and stuffed and topped with blueberries, strawberries or whatever other fresh fruit is in season. Don't miss the Cheese Blintzes too – made from an age-old family recipe, they're heavenly. And, on your next trip, sit down to a plate of French Toast – oh yum!
Butter is Best is at 189 Chang Klan Road in Chiang Mai, just down the street from Bake and Bite.