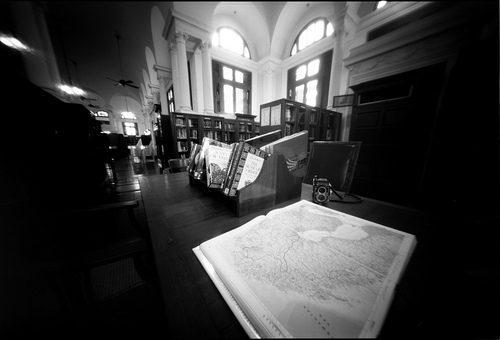 People in Thailand are known as not being particularly big readers, and because of a lack of funding in Thailand, there are no public libraries. In fact, most Thais don't read much at all or, if they do, it's Japanese comic books (manga) or a quick glance at a Thai gossip newspaper.
Buying books, especially English books, is also be expensive. There are however some private libraries (which most Thais don't seem to know about) that have collections of both Thai and English books and manuscripts.
If you're looking for a library to borrow some books from, whether it's for research or pleasure, look no further than these Bangkok libraries.
Neilson Hays Library – The best private library in Bangkok is the Neilson Hays Library. You can join for on either a 6-month or annual membership and with more than 20,000 volumes of fiction, non-fiction and children's books, you should be able to find something you'd like to read.
The Neilson Hays Library is also known by expats as the place to go when they have their used book sales. Not only do they sell books from the library's collection but members also bring in their own books to donate to the library for sale so you might find a bargain or two here.
Membership is not cheap at 2,500 baht ($84.75) per adult and 1,700 baht (57.60) per child but, with that membership, you can borrow 6 hardcover books at once. The library also has a nice cafe and has art exhibits almost every month that are interesting to see. The library is located at 195 Surawong Road, Bangkok.
Siam Society Library – If you're interested in Thai or SE Asian history, then the Siam Society Library is worth joining. It's a reference library that has a very big selection of books on Buddhism, fine arts, art history, culture, humanities, but it's famous for its large collection of rare books, maps, palm-leaf books and manuscripts.
The library has been in existance for over 100 years and is not only a library but also serves as a cultural organization, organizing study trips within Thailand and overseas to learn about Thai culture.
There are several levels of membership, with basic membership starting at 3,500 baht ($115) per year. For this though, you get access to the library, are able to participate in the field trips and lectures, discounts on book purchases and more. The Siam Society Library is located in a beautiful building at 131 Asoke Montri Road (Sukhumvit 21), Bangkok.
National Library of Thailand – The National Library has a large collection of rare manuscripts and books as well as ancient Thai books. Created in 1905, it's a reference library only and is the largest library in Thailand as it was created from the merging of three other previous libraries. Used by scholars and students primarily, the National Library of Thailand has manuscripts and books that are available nowhere else. Located at Samsen Road, Dusit.
Chulalongkorn University Library – Known as the best university in Thailand, Chulalongkorn also has a good library. Used predominantly by students, Chulalongkorn can also be accessed by non-students/non-members for a small fee of only 20 baht (around 70 cents) per time. Chulalongkorn Library has a mix of Thai and English books, although mostly Thai of course. The library at Chulalongkorn University is located at Phaya Thai Road, Patumwan, Bangkok.
If reading is your passion, Bangkok libraries are not the place for everyday literature but, if you're looking for works on Thai history, culture, fine arts, natural history, Buddhism and more, then you'll find much of interest at any one of these Bangkok libraries.
Most of them will allow a one-time visit for a nominal fee but, if you're planning on being in Bangkok for a while, then by all means pay for an annual membership. It not only gives you unlimited access to all the information the libraries have to offer but you're also financially supporting the Thai library system and they need all the support they can get.