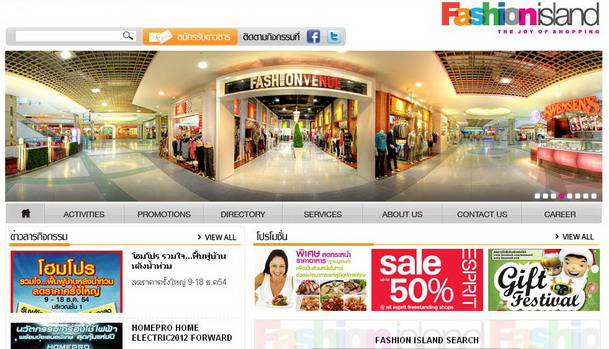 The Ramkamhaeng area of Bangkok, Thailand is a part of the city few tourists get to when they set off on a shopping expedition. It's a pity, as Ramkamhaeng is home to excellent shopping malls  jammed with shops selling products at cheaper prices than in traditional tourist spots. If you'd like to explore, and shop at, a typical local Thai shopping mall, these Ramkamhaeng shopping malls are three of the best places to start. Just be aware, few Thais in this area speak English, so get ready to do a lot of smiling and pointing.
The Mall Ramkamhaeng 2 and 3 – Actually two separate malls, both with the name The Mall Ramkamhaeng, locals know them as numbers 2 and 3 (and, no, I have no idea what happened to number 1). These malls are on opposite sides of the street from each other, but easily accessible by a pedestrian footbridge that links the two malls together, making them ideal places for getting all your shopping done during one of Bangkok's many rain storms.
At both malls 2 and 3, you'll find a huge array of products on sale. While, at first glance, both malls appear old-fashioned compared to downtown malls like Siam Paragon or Central World Plaza, don't let the look fool you. You'll still find up-to-date fashions here, high-tech electronics, fashionable shoes, purses and accessories, and business clothing, suitable for any modern shopper – the only difference is, the prices are often cheaper, as the malls cater to a local crowd.
Eating at The Mall Ramkamhaeng 2 and 3 is also easy as there's an enormous number of Thai restaurants and western and Japanese chain eateries, as well as an inexpensive food court that serves all the usual Thai dishes.
Best way to get to The Mall Ramkamhaeng 2 and 3 is to hop on a taxi at Ratchadapisek underground train station. It's around a 15 minute ride from here.
The Mall Bang Kapi – An even more popular mall than The Mall Ramkamhaeng, but owned by the same business group, The Mall Bang Kapi is the place to shop in the Ramkamhaeng area, as you'll see from the massive number of Thais shoppiing there at any hour of the day. Much larger than the previous two malls, The Mall Bang Kapi is also more up-to-date looking, although it was built almost 20 years ago.
It's famous for its huge "Market Bangkapi", an assortment of traditional Thai market stalls that sell just about everything and at true local prices, its home furnishings floor with just about every home furnishings company in Thailand represented here, it's cheap shops, enormous number of restaurants and cafes, and its world-class movie theater.
If you have kids with you, The Mall Bang Kapi has an even better surprise — a waterpark on the roof, where you can play for hours for no more than a couple of dollars entrance fee per person.
To get to The Mall Bang Kapi is easier than other Ramkamhaeng malls. Just hop on a boat on the canal that runs near Central World Plaza in downtown Bangkok. It will take you directly to The Mall Bang Kapi on the canal, with the boat stop right behind the mall.
Fashion Island – Another of the Ramkamhaeng areas best malls, Fashion Island isn't just fashion. It's packed with every type of store you'd find in any mall, but with dirt cheap prices (although, yes, there are a large number of clothing and accessory stores too).
There's a large Big C supermarket, a HomePro do-it-yourself store, a branch of Sports World, PowerBuy for all your electronic needs and a Robinsons department store. The food court here too is excellent, although with the large number of restaurants and cafes, you'll certainly be spoiled for choice.
Kids love Fashion Island too, as there's an amusement park at the mall, with its very own monorail, a bowling alley and karaoke rooms. A fun way to get the kids to go shopping as the rides are great, and there's lots of fast food restaurants too.
Fashion Island is at 587-589 Ram Intra Rd, with a quick taxi ride being your best bet.
More Information:
The Mall Ramkamhaeng and Bang Kapi