Many Western men living in Bangkok, Thailand get married to Thai women and buying a diamond engagement ring is part and parcel of the deal.
Not a ring usually bought by Thais only a couple of decades ago, as it was not part of Thai culture, Thais have jumped on the band wagon and many now expect an engagement ring just like any western woman would.
For foreigners coming to Bangkok too, shopping for an engagement ring is sometimes part of their trip, as prices here are lower than in the west and for quality that is as good, if not better.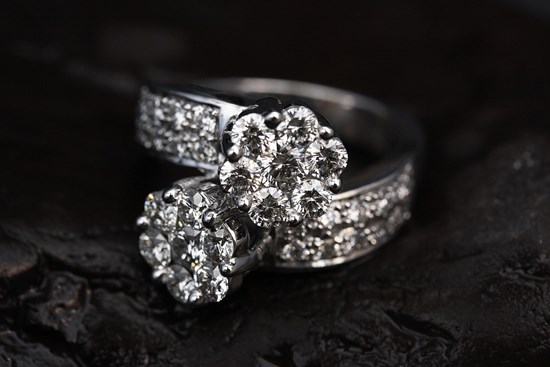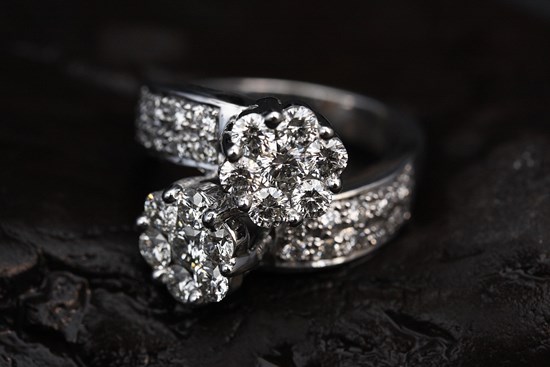 With many Bangkok jewelers to choose from though in your quest for an engagement ring, shop at these places first. You will get a better deal and be more likely to get an authentic diamond .
Where Not to Buy a Diamond Ring – First of all, a word of warning. The one place not to buy a diamond engagement ring is at any jewelers shop where you are taken by a tuk-tuk driver.
Tuk-tuk drivers throughout Bangkok are notorious for being involved in gem and diamond scams so, if you are told by a tuk-tuk driver he can get you a diamond engagement ring "very cheap", run don't walk as fast as you can. Away from him, that is .
Best Places to Shop for Diamond Engagement Rings in Bangkok.
Mahboonkrong (MBK) Mall – Mahboonkrong, known as MBK in Thailand, is a large shopping mall famous for its cheap clothing, shoes, accessories and Thai handicrafts. But MBK is also known for its gold shops and jewelry shops that sell diamond engagement rings in every possible design, style and shape. (See video below)
Check out the gold shops at MBK first (there are at least 10 of them) most of them are on the first and second floors, then move onto the other jewelry stores. Compare prices from shop to shop, also being aware some of their rings are new, some are second-hand (although honestly, you can't tell the difference).
Related: What to buy at MBK — they sell everything and it's so cheap
Prices at MBK are excellent. For gold rings, you pay a certain price for the gold by weight (the gold price that day is posted in every gold shop in Thailand, both buying and selling), along with a price for craftsmanship and the diamond. Don't forget though, you can also bargain here, so the initial price you are given isn't always the final one.
I have a friend who bought a diamond engagement ring for his fiancee at one of the MBK gold shops then had it appraised when he returned to the US. He was shocked to discover it was appraised at a 30% higher value than it had been in Bangkok. His fiancee was thrilled too.
Mahboonkrong (MBK) is next to National Stadium sky train station in the Siam area of downtown Bangkok.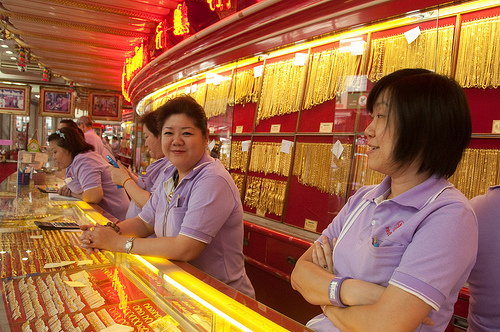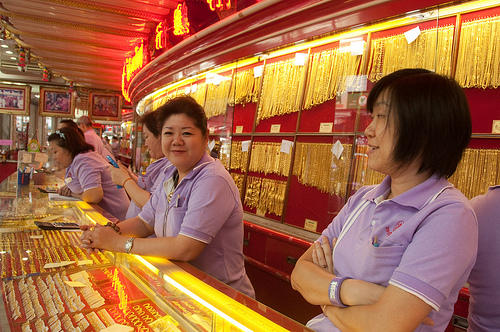 Chinatown (Yaowarat) – The most famous place in Bangkok to shop for gold is in Chinatown, or Yaowarat as it's known by Thais. With well over 100 gold shops in the area, here you can go from shop to shop, checking out styles, designs and prices and see who gives you the best price.
Related: Why you should eat seafood while you are in Bangkok's Chinatown — it's the best the city and so cheap
Be aware, most of the gold in Thailand is yellow gold, as that is what Thais prefer, and that is what you will mostly find in Yaowarat.
Of course, some gold shops sell white gold engagement rings (particularly the ones at MBK who have a large percentage of foreign customers), but if you are looking for white gold, don't expect to find too much in Chinatown.
Easiest way to get to Chinatown is to take the underground train (MRT) to Hua Lamphong station, then take a taxi or tuk-tuk from there. Just don't tell the tuk-tuk driver you're buying an engagement ring.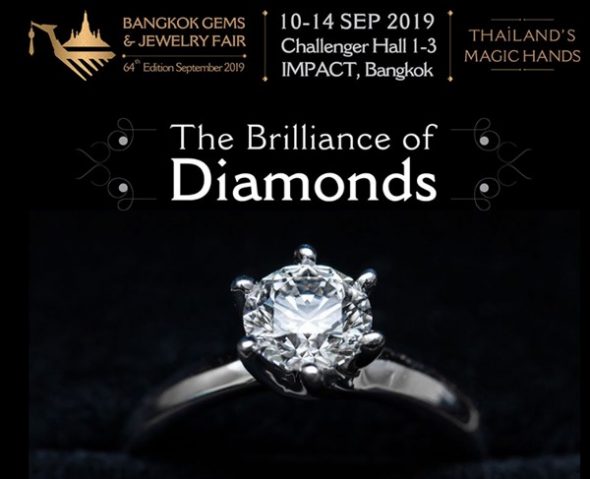 Bangkok Gems and Jewelry Fair – To get one of the best deals in town on a diamond engagement ring, the best time to be in Bangkok is when the Bangkok Gems and Jewelry Fair takes place.
The fair takes place twice a year, usually in April and September, and with the huge number of jewelers that take part, you will find yourself spoiled for choice.
To attend the BGJF, jewelers also have to be accredited so, if you are at all worried about authenticity and quality, you do not need to worry here. The 2019 Bangkok Gems and Jewelry Fair will be held from the 10th-14th of September at Impact Arena in Nonthaburi.
The trade days are on the 10th and 11th. It then opens up to the public on the 13th and 14th of September.
Bangkok Gems and Jewelry Fair is held at IMPACT Arena in Muang Thong Thani, in northern Bangkok. Any taxi can take you there. Learn more about the fair on their website.