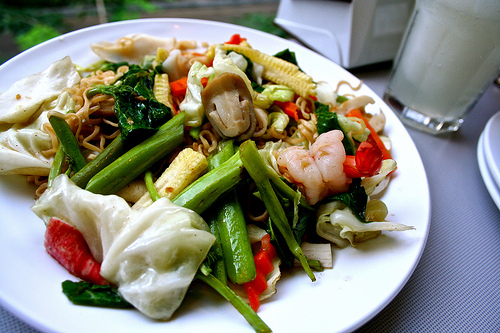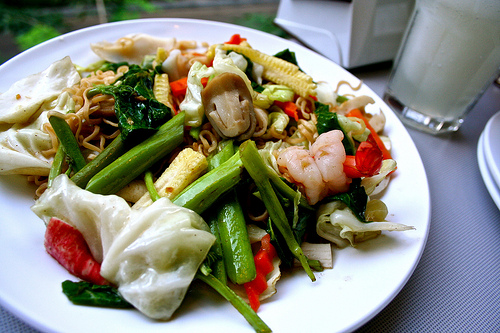 Everyone who comes to Bangkok knows you can buy a dirt cheap lunch at an outdoor food stall for 30 baht (with current exchange rate – $1). But do you know you can also eat a great lunch at a nice indoor restaurant with air conditioning and great service for 100 baht (around $3.25)? There are restaurants all over Bangkok serving delicious food in a nice environment, yet lunch is still cheap. You just have to know where to go. If you, like me, don't like to eat out at food stalls often (Bangkok is too hot!), eat lunch at one of these best cheap Bangkok restaurants. You'll still only spend around 3 bucks.
Hachiban – My favorite noodle place in Bangkok is a chain restaurant called Hachiban and a good place for a cheap lunch. Originally a Japanese company, Hachiban now has over 100 locations in Bangkok and serves the best noodles in the city. At Hachiban, you can order one of more than 20 choices of noodles in broth topped with chicken, beef, pork, shrimp or squid. An enormous bowl that will fill you up for hours is 63-79 baht ($2.05-$2.80). Add a drink (iced tea, coke etc) for 15 baht (50 cents) and an entire lunch including drink is less than 100 baht (94 baht – $3.12.)
Look for Hachiban at Esplanade mall, MBK mall, Siam Center and many other locations. They open at 10am. Just get there early as, by noon, there's always a huge line.
Mr. Yim's – A fabulous place for a cheap lunch is Mr. Yim's in the Khao San Road area of Bangkok. Mr. Yim's specializes in serving the freshest baguette sandwiches in town. Stuffed with fillings like vegetables, tuna, chicken, ham etc. A typical baguette is only 30-60 baht. Add a 15-20 baht drink, and you have a delicious filling lunch for less than 100 baht ($3.25). You'll find Mr. Yim's on Soi Chanasongkram, just off Khao San Road.
Raan Derm – A favorite cheap lunch spot for Thais, Raan Derm is a two-storey restaurant that serves all the typical Thai dishes, plus a lot more. Price for lunch comes in at around 100 baht, including drink – a little more if you add an entree or a beer. Try the tom kha gai (chicken in coconut soup) or the Penang red curry. It's a clean, fun, contemporary restaurant that's brightly decorated and, at lunch time, absolutely packed so get there early. Raan Derm is in a side soi, just off Sukhumvit Soi 22.
Took Lae Dee – One of the most popular restaurants in Bangkok for breakfast, lunch and dinner, Took Lae Dee means 'cheap and good' in Thai and, it's both. Took Lae Dee restaurants are inside Food Land supermarkets, but they're still nice restaurants. You can sit at a table or the lunch bar and ordering a lunch for under 100 baht is as easy as opening the menu. The restaurant serves Thai and western food, with choices like pad thai, tom kha gai (chicken in coconut soup with rice), fried rice with chicken, American breakfast (which they serve all day) and spaghetti.
All of the mentioned dishes are around 70-90 baht and are filling.Took Lae Dee has nine restaurants, in Food Land supermarkets all over Bangkok. My favorite branches are on Sukhumvit Soi 16 and Sukhumvit Soi 5.
Photo – Hachiban menu