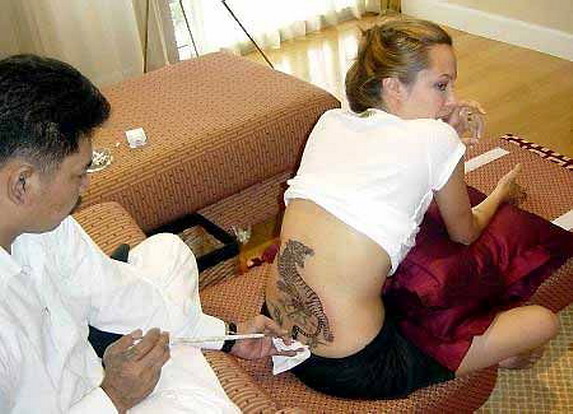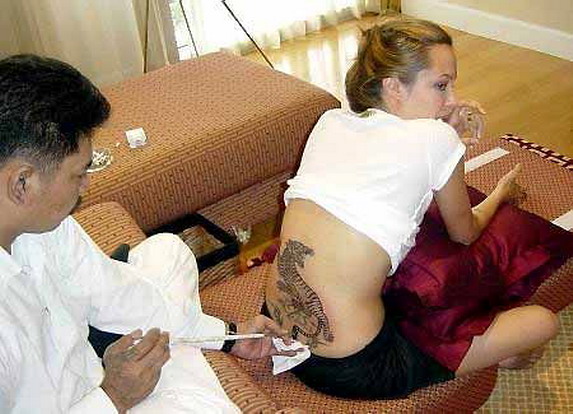 Angelina Jolie, Oscar-winning actress and stunning beauty is well-known in Thailand but, not as much for her acting as she is for choosing a famous Bangkok tattoo artist to give her two of her many tattoos. Thais are proud that she chose Thailand, not once but twice, to have a tattoo and sometimes, Thais like her more for this than for her actual movies.
Famous Thai tattoo master, Ajarn Noo Kamphai is a past Buddhist monk who gave Angelina Jolie the tattoo in Cambodian script she has on her left shoulder. On a return visit to Thailand, Ms. Jolie went back to Ajarn Noo Kamphai to have the enormous tiger she had tattooed on her lower back drawn. The tattoo took hours to complete but, at the end, Ms. Jolie expressed her happiness with it. Rumor in Bangkok is, she'll likely be back for more soon.
Ajarn Noo Kamphai ('ajarn' meaning 'teacher' in Thai) is actually a practitioner of Thai magic and is especially famous for his tiger tattoos believed to protect the wearer from harm. The tattoos Noo Kamphai tattooed on Angelina Jolie's body are known as sak yan or yantra tattoos in Thailand and are tattoos that are geometrical in design and are made to protect the wearer.
Traditional in nature, tattoos like this have been popular in Thailand for hundreds of years. Traditionally only drawn on men though, it's only recently women have begun to have them done and most, of course, are western women as Thai women rarely have tattoos.
Unfortunately, at this time, if you're looking for a tattoo by the same tattoo artist who created Angelina Jolie's, Ajarn Noo Kamphai rarely tattoos people himself anymore. He does, however, have four disciples who do the actual tattooing instead and their work is almost identical. Once finished, he will bless the tattoos and the wearer.
It's not necessary to visit Ajarn Noo Kamphai though to get a yantra tattoo like Angelina Jolie's. Monks in other temples in Thailand will create tattoos (although technically it's not acceptable for a monk to do tattoos under Buddhist law in Thailand, many of them still do).
If you want a yantra tattoo in Thailand, it's best to come here first and ask a local where the best temple to get a yantra tattoo is, or visit one of the local tattoo parlors. Most of the tattoo artists in Bangkok know where the best places to get a yantra tattoo are and they'll be more than happy to share.
For more information on Ajarn Noo Kamphai and his tattoos, visit his website at Ajarn Noo. There's some pretty spectacular photos of Angelina Jolie and her tattoos there too.