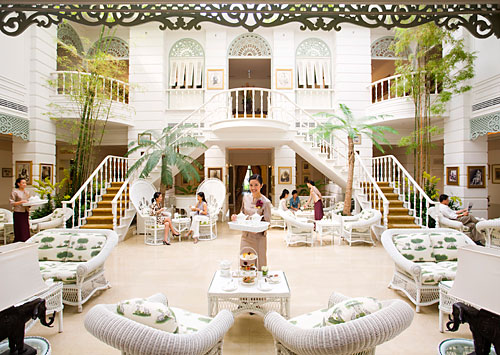 A fun thing to do in Bangkok, Thailand is to have an English-style afternoon tea. Bangkok's high-society and trendy young professionals  seem to think it's the fashionable thing to do so, at tea rooms and hotels all over Bangkok in the late afternoons, you'll see them. Surprisingly too, there are many places in Bangkok serving afternoon tea. Some are new, some have been doing it for more than 100 years, so the choices are numerous and unique. If you also love afternoon tea, why not try one of these wonderful places to have afternoon tea? You'll feel like an English duchess, but in an even more exotic location.
Author's Lounge, Mandarin Oriental Hotel – Probably the most wonderful place in Bangkok to have afternoon tea, the Author's Lounge at the world-famous Mandarin Oriental Hotel has been serving afternoon tea for more than 100 years.
The lounge, named after authors like Joseph Conrad, John Le Carre and Somerset Maugham who lived or stayed at the Oriental Hotel, serves high tea every day between 2pm and 6pm. The location is gorgeous. A real British-looking tea room with white wicker tables and chairs, and little palm trees scattered everywhere, the afternoon tea is fabulous.
Scones, little finger sandwiches, and the most delicious cakes (try their raspberry cake), as well as clotted cream, something I've never seen outside England before. It's also right by the river, so you can even watch the boats going up and down. Tel: 02-659-9000.
Afternoon Tea at the Sukhothai Hotel – The Sukhothai Hotel is one of my favorite hotels in Bangkok as it's elegant and luxurious, and with the loveliest atmosphere. Afternoon tea is served between 2:30 and 6pm and features a traditional afternoon tea of petits fours, sandwiches, delicious cakes (lots of cream and chocolate) and pastries.
Here you'll see lots of young professionals (both Thai and western) as well as Thai matrons and their daughters, out enjoying a lovely English tradition. On Saturdays and Sundays they also do an absolutely amazing chocolate buffet with chocolate fountains, chocolate desserts, chocolate cookies – you name it, it's in chocolate. Tel: 02-287-0222.
Agalico – Possibly my favorite tea and coffee shop in Bangkok, Agalico is not only a wonderful place for afternoon tea, it's also a perfectly designed cafe, which is not surprising as it's owned by famous Bangkok designer, ML Poomchai Chumbala, a member of the Thai royal family.
The cakes and pastries at Agalico are amazing, the tea (and coffee!) is superb, and don't miss the garden. It's like being in a typical English garden complete with gazebo. Agalico is only open on Fridays, Saturdays and Sundays and is very popular so get there early. Cakes and pastries sell out fast, but the Earl Grey tea doesn't – but if you want both you'd better get there early. Tel: 02-662-5857
Afternoon Tea at the Indra Regent Hotel – Another superb Bangkok hotel, the Indra Regent Hotel serves afternoon tea in the Lobby Bar. Traditional cakes, pastries and finger sandwiches are served, as well as the most perfect souffles you've ever seen (how do they do that without the darn thing collapsing?). Don't forget the scones too – crumbly, soft and perfectly delicious. Tel: 02 208 0022.
Going out for afternoon tea is one of my favorite things to do in Bangkok. I also have high-standards, (I'm British, what do you expect?), so if I say the afternoon tea at these fabulous places is amazing, you can guarantee it is.
The next time you're in Bangkok and feeling like you want to relax or treat yourself to something special, take afternoon tea at one of these lovely tea rooms and you'll feel like you're back in colonial Asia, except without the suppression and extortion of the natives, that is.